Archive: March, 2011
Trudy Rubin

, Inquirer Opinion Columnist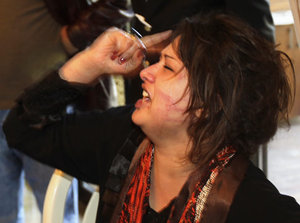 The most successful revolutions sweeping the Arab world, in Tunisia and Egypt, have had a human face that inspired their people - and mesmerized the world, via Facebook. Now Libyans may have found a face for their revolt.
The face of the Tunisian revolution was Mohamed Bouazizi, a Tunisian fruit vendor who set himself on fire on December 17 to protest against constant harassment, humiliation, and confiscation of his wares by police. Protests over his death began in his hometown of Sidi Bouzid and spread to Tunis, where he became the symbol of the regime's corruption.
The face of the Egyptian revolution was Khalid Said, a blogger in Alexandria who was exposing police corruption. His head was bashed against a wall by police and a cell-phone photo of his disfigured corpse went viral over the internet. A Facebook page in his memory, called "We are all Khalid Said" and signed by nearly one million people, became the key organizing tool for the Tahir Square revolt.