Archive: August, 2013
Mike Bertha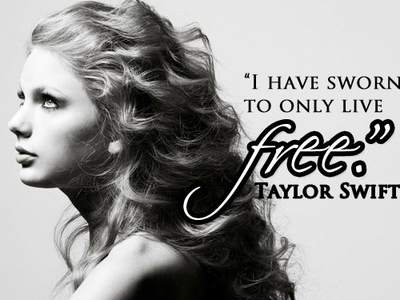 Taylor Swift is a country crossover singer and international superstar best known for dating boys and singing about them (and then there's that whole Kanye West fiasco).
Adolf Hitler was the German politician and leader of the Nazi Party who killed himself to avoid capture at the Battle of Berlin. He's responsible for the Holocaust, largely, WWII.
While the differences between these to people are innumerable and obvious, many people on the Internet are confused about who said what thanks to Emily Pattinson's Pinterest page that features pictures of Taylor Swift and quotes from Adolf Hitler.
Mike Bertha
RadarOnline is reporting that Lindsay Lohan has been asked to host the season premiere of Saturday Night Live in September. Their source says that Lindsay is considering the offer, has been making it to all of her meetings (congratulations on being a semi-functioning adult?), and is the best she's been "in years."
Lohan is already a member of the prestigious Five-Timers Club and last hosted SNL in March of 2012, just before a three-month stint in rehab.
Though NBC hasn't made an official announcement, it seems that most of the Internet was holding out hope that the gig would go to Bryan Cranston and/or Aaron Paul, especially when considering that the final episode of Breaking Bad (sad face) is set to air the following night, September 29th.
Mike Bertha
Olivia Wilde—star of Drinking Buddies, wife-to-be of funnyman Jason Sudeikis, formerly the wonderful Jenny Reilly on The Black Donnellys (just watch it, already) and 13 from House—is one of the Internet's darlings. Whether it's her strip scenes, hilarious late night interviews, or that time she cursed-out Justin Bieber, Wilde just seems to get it and the people of the Internet appreciate her for it.
Yesterday, Wilde popped by Reddit to answer everyone's questions and the result is that everyone with a WiFi connection is hopelessly in love with her and will, inevitably, die alone chasing the mirage of what she represents.
Things we learned about Olivia Wilde from her AMA:
Mike Bertha
Dave Chappelle's highly anticipated comedy tour rolled through Hartford, Connecticut on Thursday night, but the show was cut short when the comedian sat on a stool and read an audience member's book after dealing with hecklers and boo birds throughout the beginning of his set.
After 10 minutes or so of his performance, Chappelle reportedly sat down on a stool, smoked cigarettes, and began reading an audience member's book while remaining on stage to fulfill his contract. He occasionally tossed out a barb or two and interacted with some of the hecklers close to the stage, commenting that it felt like the longest 30 minutes since he was waiting for his son to be born.
"I like some of you, I hate some of you, I forgive some of you, but I don't forgive all of you. You guys totally ruined my chances of running for Congress or something. Thank you. Goodnight," he added before dropping the mic and leaving the stage to Kanye West's "New Slaves".
Mike Bertha
Grantland—the Internet's cultural hub for subjective tournaments, 25,000-word features on the history of badminton, and unnecessary footnotes in every sentence—has been hosting a "Song of the Millennium" contest for the past week or so because they didn't have anything better to do leading up to Labor Day weekend.
The tourny started out with 64 songs (duh) and, through Spotify embeds and reader voting, has been narrowed down to just two worthy(?) opponents: Adele and Outkast. The finals pits Outkast's 2003 jam "Hey Ya! up against Adele's 2010 smash "Rolling in the Deep".
Sure, the tournament had its flaws. Like, the fact that they included a Miranda Lambert song or that time that the Internet picked a Gorillaz song over Amy Whinehouse. But, given the field, the thing turned out pretty well. "N****s in Paris" and Cinderella story "Mr. Brightside were eliminated in the Final Four and R. Kelly's "Ignition Remix" was tossed out in the quarterfinals along with "Call Me Maybe" and "Empire State of Mind" and "Yeah!" (which was played twice at every prom in America in 2004).
Mike Bertha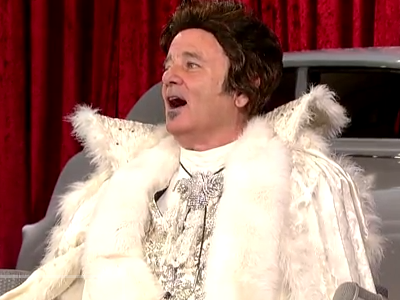 I know we probably had you at "Bill Murray" because the guy is a comedy legend and, when a comedy legend makes an appearance on Letterman, you stop what you're doing and watch the video. On Thursday, Murray took a break from his busy schedule of crashing kickball games in Brooklyn and channeled his inner Liberace for his appearance on Letterman and the result is just as entertaining as you'd imagine.
He brought a little dog with him and a cast of young men to help him out of his car. He hardly even sits down before warning, "You know, I love you, audience, but I don't have the time, tonight."
Mike Bertha
On Wednesday night at Philadelphia's Helium Comedy Club, a group of liquored-up, self-important, barely-notable media types made one self-deprecating man-child's dream come true by congratulating him for talking about his unimpressive sexual organ better than anyone else in Philadelphia.
Seriously, though, a panel of wonderful judges voted to select Chip Chantry as the winner of Helium Comedy Club's Philly's Phunniest 2013 competition.
We did it, guys.

— Chip Chantry (@ChipChantry) August 29, 2013
Mike Bertha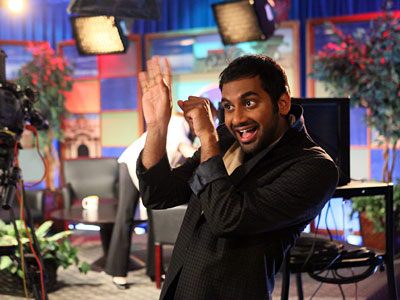 The Internet is a wonderful, wonderful place and Netflix has a whole hell of a lot to do with that. Everyone's favorite streaming company recently announced plans to try its hand at more documentaries and special programming. Today, The New York Times reports that Netflix is set to deliver on that promise with a forthcoming comedy special from Aziz Ansari.
Until now, Netflix has given Mr. Ansari's fans one more chance to hear his jokes, months or years after the telling. For his third stand-up special, Mr. Ansari is moving Netflix to the front of the line. His show "Buried Alive," based on his tour of the same name, will make its Netflix debut on Nov. 1. It will be the biggest stand-up special distributed by Netflix to date, in much the same way that "House of Cards" was that streaming service's first high-profile original drama.