Archive: April, 2013
Mike Bertha
Remember Sex? It was Madonna's 1992 NSFW coffee table book full of softcore porn with a surrealist twist. One of the iconic images from the book features a fully nude Madonna leaning back on a massive, bronze fish sculpture in Florida.That fish's name is Otto and he's looking for a new home.
A "Famous Madonna SEX Fish Seeking New Owner" posting recently popped up on eBay, indicating that for the low, low price of $9,500, Otto the Great Bronze Fish could be yours.
Luckily for everyone with a Wi-Fi connection, the owner wrote the posting from Otto's perspective.
Mike Bertha
LL Cool J—that guy from NCIS: Los Angeles and Brad Paisley's accidentally racist song, "Accidental Racist"—decided he wants to be a rapper again. He released his new album Authentic on Tuesday and it's exactly as terrible as you thought it would be. Please, don't call it a comeback.
Authentic's got all of the doo-doo rhymes and vague, sensual whispering you'd expect on a modern LL Cool J album. Plus, it features appearances from Seal and Monica, so it's basically like the Space Jam Soundtrack Part II, except this time the Monstars stole everyone's powers.
Because I've got a weird job that sometimes entails me torturing myself with albums that make Willenium sound like Illmatic, I went ahead and listened to LL's latest abomination so that you wouldn't have to. Here's everything that you aren't missing by skipping Authentic.
Mike Bertha
Lindsay Lohan, reportedly set to enter rehab this week, might have an opportunity to blog about her experiences during her 90-day, court-ordered stint on the wagon. The New York Post reports that Lohan has been in talks with Celebuzz and their consultant A.J. Daulerio. You might know Daulerio as the guy who bought pictures of Brett Favre's penis for Deadspin. Or that time he took LSD and tried to throw a no hitter on Xbox 360. Or that time he brought blow to Joe Buck's broadcasting booth.
We're told Lohan would contribute content beginning in August, after the rehab stint, which will reportedly start Thursday at the Seafield Center in Westhampton Beach. Her next step would be to launch her own site with her musings on art, fashion, music and movies.
Imagine LiLo breaking down the validity of Daniel Day-Lewis' portrayal of Abraham Lincoln or analyzing the lyrical content of the forthcoming Arcade Fire release or shedding light on the symbolism behind a MoMA installation. This could be fun. [NY Post]
Mike Bertha
This past weekend, the mighty Phillies of Philadelphia broke out the brooms to sweep the lowly Mets of New York. Jon Hamm was the guest of honor on Jon Stewart's The Daily Show on Monday, where the two discussed Mad Men, how weird it is that Linda Cardellini all growed up (no, we have not yet forgiven her for coming between Cory and Topanga), and Hamm's upcoming film about the Indian pitchers that the Pirates signed a few years ago.
Oh, and then they spent the rest of the interview trashing the Mets because, 2007-right now. Stewart makes fun of Citi Field while Hamm wonders why the stadium doesn't have a "Lenny Dykstra tobacco fountain" attraction. Watching celebrities nerd out about baseball is incredibly appealing. Doubly so when it's at the expense of the Mets.
Mike Bertha
Today, NBA center Jason Collins became the first professional athlete in a major American sport to come out as openly gay. He did so by writing a piece for Sports Illustrated explaining his feelings and discussing his struggle with the decision to come out to family members and friends before eventually coming to the conclusion that he needed to let the world know.
Enter: Mike Wallace. You know him as a wide receiver for the Miami Dolphins (formerly of the Pittsburgh Steelers). Wallace practically tripped over himself to be the first professional athlete to look like an idiot on Twitter in wake of Jason Collins' announcement. He sent the following tweets this afternoon.
He's since issued an apology and clarified that he doesn't understand homosexuality.
Mike Bertha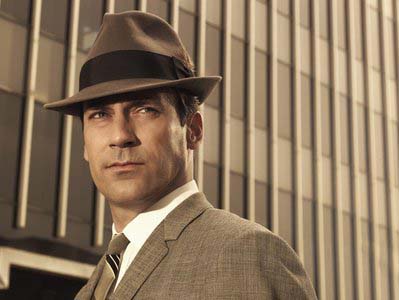 SPOILER ALERT: IF YOU HAVEN'T WATCHED MAD MEN, YOU'RE MESSING UP.
Last night, the revolution was televised on AMC, thanks to Mad Men's depiction of the first week of April in 1968. Though, it felt as though the emphasis on the revolution in the mind of Donald Draper was greater than that brought on by the assassination of Dr. Martin Luther King Jr.
The dormant racial tension we've been noticing for weeks finally boiled over and world events—consistently seeping deeper and deeper into the lives of the characters on Mad Men—finally broke the levees in "The Flood" when, during the Advertising Club of New York's annual awards dinner, someone interrupts Paul Newman's speech to announce that Dr. King had been assassinated.
Mike Bertha
Jason Collins, a 34-year-old center in the National Basketball Association, is the first openly gay athlete in major American sports. Collins wrote a piece for Sports Illustrated detailing his decision to come out now, while still playing in the NBA.
I'm a 34-year-old NBA center. I'm black. And I'm gay.
Mike Bertha
President Obama, Conan O'Brien, A-list celebrities, actors from The West Wing, journalists, politicians, and the rest of Washington's elite got together at the D.C. Hilton on Saturday night to rub elbows and crack some jokes over dinner and drinks. The White House Correspondents' Dinner is an annual examination of the odd relationship between Washington, Hollywood, and the journalists that cover both.
This year, Mr. O'Brien served as host, though President Obama proved pretty effective himself while getting the crowd to laugh and groan. Print media and NBC took the most punches throughout the bout, though Obama's jab at Michele Bachmann might have been the hardest hit of the night. Here's everything you need to know about the 2013 WHCD:
Before the event, President Obama sent out a little message on The Official White House Tumblr.
Steven Spielberg helped out as well, when Daniel Day-Lewis took on the role of President Obama.
The New York Times doesn't cover the event.
Gawker posted a list of questions Politico planned to ask all of the celebrities in attendance.
Here's the photoshopped image that was a part of his bit.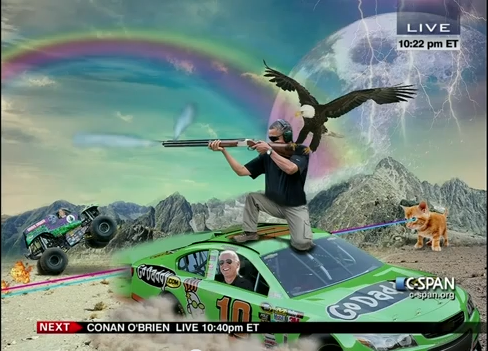 Here's a photoshopped image of President Obama with bangs.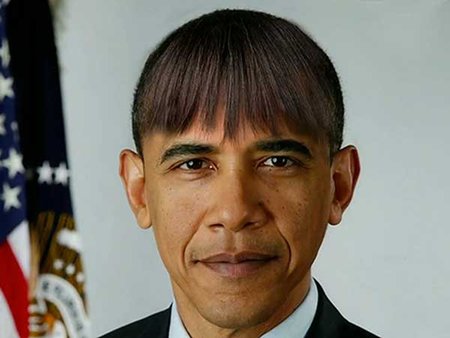 President Obama's five best jokes:
"I get it. These days, I look in the mirror and I have to admit I'm not the strapping, young, Muslim socialist that I used to be."
"I go out on the basketball court. Took 22 shots. Made two of them. That's right: two hits, 20 misses. The executives at NBC asked, 'What's your secret?'"
"But the problem is the media landscape is changing so rapidly. You can't keep up with it. I remember when BuzzFeed was just something I did in college around 2 a.m."
"In fact, I'm taking my charm offensive on the road. A Texas barbecue with Senator Cruz, a Kentucky blue-grass concert with Rand Paul, and a book burning with Michele Bachmann."
"Take the sequester: Republicans fell in love with this thing and now they can't stop talking about how much they hate it. It's like we're trapped in a Taylor Swift album."
Conan O'Brien's five best jokes:
"My past experience at this event has taught me how these things work. If the President laughs, everyone laughs. And if the Fox News table laughs, then a little girl just fell off her bike."
"I see The Huffington Post has a table. Yeah! Which has me wondering, if you're here, who's covering Miley Cyrus' latest nip slip? Who's assembling today's Top 25 Yogurt-Related Tweets? Seven Mistakes You're Making With Bacon. That's a real one and you should be ashamed of yourselves!"
"Matt Drudge couldn't make it. He had a prior commitment to teach a Web design class in 1997."
"Some people say that print media is dying, but I don't believe it. And neither does my blacksmith."
"As I look around the room and see all the media here, I realize this is just one big high school cafeteria. That's all it is. Think about it: Fox is the jocks, MSNBC's the nerds, bloggers are the goths, NPR is the table for kids with peanut allergies, Al Jazeera is the weird foreign exchange student that nobody talks to, and print media, I didn't forget you, you're the poor kid who died sophomore year in a car crash. Cheer up, we dedicate the yearbook to you."
President Obama's appearance in full:
Conan's appearance in full: