Archive: March, 2013
Mike Bertha
Everyone on the Internet is posting "hadouken" pictures and you can too. It's a trend that's already HUGE in Japan.
Basically, one person pretends like he or she is in Street Fighter and poses as if ready to shoot lightning at everyone else in the photo. As the photo is taken, everyone else has to jump back like they've been hit with said lightning ball in order for it to work.
If our calculations are correct, the local news networks will be showing you their hadouken photos some time around the end of next week. [h/t EVERYWHERE]
Mike Bertha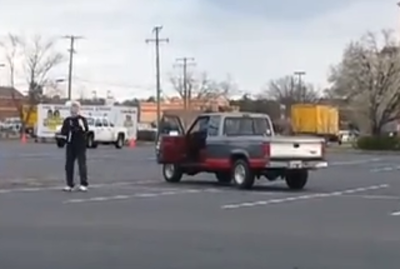 Thank you Reddit for making us aware of this video of an elderly gentleman honing his nunchucks skills in the parking lot of a Virginia Food Lion. Ninjas beware. Happy Friday, you guys.
"He out here doin' it."
Mike Bertha
A new AT&T survey indicates that more adult drivers admit to texting while behind the wheel than do their teenage counterparts. AT&T commissioned a report on texting and driving as a part of its "It Can Wait" campaign.
In a new survey by AT&T, almost half of adults admitted to texting while driving, compared to a slightly smaller number of teens who fessed up to the same thing. About 49% of adults say they've sent a text while behind the wheel, according to a new survey conducted for the mobile company, compared with 43% of teens in a survey from last April.
Unsurprisingly, pretty much all of them knew it was unsafe. Of those surveyed, 98 percent of the drivers confessed that they knew texting and driving isn't safe. Oh, and it appears that things are getting worse.
Mike Bertha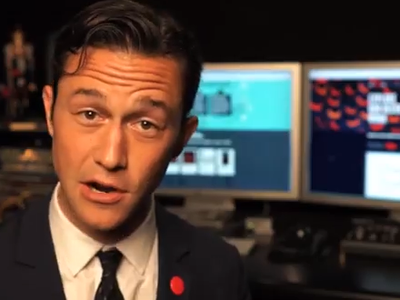 In case you weren't already aware, Hit RECord is Joseph Gordon-Levitt's production company. He started it with his brother and they've used it as a means to crowdsource material and build on the results to create films and records and books and all sorts of stuff. Now, Hit RECord is going to be a variety show on the cable channel Pivot, hosted by Joseph Gordon-Levitt.
Here he is to tell you more about the venture and explain how you can contribute and get monies.
Mike Bertha
Facebook is looking to erect a new building across the street from its existing headquarters in California. They've gotten famous architect Frank Gehry (Walt Disney Concert Hall) to design an "anonymous" building that blends into its surroundings. How Frank Lloyd Wright of them.
Facebook's aversion to panache speaks to the company's hacker ethos, which emphasizes functionality over form and, at its most insular, heads-down work over outside engagement and communication. In a way, Facebook's "very anonymous" new building design is like Zuckerberg's trademark outfit of gray hoodie, jeans and sneakers: an unassuming wrapper around a remarkably capable entity. [Wired]
Wired's got the full scoop and more images of the design.
Mike Bertha
Pope Francis participated in a ritual at the Casal del Marmo facility in Rome on Thursday, washing and kissing the feet of detainees. The ritual is meant to symbolize Jesus washing the feet of his 12 disciples. This particular instance was especially notable because SOME OF THE DETAINEES WERE GIRLS.
That Francis would include women in his inaugural Holy Thursday Mass as pope was remarkable, however, given that current liturgical rules exclude women.
Mike Bertha
Winter is here. It seems silly that we're all celebrating the arrival of winter during the first stretch of days that haven't been filled with freezing rain, yet, here we are, anxiously awaiting the premiere of Game of Thrones on Sunday. In case you haven't figured it out yet, the Internet has been preparing for this moment since the day Season 2 ended. To catch up, here's everything you'll need to get excited about Sunday's premiere (as if you needed any help at all).
HBO released a 14-minute video that helps you catch up on what happened last season.
Trailer for Season 3.
They've rolled out a "Create Your Own Coat of Arms" tool and made a bunch of them for celebrities. Like "Brisket and Matzoh" for House (Seth) Rogen and "Music is not math, it's science" for House (Bruno) Mars.
Wired explains how fans created all of Westeros in Minecraft.
The Game of Thrones exhibit opened in Manhattan, where YOU CAN SIT ON THE IRON THRONE.
Game of Thrones-themed pizza? Game of Thrones-themed pizza.
There's a Game of Thrones beer from Ommegang and it's available in Philly.
Shots from the season's L.A. premiere.
Real news: Lord Umber had part of his ear bitten off.
Grantland offers a Game of Thrones-themed version of NBA power rankings.
Wired questions the scientific plausibility of the ice wall.
Mike Bertha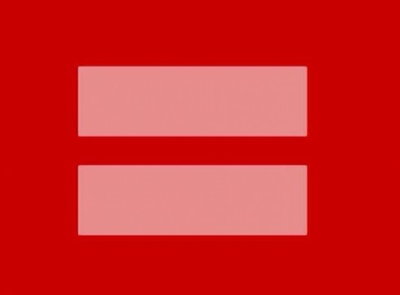 The Human Rights Campaign—the largest civil rights organization working toward LGBT equality—updated its Facebook page on Monday, making a red "equals" sign as its profile picture. Only a few days later, the photo had been shared more than 66,000 times.
When HRC spokesperson Charlie Joughin spoke to MSNBC this week about the viral red logo, Joughin briefly explained the color choice: "Red is a symbol for love, and that's what marriage is all about." Red and pink have traditionally been associated with Valentine's Day, which, yes, is all about love—and, moreover, red is sometimes used symbolically as the color of passion, the color of courage, and the color of seduction or sexuality. Pink, meanwhile, was the color representative of sexuality on the original eight-hue LGBT pride flag (more on that later).
The Atlantic goes on to discuss the evolution of gay pride symbols and what they stood and/or stand for. From the first rainbow flag in the wake of Harvey Milk's assassination, to the purple handprint and the pink triangle, the piece helps paint a picture as to how everyone's Facebook feeds ended up pink and red this week. [The Atlantic]