Archive: February, 2013
Mike Bertha
Last night's Law & Order: SVU was specifically designed to help Rihanna realize that Chris Brown is stupid and, as difficult as it may be for her to admit that he's an abusive idiot with a serious temper problem, it's something she should probably consider. Did I mention that Chris Brown is stupid?
Anyway, I temporarily lifted my personal boycott of post-Detective Stabler Law & Order: SVU and watched the entire episode so you wouldn't have to. Here's what happens:
In the criminal justice system, sexually-based offenses are considered especially heinous. In New York City, the dedicated detectives that investigate these vicious felonies are members of an elite squad known as the Special Victims Unit. These are their stories.
Mike Bertha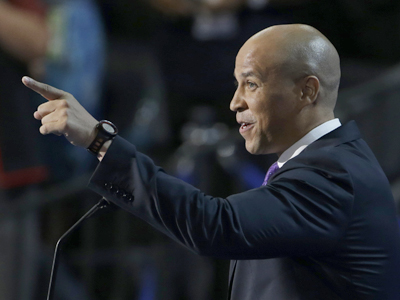 Newark Mayor Cory Booker is hip to what the kids are doing. When he's not rescuing freezing dogs or saving people from burning buildings, he's tuned-in to the Twitters and other social media sites. Recently, a supporter reached out to Booker on Twitter, looking to enlist the Mayor's help with a planned marriage proposal.
Israel Burns wanted to propose to his girlfriend, Misha Wright, at the Asian American Bar Association of New York's annual dinner at Cipriani Wall on Wednesday night. He asked Mayor Booker for help.
"I was trying to think of the most creative way to do the proposal," Burns told BuzzFeed. "Misha is also a huge supporter and fan of Cory Booker's, and so I wanted to incorporate him somehow."
Mike Bertha
Since "Call Me Maybe" lip dub videos are so last summer and the Internet officially reached its quota for "Harlem Shake" videos 90 seconds after the first one was uploaded, people are looking for a new way to waste their time.
If you're a punk kid, you've filled this new found void by smashing gallon jugs in supermarkets and generally being an asinine menace to people who are just trying to shop and do their jobs.
If you have any sort of video editing experience, you've filled this void with goat remixes. "What's a goat remix?" you ask. Well, it's when a popular song—often involving some degree of dubstep or yelling—is edited so that the typical bass drop/screaming is replaced with the sound of a yelling goat. For instance:
Mike Bertha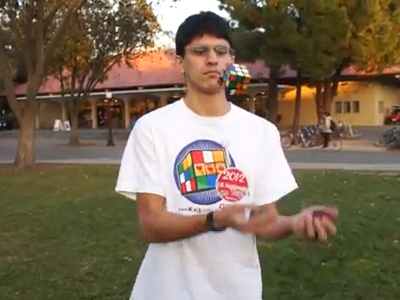 Meet Humans of Stanford's Sir Ravi the Juggler, the guy who can solve a Rubik's Cube while juggling.
How dumb and uncoordinated do we all feel, now? SPOILER ALERT: Very. [h/t Reddit]
Mike Bertha
Hope you haven't already spent all of your money on Justin Timberlake tickets because Chris Rock and Dave Chappelle performed TOGETHER last night and toyed with the idea of going on tour. Folks at the legendary Comedy Cellar (the place in the Louie credits) got a hell of a treat on Wednesday night when Dave Chappelle did a 45-minute set and was joined by Rock, who started with an, "Aw, you lucky motherf***ers."
Apparently the two comics spent the next hour cracking jokes about President Obama, Kevin Hart, Prince, and the Oscars before texting Jay-Z to see if he wanted to get spaghetti for fourth meal. Seriously. Then they left voicemails for Arsenio Hall and Lenny Kravitz because all famous people know each other. Illuminati.
While they were on stage, Chappelle and Rock discussed the idea of going on tour together.
Mike Bertha
While you watched your 193,482nd Harlem Shake video to date, a few Masters of Physics students (read: scientists in training) at the UK's University of Leicester were busy answering questions vital to the success of humanity. Like, "Could Spider-Man actually stop a speeding train with his webbing?"
Think back to Spider-Man 2 (the Tobey Maguire one after the upside down kiss one, but before the black-and-white evil Spider-Man one). Spider-Man's on a runaway train and the tracks end so everyone's about to careen over the edge to certain death.
SPOILER ALERT: He saves the day. You know why? Science. Here's how the Masters of Physics students figured it out.
First, they worked out that the force required to bring four New York subways cars carrying 984 people to a stop is roughly 300,000 Newtons. Then, taking into account the geometry of the front of the train and the subway passage the web would have to anchor to, the students calculated that the stiffness of the web would have to be 3.12 gigapascals—well within the 1.5–12 gigapascals range of the silk webs produced by orb-weave spiders. And finally, the toughness required was almost 500 megajoules per cubic meter; a figure matched by the giant slink constructions of Darwin's Bark spider (Caerostris darwini), the orb-weave spider with the strongest known webs.
Keep making the world a better place, guys. [TheScientist]
Mike Bertha
There are gun buyback programs and then there are gun buyback programs. Take for instance, a proposed initiative that could help New York's finest take a slew of guns of the street in exchange for some Beyoncé tickets. Seriously.
The New York Daily News has more:
Michael (Blue) Williams, the head of Family Tree Entertainment, has pitched the city's first private-sector gun buyback program to NYPD brass and is waiting for Police Commissioner Raymond Kelly's okay.
Mike Bertha
Martha Graham Cracker—a prominent Philly drag queen and lead singer of the aptly-named Martha Graham Cracker Cabaret—was recently invited to read Dr. Seuss to children at a school in New Jersey... until she wasn't.
A supervisor at Haddonfield Child Care, Mark Simmons, emailed the cabaret's bandleader, Philly Mag's Victor Fiorillo, asking requesting that Martha read to the children as a part of National Read Across America Day. But, when Haddonfield Child Care officials caught wind of the choice, they deemed it "inappropriate" and made Simmons rescind the offer.
After Graham Cracker accepted, officials of the after-school program told Simmons that his choice was not acceptable. Simmons insisted on keeping Graham Cracker's appearance, writing back to the group: "I'm in a bit of a quandary here…I'm being told by some of my superiors in this organization that this guest choice is inappropriate. I cannot, however, get any of them to tell me why or how Martha Graham Cracker reading Dr. Seuss to our after-school program is inappropriate."