Archive: August, 2013
Mike Bertha
Remember when Tara Reid and Syfy broke the Internet with Sharknado earlier this summer? Or even earlier this year when (SPOILER ALERT!) pretty much everyone in Game of Thrones died at The Red Wedding? Well, Wednesday's Pretty Little Liars finale absolutely shattered the mentions marks made by Sharknado and The Red Wedding.
When The Red Wedding went down on HBO on June 9th, the episode garnered 367,000 mentions on Twitter. Sharknado's premiere in July nearly doubled that figure with 604,000 mentions. Last night, Pretty Little Liars slaughtered those figures in a shelacking that made the massacre of Robb Stark's famly and army look like an episode of My Little Pony.
Pretty Little Liars garnered 1.9 million tweets from more than 630,000 contributors and featured 38 trending topics.
Mike Bertha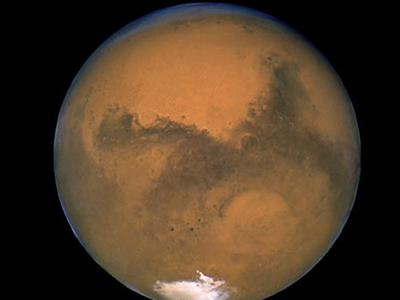 A biochemist from Florida recently presented his findings at a conference in Italy, explaining that he thinks early life on Earth was actually early life on Mars that was transported to our planet via meteorite. Steven Benner of the Westheimer Institute for Science and Technology in Florida says that way back then, Earth was completely covered in water, which would have made it difficult for Boron to form in high enough concentrations.
An oxidized form of the element molybdenum, which may have been crucial to the origin of life, was likely available on the Red Planet's surface long ago, but unavailable on Earth, said Benner, who presented his findings today (Aug. 28; Aug. 29 local time) at the annual Goldschmidt geochemistry conference in Florence, Italy. [The Search for Life on Mars (Photo Timeline)]
Mike Bertha
If you missed Sunday night's episode of Breaking Bad—the third part of the final eight installments—then you might not understand why everyone is freaking out over tableside guacamole. And, also, why haven't you seen Sunday's episode yet.
For the rest of us normal, hot-blooded Americans, seeing the over-zealous waiter at the Mexican restaurant trie to upsell Heisenberg, Sky-senberg, Hank and Marie while Walt and Hank are doing their OK Corral death stare down was a wonderful bit of comic relief in an otherwise extraordinarily tense episode of Breaking Bad.
Well, that Mexican restaurant is an actual place called Garduño's and errbody is flocking there and ordering some fresh guacamole. (They make it right there at the table!)
Mike Bertha
In case you hadn't noticed, Robin Thicke released a song called "Blurred Lines" this summer that people seem to enjoy listening to. Much to the chagrin eh-whatever-who-really-gives-a-sh** attitude of French electro-pop duo Daft Punk, Thicke's single has been lauded as the "Song of the Summer" and has held the top spot on Billboard's Hot 100 chart for 12 consecutive weeks.
"Lines" leads Radio Songs for an eighth week, although finally registering a decline in airplay, losing 3% from its record-setting sum of the 228.9 million all-format audience impressions it logged last week, according to Nielsen BDS (dipping to 221.3 million). It also posts an eighth week atop the subscription services-based On-Demand Songs chart (1.7 million U.S. streams, down 4%, according to BDS), while holding at No. 2 on Streaming Songs (6.1 million, down 8%). On Digital Songs, "Lines" remains at No. 2 (following a 10-week command) with 251,000 downloads sold (down 14%), according to Nielsen SoundScan.
If that sounds like a long time, that's because it is. The three-month stay is good enough to tie Thicke with Eminem, Santana, Usher, and The Black Eyed Peas for the fourth-longest such streak. "Blurred Lines" is a mere four weeks away from matching the immortal Mariah Carey and Boyz II Men, who collectively held the top spot for 16 straight weeks back in '95-96 with "One Sweet Day".
Mike Bertha
By now, we're all familiar with the circumstances surrounding the arrest of former Patriots tight end Aaron Hernandez. Hernandez—a Connecticut native—faces first-degree murder charges and the possibility of life in prison without parole for allegedly shooting and killing semi-pro football player Odin Lloyd back in June.
Rolling Stone's Paul Solotaroff—with Ron Borges—poured into Hernandez's backstory, drumming up reports of heavy PCP use and paranoia leading up to the tight end's revelation and subsequent confession to head coach Bill Belichick that he feared for his life.
Solotaroff does not do Belichick any favors with his feature, painting the coach as the head of an Evil Empire who knowingly accepted risks with a number of players in exchange for tallies in the win column.
Mike Bertha
That "Twerk Team Captain" shirt you bought ironically on the boardwalk in Wildwood last month is, like, so over because "twerk" has been added to the Oxford Dictionaries Online. We feel comfortable blaming Miley Cyrus for this, too.
The official definition lists "twerk" as a verb meaning, "[to] Dance to popular music in a sexually provocative manner involving thrusting hip movements and a low, squatting stance."
Though the exact origin of the "word" is up for debate, Oxford Dictionaries' Katherine Connor Martin says that it's some 20-years old.
Mike Bertha
Lee Daniels' The Butler is in theaters nationwide. It's already made more than $50 million at the domestic box office and took home top honors for its opening weekend earlier this month. Recently, a more, ahem, prominent, moviegoer sat down to take in Daniels' version of American history: President Obama.
President Obama was on the Tom Joyner Morning Show with radio hosts Tom Joyner and Sybil Wilkes when he admitted that he teared up during The Butler, but his favorite parts were Cuba Gooding Jr.'s jokes.
You know, I did see "The Butler," and I did tear up. I teared up just thinking about not just the butlers who have worked here in the White House, but an entire generation of people who were talented and skilled, but because of Jim Crow, because of discrimination, there was only so far they could go. And yet, with dignity and tenacity, they got up and worked every single day, and put up with a whole lot of mess because they hoped for something better for their kids.
Mike Bertha
Professional crazy person Pat Robertson still has a television show, but Freaks and Geeks got canned after one season. Sound fair? It isn't, but it's the way things work here in the good ol' U.S. of A.
During a recent episode of the Christian Broadcast Network's The 700 Club, Robertson explained that gay men who have AIDS spread the disease to unsuspecting straight people on purpose. What mechanism do they use to deliver the disease? Why, their special decoder rings, of course.
Today on the 700 Club, Pat Robertson told co-host Terry Meeuwsen that gay men in cities like San Francisco attempt to spread HIV/AIDS to others by cutting them with a special ring when shaking hands. However, one could not hear Robertson make the remarks on the episode his Christian Broadcasting Network posted online, as the company once again appears to have edited Robertson's comments after they aired…