Welcome to the future
Matt Soniak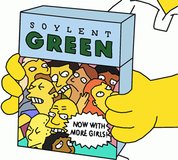 Because some people insist on making the 21st century look exactly like 19th and 20th century futurists and sci-fi writers thought it would, Soylent Green is now a real thing. Sort of. It's not made of people, and the "green" has been dropped from the name, but Soylent is a nutritious "food replacement product," and a lot of people donated their money to get it made. Forbes reporter Caleb Melby is taking the stuff on a test drive and living off of it for a whole week. In solidarity, I will consume nothing but hot dogs and beer for the rest of the summer.
"Despite all the criticism, Soylent is now sitting on $425,000 — which it will use to jump-start its post-food movement. There's just one problem. While Soylent has open-sourced its ingredient list, and is running tests with a small cadre of volunteers, nobody has bothered to publicly, independently confirm Rhinehart's health claims. And that's a long list of health claims. History has a name for products that profess to improve so many disparate aspects of the human condition: snake oil. Which is not to say that Soylent is snake oil. It just sounds too good to be true.
"There is, of course, only one way to settle this score, Dear Internet.