Peter Mucha
A too-wild-to-believe video of a motorcycle crash, supposedly in Russia, looks like something out of a major-movie stunt.
The video, shot from a dashboard camera, shows a car switching lanes, only to be rear-ended by a speeding motorcycle. Up in the air goes the rider, and ... well, the ending is too amazing not to see.
No wonder the video got 1.5 million views on YouTube since being posted Tuesday.
Layla A. Jones, philly.com
A new human Barbie has made her way out of the woodwork, just in time for Mattel's various new Barbie-clothes-for-grown-ups collections. Yay!
Ukrainian born Lolita Richi is the latest flesh-and-blood being who aspires to emulate a plastic toy, but, in Richi's case, there's more than meets the eye. The 16-year-old wears a 32F bra, has a 20-inch waist, and claims to be surgery (and diet) free.
"I have a gorgeous figure so I don't even have to diet," she told Daily Mail.
Nick Vadala, Philly.com
It should go without saying that Ebola is an extremely serious disease, and, as such, should not be taken lightly. The same could be said about amyotrophic lateral sclerosis, or ALS, which has come to the public's attention with the Ice Bucket Challenge. Serious, serious issues that require careful research, proper funding, and rational inquiry to control their spread.
So, naturally, leave it to Philly's comedians to make fun of both. Ladies and gentlemen, the Ebola Bucket Challenge has arrived.
Started by comedian Chip Chantry via social media, the Ebola Bucket Challenge is a funny way to raise awareness about Ebola by challenging participants to dump a bucket of Ebola on themselves. Since that's both ill-advised and not exactly possible, Philly's comedians had to get a little creative.
Peter Mucha
Is it illegal to kill someone if he claimed he's already dead?
The thought might have crossed Alex Lanchester's mind after fiance Tucker Blandford tried to weasel out of marrying her by calling to say he committed suicide.
Actually, the Connecticut man pretended to be his own father when he called Lanchester in her native England to break the "news" that depression drove poor Tucker to fatally hurl himself in front of a car.
Peter Mucha
As the ice bucket challenge epidemic raises millions for ALS, some folks just naturally have to try to top everybody else. To them, we say, thanks!
Below are a dozen favorites, plus a donation-notation finale.
Biggest Bucket (Zamboni): Hockey's Darryl Evans
Nick Vadala, Philly.com
Saturday afternoon brought another Ferguson, Mo., protest at the iconic LOVE Park statue, this time in the form of performance artist Keith Wallace portraying Michael Brown, murdered and motionless on the ground. The tourists snapping selfies in front of the LOVE statue, however, didn't seem to notice.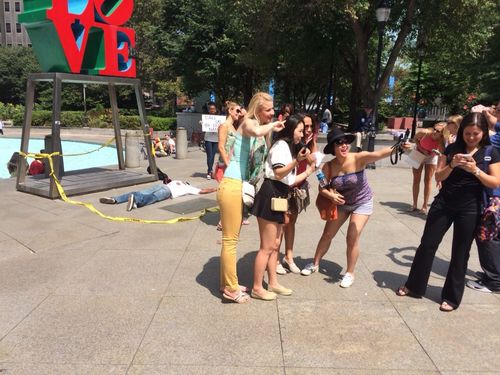 The silent protest, planned by Wallace and Juilliard theater student Lee Edward Colston, centered around the "#CallUsByOurNames" meme that's built a presence on social media in the wake of Brown's death in Ferguson. Adorned with fake blood and bullet holes to call up Brown's image, Wallace hopes that his performance will "make an impact on what I perceive as the Civil Rights movement of my generation."
Peter Mucha
Brazilian supermodel Gisele Bundchen had more income in the last 12 months than any other supermodel, and even husband Tom Brady.
Bundchen, 34, has been the perennial paycheck queen of the runway since 2002, according to a new list from Forbes, which estimates her pre-tax haul at $47 million. She has all sorts of sweet deals representing products from Oral-B to Chanel and Carolina Herrera.
Nobody else came close.
Peter Mucha
Couldn't resist sharing a major typo by the New York Post;
"Katy Perry gets noise pierced, posts cringeworthy video"
No, we don't think "noise" is "nose" spelled with a New York accent.