Archive: February, 2013
Mike Bertha
For the first time since 1999, the music industry reported a growth in sales last year. For 13 years, Napster, Bearshare, Limewire, Kazaa, BitTorrent, and the like had record sales on the decline and music industry executives screaming piracy.
Now, thanks to advancements in mobile technology and a growth in the global middle class, the music industry has experienced a bump (though, ever so slight) in sales. This won't bring Sam Goody back from the dead, but it does mean that people are starting to pay for music again. Much of this shift can be attributed to a crackdown on the black market for music and a simultaneous spike in the notoriety of subscription services, like Spotify. The Atlantic breaks it down (with graphs).
Unsurprisingly, The Atlantic piece notes that this shift hasn't happened in America yet. That may change, though, after the Associated Press reported, on Tuesday, that Internet service providers in the United States are going to start issuing warnings to people illegally downloading and sharing music, movies, and television shows, with the potential consequence of slowing or re-routing the offender's Internet service.
Mike Bertha
The latest installment of everyone's favorite dubbed YouTube video series is out and, this time, the Bad Lip Reading folks used footage from the films nominated for Best Screenplay at the 2013 Independent Spirit Awards. Thus, you've got Jennifer Lawrence, in The Silver Linings Playbook, telling Bradley Cooper that Taylor Swift drooled on her couch and then tried to fight her.
Bruce Willis and Edward Norton discuss surfing's rad future in Moonrise Kingdom, Paul Dano makes a promise about brownies in Ruby Sparks, Sam Rockwell eats Cheetos and talks math in Seven Psychopaths, and Thure Lindhardt talks about Liam Neeson's passion in Keep the Lights On.
Mike Bertha
Miss Delaware Teen USA Melissa King has resigned after a sex tape allegedly featuring the pageant winner surfaced online.
The video, posted to an adult internet site, features a young woman who shares an uncanny resemblance to King. The video, which was shot in June 2012, includes footage of the woman telling someone off-camera that she had turned 18 just three months before. The timeline eerily matches King's birth month of March.
The woman in the video also says that she participates in pageants (doesn't specify where) and that she's filming the scene because she needs the money.
In November, King was crowned Miss Delaware Teen USA. She had been named Miss Delaware Teen International the year before.
The pageant has reportedly reached out to runner-up Hailey Lawler in hopes of replacing King.
According to DelawareOnline.com, King has denied that she is the young woman in the video.
A porn website posted a sex video Monday featuring a woman who looks and sounds like King and claiming it is the teen pageant winner. King, contacted Monday, said she was aware of it, but denied it was her.
"Absolutely not," she said. "It is not."
Of the porn site's claim, she said, "There are comments saying this, however, it's not comments that are true."
Though King is Miss Delaware Teen USA, her Twitter feed indicates that she spends a great deal of time in the Philly area. She's tweeted about practicing gymnastics in Upper Merion and attending parties at West Chester University and at Drexel.


King was in the foster care system in Delaware from age 12 until she aged out at 18. In the video below, she discusses the struggles she faced growing up in foster care.
She sent this tweet just a few days ago:

Mike Bertha
Seth MacFarlane opened the Oscars on Sunday night with, among other things, an entire musical number dedicated to the contents Mr. Skin.com. The host name-dropped actresses—some of whom were in the audience—while reminding everyone that they had exposed their breasts in past movies. Many people were unimpressed with the performance, calling it juvenile and sexist.
Welp, here's a rebuttal of sorts from YouTube entertainer and software developer Kevin Gisi. In the parody, he sings about a whole bunch of guys who have shown their down-theres on the silver screen. [h/t NY Mag]
Mike Bertha
Turns out that, despite all of the discussion about looming sequestration, no one in America actually has any idea what the hell is going on. A recent Washington Post-Pew Poll suggests that only 25-percent of people are following the issue "very closely" and that less than one in five people say they understand the sequester's potential effects "very well."
Enter: Gawker. The Gawker folks decided that the best way to FINALLY get through to people about the debate over sequestration was to have America's darling and SI Swimsuit cover girl, Kate Upton, break it down for national treasure, face-stomping badass, and undeniable heartthrob, Ryan Gosling, in a comic strip.
The results? Ryan Gosling, Kate Upton, fancy lettering, thought bubbles, and frank discussion about the GDP, economic growth, government spending, and the issues littering the chasm between liberals and conservatives concerning the looming sequester. What more could we ask for? [Gawker]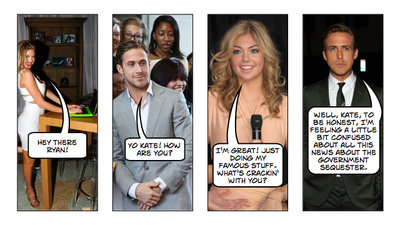 Mike Bertha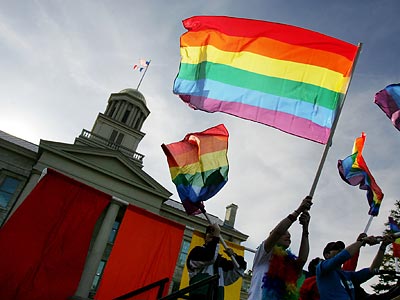 As the Supreme Court of the United States gets set to hear arguments on California's Prop. 8, many prominent Republicans have voiced their opinions against the measure that seeks to ban gay marriage in California. The New York Times has the details.
Among them are Meg Whitman, who supported Proposition 8 when she ran for California governor; Representatives Ileana Ros-Lehtinen of Florida and Richard Hanna of New York; Stephen J. Hadley, a Bush national security adviser; Carlos Gutierrez, a commerce secretary to Mr. Bush; James B. Comey, a top Bush Justice Department official; David A. Stockman, President Ronald Reagan's first budget director; and Deborah Pryce, a former member of the House Republican leadership from Ohio who is retired from Congress.
So far, 75 folks have signed the brief, which will be submitted to SCOTUS in advance of the Prop. 8 discussion. Many of them have not openly supported gay marriage in the past.
Mike Bertha
The United States has a rental problem and things aren't looking good. There aren't enough affordable rental properties as is and—as Millennials move out of their parents' basements—things are going to get worse. Like, much worse.
The Atlantic breaks down the report from the Bipartisan Policy Center, positing that as Millennials grow the hell up, their parents are also going to want to downsize because mowing the lawn is hella annoying.
Many Baby Boomers, meanwhile, are expected to downsize into smaller rentals units where they won't have to mow their own lawns.
Mike Bertha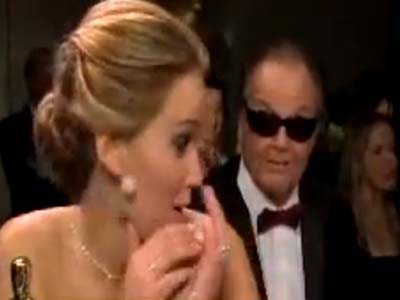 Jennifer Lawrence was in the middle of an interview with George Stephanopoulos when Jack Nicholson decided he'd like to join in on the fun. Nicholson told Stephanopoulos to save the politics for later and then introduced himself to Lawrence, congratulating her on her Oscar. Before leaving he says she looks like one of his old girlfriends. She quips back with, "Really? Do I look like a new girlfriend?"
"I thought about it." - Jack Nicholson.
Lawrence seems genuinely giddy about the whole interaction as Nicholson put on his signature shades and creeped over her shoulder and added an, "I'll be waiting" before moving on.