Peter Mucha
Magician Calen Morelli apparently had a lot of nerve, pranking a cop by asking if he'd like to buy a bag of weed then making the bag disappear.
A YouTube video of the stunt, found by many to be hilarious, has racked up more than 7.5 million views, since it was posted just last Thursday.
Of course, all sorts of questions were raised about how much of the trick, including the cop and the pot, was real.
Gabrielle Bonghi, Philly.com
During Wednesday night's show in Philadelphia, Harry Styles of One Direction (arguably the cutest of the bunch) asked a wedding dress-wearing audience member to be his bride.
"I heard there was a girl here in a wedding dress," he said to the crowd. Screams led him in the right 'direction' and after discovering her name he asked, "Priya – will you marry me?" Of course, he was only kidding.
THIS CHICK LEGIT SHOWED UP TO THE CONCERT IN A WEDDING DRESS pic.twitter.com/1l0H423rZV

— (mad)ison | PCD (@frickfrakhoran) August 13, 2014
Peter Mucha
The ice bucket challenge -- to dump icy water over your head or donate $100 to ALS -- has been flooding the local landscape along with the rest of the nation.
So a Camden County 3-year-old, who called out Big Bird and Elmo, got in on the act along with the likes of Facebook's Mark Zuckerberg, who was challenged along with Jimmy Fallon by New Jersey Gov. Chris Christie. (Click on linked names to see various videos.)
Fallon did it with his Tonight Show band, Philly's own The Roots, who were challenged by Justin Timberlake, whose chill-down is part of the following video.
Peter Mucha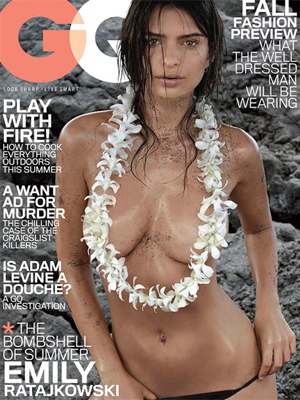 Lands' End thought it had a swell promotion going, sending free magazines to customers.
The copy of July's GQ showing Emily Ratajkowski, nude from the hips up except for a flower lei, was far from well-received by some customers of the catalog giant, as detailed in the New York Times.
The mother of a "disturbed and fascinated" 14-year-old said the cover was "absolutely OBSCENE." Hers was one of "dozens of complaints" on Lands' End's Facebook page. There are irate references to "trash" and "smut" and "pornography" and even a "horrified" child.
Peter Mucha
A couple of weeks ago, photos of a two-faced cat had folks doing double takes around the Internet.
Venus, who has her own Facebook page, is quite remarkable, looking like half of her face ran into a black paintbrush.
The subject reminds me of a famous Star Trek episode where half-white, half-black aliens hated each other for pale or shaded on the "wrong" side.
Nick Vadala, Philly.com
Math: It's hard, especially if you're a convenience store like, say, Wawa. But don't worry—best friend to the Internet, George Takei, is here to clear everything up.
Takei recently posted up an image of none other than a Wawa coffee cup to his massively popular Facebook page (7.4 million likes and counting) with a few sections underlined:
Yes, because math, indeed. Takei apparently took this perceived error to heart, calling the labels "rather misleading." As you can imagine, the comments section of the post has gone into full-fervor mode, with Wawa's endless line of zealots (AKA us) kindly—and not so kindly—explaining why, in fact, Wawa is never wrong. Like, ever.
And, in this case, it turns out they are correct—so, you know, kudos to the company for knowing its own history. As it turns out, Wawa began its existence in 1803, moving into dairy production in the 1890s and giving rise to the notion that people have enjoyed their products "for over 100 years."
The first retail store, located in Delaware County's Folsom neighborhood, wasn't opened until 1964, which gives us the whole "smiling 50 years later" thing. Tough to smile at someone without a storefront to do it in, it seems.
So, at best, Takei's issue with Wawa's cup advertising ultimately can be chalked up to confusion—at worst, misleading language. However, it is good to know that someone is out there waiting, watching for the convenience stores of America to slip up on their disposables. After all, everyone needs an editor.
And Wawa, well, they ended up with George Takei.
Peter Mucha
Mashable is out with "100 Terrible Band Names That Should Never Leave the Garage."
As terrible goes, these float to the surface, if you catch the drift:
Menstrual Pancake, Oversized Mosquito Bites, Pepto Bizzmall, Turd Magnet, Bulbous Spice Crank, Thy Frog Sayeth Croak, Nipple Bonaparte, Fart Surgeon, Vegan Cigarette, and Who's Giving Out The Login?
David Hiltbrand
The most famous brother act in pro football, Peyton and Eli Manning have taken ridiculous to a whole new level. Call it lunar lunacy, as they lay down a new rap in this extended ad for DirecTV's Fantasy Football channel.

You may remember last season the Mannings' put on hideous mullet wigs to rap about Football on Your Phone.

This time they've elevated their game as they get lost in a Fantasy Football Fantasy. So many weird elements here including an auto-tuned Eli floating near the moon, and that very strange and discomfiting tableau: "Broadway Joe and your mom make stew."