Mike Bertha, Philly.com
Nabisco's Honey Maid released a commercial last month promoting a "wholesome" image of all types of family. The ad features a gay couple with a baby and an interracial family. Certain corners of the Internet spewed the type of hate and negative comments you'd expect to follow such a spot.
Specifically, the One Million Moms organization had nothing better to do than pepper Nabisco's inboxes and Facebook posts with messages denouncing the commercial and its message.
"Nabisco should be ashamed of themselves for their latest Honey Maid and Teddy Graham cracker commercial where they attempt to normalize sin," wrote the group. "This commercial not only promotes homosexuality, but then calls the scene in the advertisement wholesome."
Mike Bertha, Philly.com
The Danger is coming to The New York Times Best Sellers' List, because Breaking Bad star Bryan Cranston is set to spill his guts in a forthcoming memoir from the Simon & Schuster imprint, Scribner.
Cranston, who is currently starring on Broadway as President Lyndon B. Johnson, will apparently enlighten his fans and the diehard viewers of Vince Gilligan's meth-fueled masterpiece, about the behind-the-scenes dedication and artistic and intellectual difficulties of living as Bryan Cranston, Walter White, and Heisenberg.
The publisher, Scribner, an imprint of Simon & Schuster, said it would release the book in fall 2015.
Mike Bertha, Philly.com
Before Mike Schmidt's porn stache became an icon in and of itself; before Cole Hamels teased Phillies fans by growing a caterpillar on his lip during Spring Training of 2013 and promptly shaved it off to start the season, washing the team's hopes to stave off mathematical elimination with a little mustache magic down the drain with it; before W.B. Mason adorned an outfield wall and occupied the broadcast time between each inning with awesomely bad commercials for office supplies, there was another mustachioed man who helped foster a rich baseball tradition in the city of Philadelphia. (Well, maybe not rich. But, definitely A baseball tradition.)
His name was Alfred James Reach.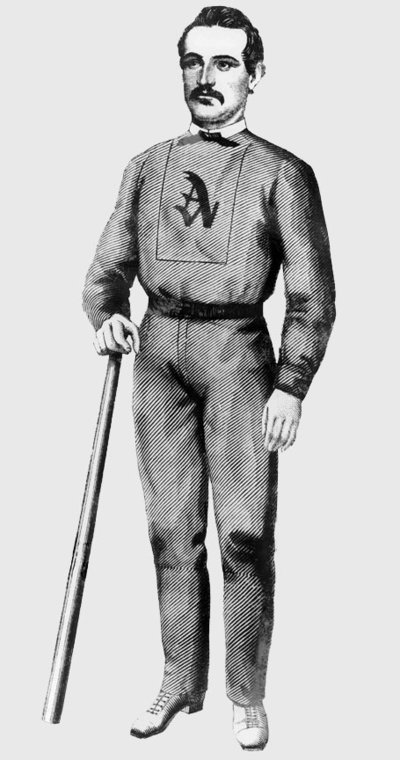 Jessica Ballard
"Well hello, Miss Mocha. Let me get a sip of your latte, girrrl."
This guy was either psychic (I was, in fact, sipping a mocha latte), or just a creep harassing me on my Monday morning commute. I looked down at my paper cup, clearly labeled with its calorie-laden contents. Nope, just a creep. Then came the smooching noises.
Should I pour my drink on his head? Too violent. Should I hand him what remained of my drink? I had been battling a nasty, presumably contagious, cold for a week. Feeling powerless, I just ignored him and kept walking. Turns out, I could've snapped a picture and publicly shamed him with the Hollaback! app:
Mike Bertha, Philly.com
Brad Pitt's Plan B production company—the force behind this year's Best Picture-winning 12 Years a Slave—has reportedly acquired the film rights to the Rolling Stone article, "Anonymous vs. Steubenville." Written by David Kushhner, the feature appeared in Rolling Stone in November of last year. It tells the story of hacker Deric Lostutter, a member of the hacktivist group "Anonymous" who "helped to catch two rapists -- and then was jailed for his actions."
The Hollywood Reporter has more:
New Regency and Brett Ratner andJames Packer's RatPac Entertainment teamed up to buy the rights to the Rolling Stone article "Anonymous vs.Steubenville," written by David Kushner, for Plan B to produce. The two companies are also financing development of the project.
Mike Bertha, Philly.com
You might not be familiar with Mike Judge, but you definitely know his work. Beavis and Butt-Head. King of the Hill. Office Space. The criminally unappreciated 2006 effort, Idiocracy.
Thanks to a recent collaboration with HBO, Judge and his team of companions have set their sights on Silicon Valley. The aptly named Silicon Valley is set to premiere on the now-infamous HBO Sunday night lineup in just a few short days. Ahead of the television premiere, Judge and showrunner Alec Berg spoke with The Daily Beast for a piece that bills the new vehicle as a cross between Revenge of the Nerds and Entourage.
If you spend any time at all on the Internet, love the work of actors like Martin Starr and T.J. MIller, still cackle at Office Space references, or have ever once visited America's startup hub, do yourself a favor and check out the Q&A with Judge and tune in to HBO on Sunday night (or set your DVR, or whatever).
Mike Bertha, Philly.com
It's no secret that the life of Hollywood's personal assistants isn't exactly glamorous. Hell, thanks to Entourage, even the Millennial bros are hyper aware of how truly awful some people can be when they feel an inflated sense of self-worth. But, New York magazine's The Cut has the tale of one personal assistant who didn't just have to cross the line for her boss—she blew it the hell up.
An anonymous source told her tale to The Cut's Jennifer Vineyard. The result is "I Was a Hollywood Personal Assistant," an account that includes anecdotes about the source having to dump her boss' boyfriend for her and reluctantly participating it what she calls "light drug trafficking."
My eyes were opened. Then I started to check all the details on the things I had to do for her. Like when I had to go to pick up her quote-unquote "herbs" — I didn't realize until then: Oh crap, I'm a drug runner. She said "herbs" because she was being holistic, and I was naïve and thought it was something herbal to help her calm down. Once when we went to a film festival, I flew out early so I could lay out the clothes she would wear. When she got in, she was like, "Did you get my stuff?" What stuff? "Oh, I put some stuff in your bag." Oh my God, I went on a fucking plane carrying drugs for you? I could have gotten arrested! You could have at least told me so I knew what I was doing, and put it in the bag that's not checked! What are you doing to me? At least ask and say, "Hey, do you mind carrying for me?" Not that I would have said no, but at least I could have put it in a concealed location.
Mike Bertha, Philly.com
All Philadelphians worth their weight in wooder ice already own the commemorative VHS and DVD collections of the first five Rocky films. (NOTE: Some people throw out Rocky V. But, really, it's good to keep it around to hate-watch when you're angry drunk.) The problem with tapes and DVDs, though, is they don't really have a place in the office/classroom/SEPTA train.
Enter: Netflix.
The streaming giant has added Rocky and the first four sequels in the series to its library. From Vulture: