Peter Mucha
Check out the new Wonder Woman, revealed over the weekend by Zack Snyder, director of the in-the-works Batman vs. Superman: Dawn of Justice, in which she'll appear.
Actress Gal Gadot stands there strong, holding a sword, in a tight leathery costume with tall boots for kicking ass. The outfit seems to be all bronze-colored, but one tweet says that's because of a filter, offering a color version.
Seems rather tame, like a daughter of the Jolly Green Giant sporting fall colors. No magic lasso, no deflecting bullets with her Amazonian bracelets. No defiant pose holding the sword aloft.
Nick Vadala, Philly.com
By the time 1999 rolled around, Tina Fey had already long ago left behind her homeland in Upper Darby for greener pastures at Chicago's Second City theater. That same year, she was hired as head writer at Saturday Night Live alongside castmember Rachel Dratch—but not before the pair put on a steller two-woman show dubbed Dratch & Fey.
A VHS recording of one of the runs of Dratch & Fey recently hit the web, showing the two comediennes on the edge of stardom some 15 years ago. Described a show with "one foot in the absurd and another in the socially conscious" in a 2000 Wall Street Journal review, Dratch & Fey pits Dratch's Edwina Garth, a woman's rights leader, again Fey's modern woman as the former explores her sexuality. The result, of course, is conscientious, absurd hilarity--what Fey does best to this day.
With any luck, that will never change. Check out Fey's performance above.
Nick Vadala, Philly.com
By now, few people would be surprised to learn that former TV star Kate Gosselin is a little, ahem, strict with her children. But as a former nanny recently revealed, that demanding behavior extends to the Gosselin family's employees, as illustrated in an employee manual that "illustrated her pet peeves."
The unnamed ex-nanny goes on to detail Kate's rules, which include vacuuming only at certain times of day, not slamming doors, and "not putting anything on the ground." And, on top of that, the nanny told E! in an exclusive, by the time 9 pm rolled around, "everything was done."
Before everything stopped at 9 pm, though, the nanny says that her list of duties for any given day would run the gamut from regular cleaning tasks to more social ones, including "eavesdropping when the kids would talk to their father, Jon Gosselin."
Layla A. Jones, philly.com
The six-day climb necessary to scale Mount Kilimanjaro, Africa's highest peak, is no walk in the park but one climber, writer Rima Suqi, made it a walk in stilettos.
To celebrate her official entrance into middle age, Suqi ascended the mountain with a couple non-traditional supplies. While she didn't exactly climb the mountain wearing the Gunmetal brand heels, she put them on along with some red Chanel lipstick after reaching the peak. Next, she had her puzzled guide take pictures of her feat for a mini photo-shoot.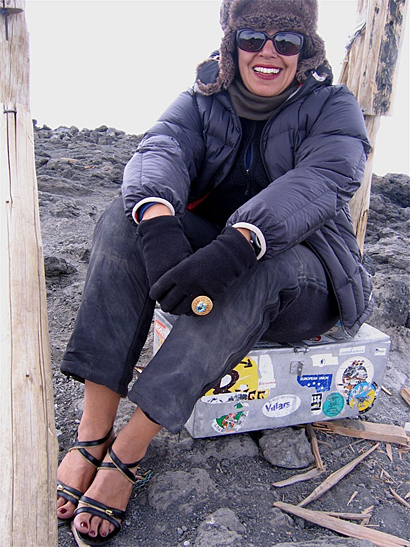 Nick Vadala, Philly.com
Back in 1965, David Lynch prowled the streets of Philadelphia, taking in the city's architecture and aura to eventually inspire his surrealist masterpiece, Eraserhead. Lately, though, it appears Lynch has been stalking the aisles of your local sporting goods store to bring us his latest project: women's sportswear.
Teaming up with clothing company Live the Process to bring us the line, Lynch hopes to bring fashionable, sleek sportswear to women everywhere. That, and Transcendental Meditation—an interest the director has maintained for more than 40 years.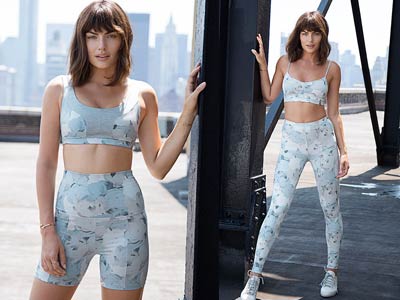 Layla A. Jones, philly.com
Cards Against Harassment is Lindsey's bold contribution to the catcalling conversation.
The idea behind the initiative, spurred by a catcall gone wrong, enables women to download and print little cards to hand to their street harassers, explaining why what they're doing is not okay. Recently, Lindsey, who asked to only be referred to by her first name, began recording and posting her encounters with her harassers.
Mare McKeever, philly.com
In case you missed it, 'Jackass' star Steve-O was roaming around Philly over the weekend leading up to his appearance at Helium Comedy Club Saturday night. And his date to his event? Bam Margera's mom April.
From jumping in the fountain at Logan Square in nothing but his boxers to climbing various Philly landmarks which included the Rocky Statue and the Art Museum steps, Steve-O made sure he had a good time in the city of brotherly love.
Of course he made sure to stop at Love Park.
Nick Vadala, Philly.com
This past Monday, pop culture court jester "Weird Al" Yankovic polkaed his way back into our hearts with the release of Mandatory Fun, his first album since 2011's Alpocalypse. To celebrate, he's been releasing a music video every day, the most recent being today's anti-entitlement anthem, "First World Problems."
Since July 15, Yankovic has treated us to lampooned versions of tracks from Iggy Azalea, Robin Thicke, Pharrell, Lorde, and Charlie XCX, and now it's The Pixies' turn. "First World Problems," as a result, ends up being an alt-rock skewer of one of the 90s most enduring bands.
The video itself features Yankovic as a "douchey character," as he told PopCrush. It is a new identity for Yankovic, with the musician having told video director Liam Lynch that he "didn't want to be myself." One blonde wig later, they had their video.