Mike Bertha, Philly.com
For those of you who were patient enough to wrestle with HBO Go long enough to catch the final episode of the first season of the smash drama True Detective, congratulations. You managed to make it through the entire, maddening, mysterious, magnificent eight-episode run and—even if you're leaving with a "meh"—you're all the better for it.
Showrunner Nic Pizzolatto certainly left plenty of questions unanswered, but that shouldn't take away from the brilliance with which he tortured rabid fans along the way. And, since time is a flat circle and everything that happens will happen again and again, echoing through the vast vacancy of existence, he's gearing up to do it all again.
Speaking with Alan Sepinwall over at Hitfix, Pizzolatto talked about the end of the first season of his critically-acclaimed show and what viewers have to look forward to next time around.
Mike Bertha, Philly.com
Older folks might remember Kevin Bacon as the guy who brought to life iconic roles in cinematic classics like Footloose and The Air Up There. To Millennials, though, he's pretty much just that guy that got punched in the face by Ryan Gosling in Crazy, Stupid Love. Well, Kevin Bacon is sick of his fame being relegated by short attention spans and don't-give-a-sh** attitudes from everyone on Twitter, so he teamed up with the folks at Mashable to deliver Millennials a heated reminder of what the '80s were all about.
I saw you tweeted an article about Russia. You think Russia's a threat, now? Let me tell you about a little thing called the Cold War. They had nukes pointed at us for 20 years. You couldn't even skateboard to a Blockbuster without gettin' nuked.
Well, played David Lindhagen. Well, played. [Mashable]
Mike Bertha, Philly.com
The hilarious Louis C.K. is set to bring his self-deprecating sense of humor and dry brand of wit back to NBC Studios for a second turn hosting Saturday Night Live. He'll take another stab at hosting SNL on March 29th, as his FX show's fifth season gears up to premiere in May.
Recently, Louis C.K. has been working on that fifth season of Louie while making the late night rounds to help promote his smaller roles in Oscar-nominated films American Hustle and Blue Jasmine.
Louis C.K. first hosted SNL in November of 2012 in a critically acclaimed episode that featured the wonderful Lincoln sketch shown below. [h/t Deadline]
Mike Bertha, Philly.com
True Detective has driven people mad. Just like The King in Yellow from Robert W. Chambers, anyone who consumes it is driven mad. Whether you're trying to figure out the location of Carcosa or untangle the corruption behind a ring of child abductions and sacrifices, the show has pushed the Internet to dream up complicated, unreasonable theories that call into question the sanity of the very people who conjured them. And that was before HBO Go crashed for thousands (or millions and millions) of people as they sat down to bask in one of the most highly anticipated season finales in recent television history.
People flocked to Twitter on Sunday night to try to figure out what the hell was up with their HBO Go. They quickly learned that they weren't alone.
Due to overwhelmingly popular demand for #TrueDetective, we've been made aware of an issue affecting some users. Please try again soon.

— HBO GO (@HBOGO) March 10, 2014
Mike Bertha, Philly.com
CNN's Piers Morgan recently sat down with the now infamous Duke porn star "Belll Knox." The freshman student had been starring in adult films through her first semester at the university before she was recognized and outed among her peers.
Since her real identity was revealed on-campus, "Knox" has spoken out about gender equality, society's attitude toward and treatment of sex workers, and the happiness and fulfillment she derives from her professional career. She wrote a lengthy column over at xoJane and was previously the subject of a profile in the Duke student newspaper.
"Knox" speaks with Morgan about her sexuality, her hopes and dreams—both in the adult film industry and at Duke University—and about America's hypocrisy toward pornography.
Mike Bertha, Philly.com
Facebook is (basically) omniscient at this point. It knows when you're in a relationship with someone, even if you don't divulge such information. It knows when you'll break up with that person, even before you begin to resent him/her for slighting your friends and holding you back from realizing your full potential professionally and creatively. It knows where you are, who you're with, what you're doing, and (probably) that John Connor will rise up lead The Resistance to rebel against Skynet in a few years.
It might also know who will likely develop an eating disorder.
A Florida State University study had nearly 1,000 women respond to a survey about eating attitudes and habits and then either spend time on Facebook or Wikipedia. The results indicated that time spent on Facebook could help identify women who were at greater risk for having disordered eating.
Mike Bertha, Philly.com
Martha Stewart's private life has always been something the Internet has been particularly interested in. Whether she's revealing her history of threesomes or penchant for sexting, little morsels of information Stewart has offered the public about her sex life have a tendency to break the Internet.
So, when Stewart recently stopped by the portal to the deep Internet for her Reddit AMA, the Internet obviously had some sexual related questions for her. In addition to advising folks how to be gracious hosts and mentioning that she wishes she were better friends with Snoop Dogg, Stewart schooled the Deep Internet on the importance of baths when it comes to The Sex.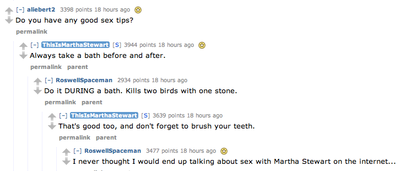 Mike Bertha, Philly.com
*Breathes heavily into paper bag*
Spring is almost here, which means the snow is thawing, we're setting the clocks ahead to get some extra daylight and MAD MEN RETURNS IN, LIKE, A MONTH. Season 6 recently hit Netflix, so many of us have been soaking in the cold, depressing stare of Don Draper. Now, AMC when ahead and made it feel all the more real by dropping a teaser for the upcoming season, which premieres on Sunday, April 13th.
The shot is simply Don Draper disembarking from a TWA flight and putting his hat on set to a hip remix of Que Sera Sera done by French producer extraordinaire, Wax Tailor. You're advised to add his jam to your Mad Men playlist.
Also, why is Don getting off the plane? Where is the plane? What year is it? What about Dick Whitman? Damn you, Matthew Weiner.
Click here to watch the video.