Layla Jones
Taylor Swift fell victim to the risks of the Internet when her Twitter and Instagram accounts were hacked earlier today, Jan. 27.
Though the accounts have already been recovered and the unwanted posts deleted, tweets from Swift's Twitter called on her over 51 million followers to follow @veriuser and @lizzard, whose account owner is being blamed for the social media hacks.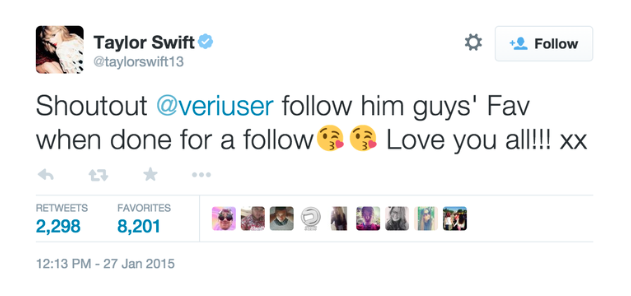 Nick Vadala, Philly.com
Since its premiere earlier this month, American Sniper has earned more than $200 million at the box office, making it the biggest January release in movie history. In fact, by some estimations, the film is on track to overtake Passion of the Christ as the most successful R-rated movie of all time.
"So it's official," host Larry Wilmore said on Monday's Nightly Show. "Bradley Cooper is the new R-rated Jesus."
For its fifth episode last night, Wilmore's Nightly Show took on the success American Sniper has seen in recent weeks, along with the controversy surrounding that success. Referring to the film as an "IED of emotion," Wilmore ultimately didn't take a definitive stand, choosing rather to frame the debate in more clear terms.
Nick Vadala, Philly.com
In times like these, viewer photos of local snowfall and its ensuing chaos are in high demand for area news stations, and 6ABC was no exception yesterday with its #6abcSnow hashtag on Twitter. And while it started out simply enough with the usual snowmen, sledding, and pet pics we usually get this time of year, things quickly went off the rails.
It all began yesterday afternoon, as Crossing Broad notes, when one Philly guy invited fellow Twitter users to "demolish" the station's planned hashtag:
today i welcome all of you to join me in demolishing the #6abcSnow hashtag, which belongs to the local abc affiliate here in philadelphia

— Tom Bro Dude (@tombrodude) January 26, 2015
Layla A. Jones, philly.com
Pennsylvania-based chocolate manufacturer Hershey's has blocked imports of British-made Cadbury chocolate from entering the U.S.
Hershey's not-so-smooth move of banning British-made Cadbury chocolate products from the U.S. comes after a settlement between the Hershey Company and Let's Buy British Imports over Hershey's claim that the imports infringed on trademarks and trade dress licensing. British Ki-Kat bars, Yorkie chocolate bars, Maltesers, and Toffee Crisps have also been banned.
And while a Hershey's spokesperson told The New York Times that they can manufacture Cadbury chocolate here in the U.S., there are noticeable differences between American Cadbury recipes and British Cadbury recipes. Namely, "Chocolate in Britain has a higher fat content," writes New York Times author Tatiana Schlossberg. The first ingredient in British Cadbury's milk chocolate is milk. The first ingredient in American Cadbury milk chocolate is sugar. U.S. Cadbury chocolate also has preservatives while the British recipe does not.
Nick Vadala, Philly.com
Another woman has publicly come out with allegations against embattled comedian Bill Cosby, claiming he sexually assaulted her in New York in 1969. She was 21 at the time.
Cindra Ladd, wife of prominent Hollywood producer Alan Ladd Jr., penned an essay for Huffington Post today detailing her allegations. She claims that in 1969, when she was working as a film producer in New York, she and Cosby began "hanging out."
Via HuffPo:
Layla A. Jones, philly.com
According to the American-Arab Anti-Discrimination Committee, the number of threats Arabs and Muslims have received since the release of "American Sniper" have noticeably increased.
In a letter to "American Sniper" director Clint Eastwood and star, Jenkintown native Bradley Cooper, the Committee President Samer Khalaf wrote, "A majority of the violent threats we have seen over the past few days are [the] result of how Arabs and Muslims are depicted," in the Oscar-nominated film. Specifically, Khalaf wrote that there have been "hundreds of violent messages" on social media from people who have seen the movie.
Already, Warner Bros.' spokesman Jack Horner told Reuters over the weekend that the company "denounces any violent, anti-Muslim rhetoric." But Khalaf appealed to Cooper directly, saying the actor's "visibility, influence, and connection to the film would be a tremendous force in drawing attention to and lessening the serious dangers facing the respective communities."
Nick Vadala, Philly.com
At last year's Wing Bowl, Nebraska native Molly Schuyler waltzed down to the Wells Fargo Center and ate 363 wings, earning her the title of Wing Bowl champion and setting an all-time record for the event. Now, almost a full year later, a little reminder of what her opponents are up against has begun making the rounds.
Schuyler, a 125-pound mother of four, took down two "Big Texan" challenge steaks back in May, which is equivalent to 144 ounces of beef, or nine pounds. She ate everything within 20 minutes.
It is, to say the least, a nearly superhuman feat. But, Schuyler being Schuyler, it's still not enough: She says she'd like to return to attempt three meals in under an hour sometime in the future.
Nick Vadala, Philly.com
A couple weeks ago, Rosa's Pizza owner Mason Wartman stopped by The Ellen DeGeneres Show to accept a $10,000 check that would help along the efforts of the shop's "pay-it-forward" dollar slice initiative. Now, the Today show has featured the shop on a segment called "The Upper Crust."