Nick Vadala, Philly.com
If there is one celebrity you won't find complaining about their fame, that celebrity is probably Kevin Bacon. But, then, spending an entire day disguised as a regular, everyday civilian will do that to you.
The Philly native recently spoke with LA-based magazine Haute Living to discuss, among other things, the subject of fame — something that Bacon knows a bit about, given that the parlor game Six Degrees of Kevin Bacon was created around his seemingly endless connection with our Hollywood heroes. Ultimately, and perhaps not surprisingly, he has decided that being famous is almost entirely great.
That revelation, however, only came after Bacon says he spent a full day bombing around Los Angeles wearing a prosthetic mask to disguise himself as a totally normal, non-famous person.
Nick Vadala, Philly.com
In January, we learned that ex-reality TV star Jon Gosselin had decided to try his hand at the party entertainment circuit by reinventing himself as the inimitable DJ Jon Gosselin. But as video from a recent gig at a New Jersey bowling alley seems to show, that new career is off to a decidedly lukewarm start.
Obtained by TMZ, the video shows Gosselin DJing a gig at Brewsters Pub at Maple Shade's Laurel Lanes last weekend to the fanfare of what appears to be a single, incredibly enthusiastic dancer. And while an empty dance floor doesn't exactly signal prosperity for a DJ, Laurel Lanes marketing manager Justin Borstad tells Us Weekly that the gig was actually quite a success.
"His appearance was a great time," Borstad told Us Weekly. "We had many people inside the bar, just none that wanted to dance."
Nick Vadala, Philly.com
Wednesday night's episode of Broad City had star Abbi Jacobson desperate for money, hawking "celebrity-inspired" food illustrations for $40 a pop to replace a mirror she broke at her gym job. But, as it turns out, the illustrations are a "legit art project" of the Wayne native's own design.
Co-star Ilana Glazer dropped that bomb last night on Twitter, linking out to a Tumblr page called Famous Favorites consisting of all the illustrations shown on Wednesday's episode and much more. Fans of Jacobson's, of course, will recall that she is a real-life illustrator, last week revealing on Preston & Steve that she published several coloring books while writing the first season of Broad City.
The idea here is that Jacobson imagines that the illustrated food is a favorite of the celebrity name she attaches to the piece. So, for example, Aaron Sorkin probably loves Lunchables:
Nick Vadala, Philly.com
In a move that rivals Wawa's decision to sell pizza in its sheer implausibility, Bethlehem-based candy producer Just Born has crossed over into the dairy aisle with its newly released Peeps-flavored milk. Somewhere, someone's prayers have been answered.
Dairy company Prairie Farms teamed up with the Peeps candy maker to release the limited-edition line of Peeps milks, which are currently available in Marshmallow Milk, Chocolate Marshmallow Milk, and, most confusingly, Easter Egg Nog. Which, of course, begs the question: Why?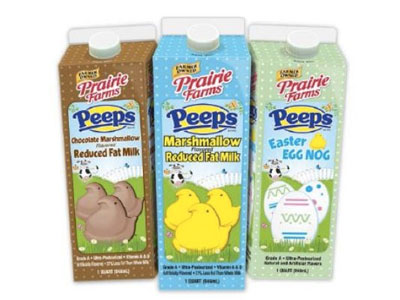 Layla A. Jones, philly.com
Here's something Hall & Oates can't go for: having posh grain products named after them. The Philly pop-soulmen are suing Early Bird Foods & Co., an "artisanal granola" company out of Brooklyn, for their "Haulin' Oats" rolled oats and maple syrup product.
Early Bird manufactures "small batch" granola and other handmade foods. It was founded by Nekisia Davis, a former manager of Brooklyn restaurant Franny's.
Priced between $27 for a three-pack to $104 for a 12-pack, Haulin' Oats is touted as "perfect by itself or as the base for a breakfast parfait creation." That means nothing to former Temple students Daryl Hall & John Oates whose suit claims "the name and mark Haulin' Oats is an obvious play upon Plaintiff's well-known Hall & Oates mark."
Nick Vadala, Philly.com
Since around 2007, superstar and West Philly native Will Smith has been dogged by rumors that he is a practicing member of the Church of Scientology, owing their proliferation in part to his penchant for sci-fi films and free-form parenting style. Now, though, one former Scientology executive says those rumors were never anything more than that.
Speaking exclusively to the Daily Beast, Mike Rinder denied the rumor that the Independence Day and Men In Black star is a Scientologist in any way. Rinder, a former "fixer" for the Church of Scientology, is featured in the upcoming HBO documentary Going Clear: Scientology and the Prison of Belief, which pries deep into the notoriously secretive religion.
"Will Smith is not a Scientologist," Rinder replied when asked by Daily Beast scribe Marlow Stern about Smith's connection to Scientology.
Alex Kacala
Instagram can be used in many ways. Aerial views of espresso macchiatos. Inspirational quotes on a Monday morning. Snow. So much snow. But for one local artist, it provided an inventive refuge during an isolating time in her life.
Since graduating from PAFA in 2011, Misty Pollen struggled. She then turned to Instagram and the community she found online there. Pollen recently entered headlines on Woman's Wear Daily, Buzzfeed and Vice (to name just a few) when her hashtag on Instagram, #heelconcept, began to trend.
WENN Newsdesk
Taylor Swift helped make a young cancer patient's final wish come true by video-chatting with the fan on Monday night.
The Shake It Off hitmaker has been known to make her fans' wishes come true with surprise visits and unexpected presents, but for four-year-old Jalene Salinas, her ultimate hope was to dance with Swift. The San Antonio, Texas resident was diagnosed with terminal brain cancer last April, and after she and her family were given the devastating news, Jalene and her mother Jennifer Arriagas put together a bucket list of things to do before the disease took over.
One of the items Jalene had yet to tick off was dancing with her baby brother Josh and Swift to her hit Shake It Off. A social media campaign to get Swift's attention was started, and thanks to fans from around the world, the pop star finally took note while in London and promised to surprise Jalene via video-calling app FaceTime as soon as she got back to the U.S.