The six-day climb necessary to scale Mount Kilimanjaro, Africa's highest peak, is no walk in the park but one climber, writer Rima Suqi, made it a walk in stilettos.
To celebrate her official entrance into middle age, Suqi ascended the mountain with a couple non-traditional supplies. While she didn't exactly climb the mountain wearing the Gunmetal brand heels, she put them on along with some red Chanel lipstick after reaching the peak. Next, she had her puzzled guide take pictures of her feat for a mini photo-shoot.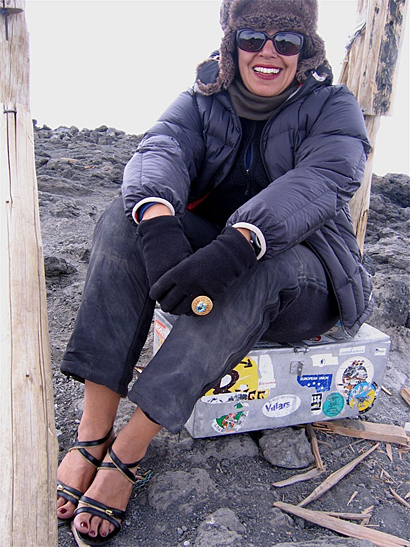 "These photos were taken on the last day of my 30s, and I was perfectly happy to bid them goodbye," she wrote on Fathom.com.
As for her guide-turned-photographer? "At first he looked at me like I was slightly crazy," Suqi told ABC News, "but then he loved it and he did say nobody had ever done that before."
While Suqi's trip had been planned for almost a year, the stiletto stunt was a little more spontaneous and she admitted she's not sure where the idea came from. In a diary entry from the trip, Suqi metaphorically compared the Mount Kilimanjaro climb to the ups and downs of life.
"Forty is kind of a big deal," she told ABC News. "You've got to do something."
If there was one lesson to be taken from all this, it is that no matter what you do, make sure the photos taken show you looked good doing it.