@zackseward dirt

— Brian P. Hickey (@BrianPHickey) February 25, 2014
For our first official #WawaWednesday, Michael Cerio—the executive producer of CBS Radio's "The Chris Stigall Show" on 1210 AM WPHT—was kind enough to offer up some sweet words in the form of an, um, erotic? lovely poem about our beloved Wawa.
COMPLETE AND PRINT ORDER
OUT FROM THE COLD
WRAPPED IN FLORESCENTS
CRACKED HANDS GLIDE ACROSS ILLUMINATED DELIGHTS
I TASTE YOU, WHISPER SECRETS IN MY EAR
PONDER
QUICKLY WE COMPOSE, BUILDING DREAMS IN REAL TIME
YOUR LOYALITY SHINES THROUGH IN BOLD LETTERS
CITIES BUILT AND BURNT IN BLINKS, BUT YOU, CONSTANT
I WAIT AND LET YOU FILL MY SOUL
YOU BELONG TO NO ONE, LOVE ALL
HEART POUNDING AS FINGERS FIDGET, NUMBER CALLED
IT'S TIME
AS I LEAVE MY MIND RACES, WANTING TO TAKE ALL OF YOU
NO
TAKE ONLY WHAT YOU NEED
BACK TO COLD CARS WITH WARM HEARTS, I UNWRAP OUR CREATIONS
WITH NAPKINS ON THE DASH I BREATHE YOU DEEP, TAKE YOU SLOW
JAWS WIDEN, EYES CLOSE, AND ALL THAT ESCAPES MY LIPS IS YOUR NAME
WAWA
_______
Last week, I asked readers to email in their tales from Wawa. We got a flurry of responses, including this charming anecdote from Jude:
When I was a kid I went to the Wawa up the road to steal gum. I loved selling those hamburger shaped bubble gum containers to kids at my parochial school. I felt guilty about it as I grew older, so now I try to pay Wawa back for what I stole by purchasing overpriced brownies after getting baked.
From Mac Graham:
This is my story: I found Wawa one day. I entered. I loved Wawa for the rest of my life.
From Wildbtch11 (really):
About 2 years ago I was browsing through the missed connections & sure enough there was a post about me. Someone that had seen me at Wawa was interested in me. It's been a while so I don't remember the exact wording but they were addressing the girl with the blue streaks in her hair, very large breast, that always seems unapproachable. Being i had the blue streaks in my hair at that time was a dead give away. They mentioned the size of my breast on more than 1 occasion. They wanted me to write them back with the color of my vehicle & make & model so they knew it was me. I was cracking up. I called my fiancé to share the laugh. He wasn't as amused as I was but he did find it funny. I never wrote back because for 1 I was involved with someone but the fact that they knew what make, model & color my vehicle was kind of creeped me out a little bit.
In case you weren't aware, an overwhelming portion of all Missed Connections in the Philadelphia area happen at Wawa. They're as, um, poetic(?) as you might imagine. Here are two of the best from the past week.
The first is included as a screenshot because, honestly, it wouldn't be the same without the picture. It's titled "To my bright light - w4m (Always waiting)."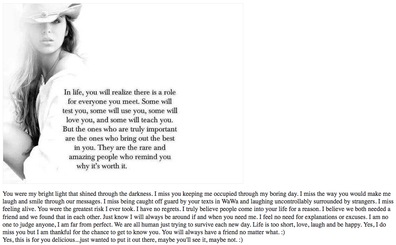 An m4m from a Wawa in Colmar, PA:
Thursday 2/19, you were in front of me in line with a female coworker. We made eye contact and i stared at your crotch. Noticed your work ID on your pocket. Your first name begins with a M. What's your name.
Random #WawaWednesday photo of the week: my brother's friend's Wawa Green Tea tattoo. Like, the permanent kind.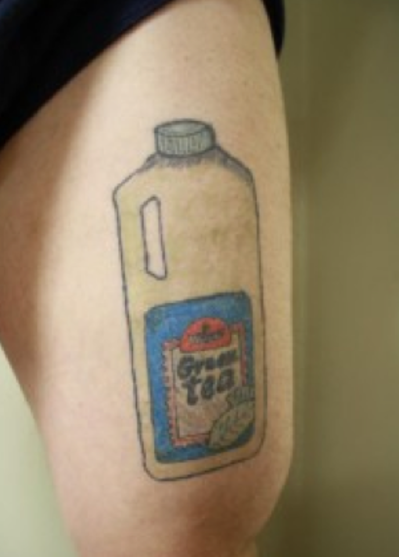 Finally, a roundup of Wawa-related news stories from the past few weeks.
I'll be updating the post with some #WawaWednesday tweets through the lunch rush. If you'd like to contribute to #WawaWednesday in any fashion, please reach out to us at phillywawawednesday@gmail.com
It's #WawaWednesday! Not to be confused with Wawa every other day. pic.twitter.com/qwl1CkIVHe

— Renee Kasprzak (@Reneeisawesome) February 26, 2014
It is time #WawaWednesday pic.twitter.com/cZ92doJXmh

— Corey Smith (@Corey0Smith) February 26, 2014