So, you missed the Golden Globes. Maybe you were busy watching football, catching up on sleep, or staring at the clock on Justin Timberlake's website counting down to the release of his latest single. Maybe you just didn't care to watch Hollywood play dress-up and golf clap for one another while knocking back top shelf booze from the open bar.
Regardless of why you may have missed it, here are the cliff notes so you can pretend like you're learned and tuned in to what's happening.
Tina Fey and Amy Poehler hosted the event (at least to start). They killed with their opening bit.
Jodie Foster received a lifetime achievement award and did some rambling slam poetry for her acceptance speech. She came out of the closet, retired(?), and talked about her dying mother.
Lena Dunham won (twice!). She basically called Tina Fey old and the Internet seemed to find her widely insufferable.
Ben Affleck won for best director and Argo won best drama, so eat that, Academy.
Kristen Wiig and Will Ferrell presented the award for best actress and did so with, ahem, enthusiasm.
Tommy Lee Jones was NOT impressed.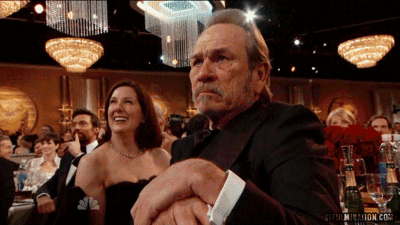 Jennifer Lawrence won that award for best actress in a drama and gave an awesome acceptance speech because she's the coolest.
Adele won the Golden Globe for best original song for Skyfall. She's as adorable as ever.
Taylor Swift was not impressed.