Earth's northern latitudes are starting to look like points further south thanks to an amplified greenhouse effect that has shifted growing seasons. Basically, it's getting warmer up there, so more trees are growing.
"Higher northern latitudes are getting warmer, Arctic sea ice and the duration of snow cover are diminishing, the growing season is getting longer and plants are growing more," said Ranga Myneni of Boston University's Department of Earth and Environment. "In the north's Arctic and boreal areas, the characteristics of the seasons are changing, leading to great disruptions for plants and related ecosystems."
A study, recently published in Nature Climate Change, demonstrates that 34-41 percent of the 10 million square miles of northern vegetated land experienced an increase in vegetation over the last 30 years.
As a result of enhanced warming and a longer growing season, large patches of vigorously productive vegetation now span a third of the northern landscape, or more than 3.5 million square miles (9 million square kilometers). That is an area about equal to the contiguous United States. This landscape resembles what was found 250 to 430 miles (400 to 700 kilometers) to the south in 1982.
"It's like Winnipeg, Manitoba, moving to Minneapolis-Saint Paul in only 30 years," said co-author Compton Tucker of NASA's Goddard Space Flight Center in Greenbelt, Md.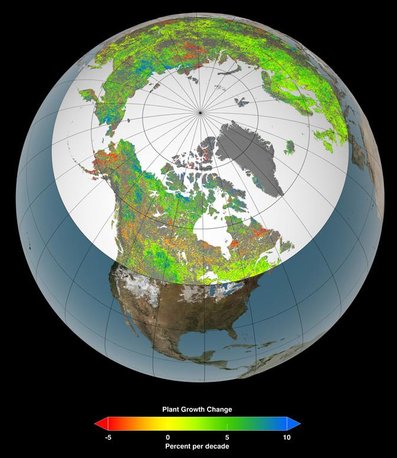 And, according to the findings of NASA scientists analyzing the data, it might not stop there.
To find out what is in store for future decades, the team analyzed 17 climate models. These models show that increased temperatures in Arctic and boreal regions would be the equivalent of a 20-degree latitude shift by the end of this century relative to a period of comparison from 1951-1980.

However, researchers say plant growth in the north may not continue on its current trajectory. The ramifications of an amplified greenhouse effect, such as frequent forest fires, outbreak of pest infestations and summertime droughts, may slow plant growth. [NASA]