Eccentric, Silicon Valley startup bros with all the cash to spare have apparently been taking advantage of the services offered by Goldbely—a company that looks to connect folks with the iconic tastes of their hometowns.
Gawker's Valleywag expanded on Goldbely, the type of people who are taking advantage of the door-to-door delivery, the different varieties of food available for purchase, and the $3 million investment the company recently procured. You can search through the company's menu by region and state. From the fine state of Pennsylvania, you can order ShooFly Pie from the Amish country and, of course, Philly cheesesteaks.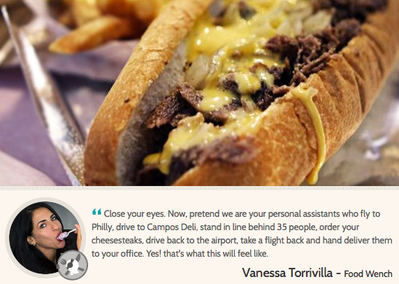 Taking into account the glowing recommendation of Vanessa Torrivilla the Food Wench (seriously, guys?), how could we not try sending some cheesesteaks coast-to-coast?