Remember when Tara Reid and Syfy broke the Internet with Sharknado earlier this summer? Or even earlier this year when (SPOILER ALERT!) pretty much everyone in Game of Thrones died at The Red Wedding? Well, Wednesday's Pretty Little Liars finale absolutely shattered the mentions marks made by Sharknado and The Red Wedding.
When The Red Wedding went down on HBO on June 9th, the episode garnered 367,000 mentions on Twitter. Sharknado's premiere in July nearly doubled that figure with 604,000 mentions. Last night, Pretty Little Liars slaughtered those figures in a shelacking that made the massacre of Robb Stark's famly and army look like an episode of My Little Pony.
Pretty Little Liars garnered 1.9 million tweets from more than 630,000 contributors and featured 38 trending topics.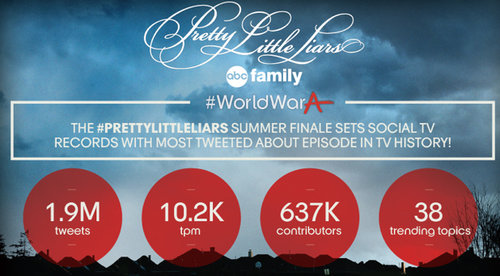 Yup. That makes it the most tweeted about episode in the history of television. Never underestimate the power of an army of tween girls armed to the teeth with smartphones and iPads. [TVbytheNumbers, h/t Uproxx]