If you own a "Back to Back World War Champs" tank top or an American flag trucker hat, you're probably going to want to cruise on over to petitions.whitehouse.gov to lend your voice to what's probably a cause near and dear to your heart.
Someone is petitioning the Obama administration to change America's National Anthem to "Party in the U.S.A." by Miley Cyrus.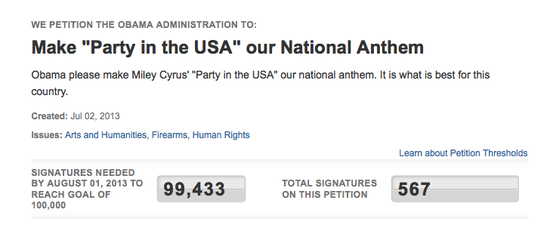 Sure, it's only got 567 signatures, but that doesn't mean the cause is any less worthy of your attention. Just imagine how wonderful it would be to have famous recording artists and children's choirs across the country cover Miley Cyrus' 2009 jam before every sporting event. Roseanne Barr covering Miley Cyrus would be Internet gold, people. Just think about it.
It's what our founding fathers would have wanted. [h/t Uproxx]