Dan Pfeiffer, a senior advisor to President Barack Obama, tweeted out what is probably the worst typo imaginable on Tuesday morning when he was debating the merits a statement about political polarization and how Americans consume the news.
He meant to tweet that the polarization was a "bigger" issue on the right. And, well, the "B" is right next to the "N" on the keyboard, so all of his followers were treated to a message containing the N-word.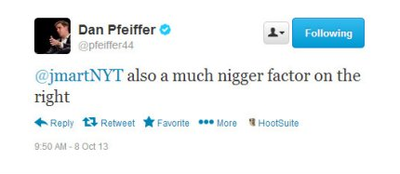 Pfeiffer immediately apologized for the horrible error.
Obviously a horrendous typo in my previous tweet. My apologies

— Dan Pfeiffer (@pfeiffer44) October 8, 2013