The New Zealand Herald's front cover yesterday featured a heartbreaking story about Sgt. Guy Boyland, a New Zealand-born Israeli soldier recently killed in Gaza. Run under the headline "Kiwi killed in Gaza," the article goes into the life and death of the 21-year-old soldier—all next to a great photo of late Jackass star Ryan Dunn.
A glaring editorial error, to be sure.
The Herald has since issued an apology and correction to their mistake, explaining that the photo of Dunn was pulled from Boyland's Facebook page. Boyland, who moved to Israel from New Zealand as a young boy, was a fan of the comedian and posted the image after Dunn passed away in a high-speed crash in June 2011. The paper, of course, intended to use a photo of Boyland himself.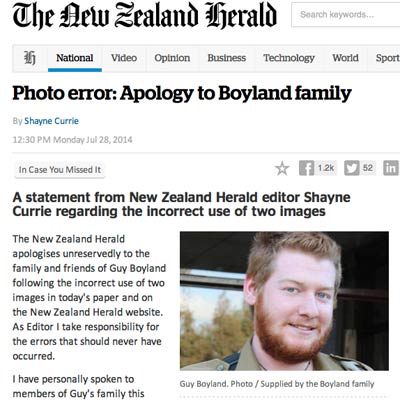 In a statement, editor Shayne Currie apologized "unreservedly" to Boyland's loved ones, and adds that he spoke to the family personally to apologize. The Boylands, luckily, were willing to forgive:
"I have personally spoken to members of Guy's family this morning, as has the CEO of APN, Jane Hastings. The family members have been remarkably forgiving, particularly in the circumstances. I have apologised for adding to their grief and I will keep them fully updated on how this happened as obviously it is unacceptable."
[Mashable]