SPOILER ALERT: Stop reading if you haven't finished Breaking Bad.
DOUBLE SPOILER ALERT: The New York Daily News doesn't understand what the hell a spoiler is because they went ahead and spoiled Breaking Bad for everyone who wasn't able to watch the series finale live.
If you missed the final episode of the iconic AMC drama about Walter White, we're praying you avoided newsstands carrying the New York Daily News because they put a picture of Walter White bleeding out ON THE FRONT PAGE OF THEIR PAPER with the headline "'BREAKING' DEAD." Really. That's what they ran with.
The accompanying story is, ultimately, irrelevant because YOU CAN'T PUT SPOILERS ON THE FRONT PAGE.
Sure, everyone who watches Breaking Bad should have found a way to watch last night's finale in real time. But, presumably, there were some poor souls who had to witness the birth of their first child or anchor a nightly news broadcast or something and couldn't figure out how to properly prioritize their lives.
And then, after avoiding Twitter and Facebook and text messages from friends and basically every corner of the Internet and anything with a screen, the picked up an old time-y newspaper and had everything ruined because the editors don't understand the rules.
For shame, NYDN. For shame. [Newseum]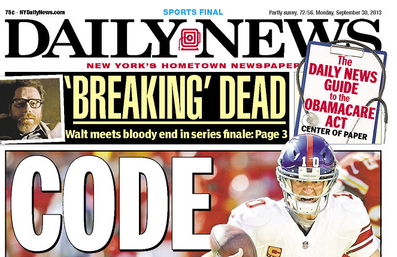 Note: When I cropped that picture, I made sure to get the top of the picture that went with the Giants story because that is a wonderful Manningface that Eli is making, right there.