Burger King's Twitter feed appears to have been compromised. Someone went ahead and changed the handle to "McDonald's," announced that McDonald's had purchased Burger King, and changed the avatar to a set of golden arches. The other tweets were, um, interesting.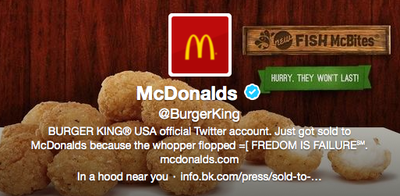 The person controlling the @BurgerKing account claims to be a part of Anonymous, the infamous hacker organization responsible for the recent cyber attack on the Westboro Baptist Church account.

The other tweets included a Hamburgler comic, a picture of someone shooting up, and a picture of an unappetizing burger.