Jay Z did indeed throw hundreds of $2 bills to the Made in America crowd on Saturday night, and more were flung out on Sunday night, according to eyewitnesses who grabbed some cash themselves.
UPDATE 9/4: Finally, a photo shows Jay Z throwing $2 bills in Philly
"I was standing right next to Jay Z for the entire duration of the Steve Aoki set during Made in America," emailed Nicole Rechter of Lindenwold, who included a photo of Jay Z to prove she was there.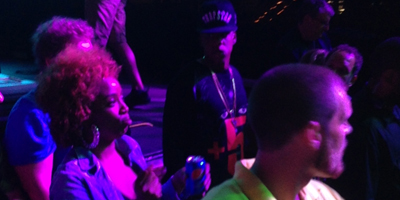 He threw money into that crowd three times," but that part didn't get photographed because, "I was too busy grabbing money!" she said. Shortly after, she took the photo of her cash that appears at the top of this blog.
Her husband thought each thrown stack might have been worth $1,000.
She was also grateful for a thoughtful Jay Z gesture: "Halfway through the show he told one of his staff to hand us a bottle of water, which was awesome because there was no getting out of the crowd, especially after people were crawling around on the ground looking for money!"
Temple student Mike Barry described the scene:
"There was about about a five-foot gap between the front row and stage, typically where security stands ... he nonchalantly appeared from the side and stayed in the area below the front corner of the stage but in front of the front row. He had his hat tilted low and no one really noticed who it was until in the middle of one of the songs he threw out money.
"Where I was it was already madness -- you couldn't move much -- and when people saw money flying in the air it only escalated. Only people who were right up front could see it was Jay Z and I don't think half even realized who they were looking at."
He saw cash hurled twice, fluttering about 20 feet into the crowd. Here's Barry with his two bucks and a photo he shot of Jay Z: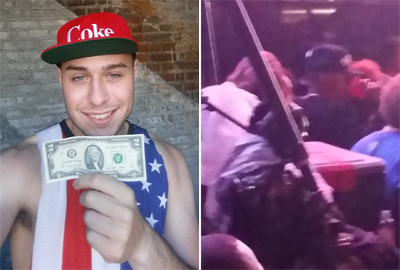 Bills were also flying during Sunday night's Tiesto performance, according to Patrick McManimon of Holland, Pa., who grabbed a couple of notes himself: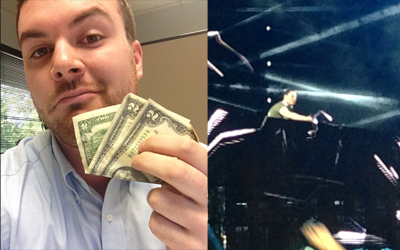 The throwing was done not by Jay Z but two men in their 20s, he said.
"A lot of people thought it was fake but I bent down to snag them anyways, just to make sure," he said. "There wasn't much of a scramble but if any of the money fell within arm's length, people were bending over to get them. I'd say two men walked up to the fence with handfuls and just threw them out as far as they could."
As explained in a previous Trending post, $2 bills became associated with hip-hop and rap stars all because a wealthy lawyer named Steven Reisman started giving them out, apparently for good luck, Mashable explained.
Backing up a Reisman role in Philly was the following tweet:
Yooooo I'm officially official I got my 2 dollar bills from the 2 dollar bill guy!!! #madeinamericapic.twitter.com/9QdHeb6MT5

— Clarence Fruster (@TheGreatHustler) August 30, 2014
This isn't the first time Jay Z distributed the double-dollars.
Jay-Z and these $2 Bills. He gave away a whole stack of them at the J. Cole concert in January.

— Ms. O (@Fabulousity201) August 31, 2014
According to Wale Jay-Z and Timberlake were in the club throwing 2 dollar bills last night. #class

— KeepinYouInTheLoop (@KYITL) February 3, 2013
A photo of wife Beyonce holding $2 bills with Jay Z and a Beyonce Instagram post showing lots of $2 bills are part of a long Complex.com article, "Who is Stephen Reisman?"
Contact staff writer Peter Mucha at 215-854-4342 or pmucha@phillynews.com. Follow @petemucha on Twitter.