Tyrone Garland and the La Salle Explorers are heading to Los Angeles for the Sweet 16. As they ready for the next round of the tournament, their classmates who cover the basketball team for La Salle TV and the Collegian pose the question, "If a Southwest Philly Floater falls in Los Angeles and the school's student reporters aren't their to cover it, does it make a sound?"
The young men and women are hoping you'll pitch in a little (out of the goodness of your heart) to help send them to L.A. for the Sweet 16. You can donate to the effort here.
La Salle TV and the Collegian drove all the way to Dayton and Kansas City to cover the Explorers. They need your help to get to Los Angeles to cover the first Sweet 16 since 1955. Anything will help! Check out our coverage from Dayton and Kansas City through the collegian and La Salle TV. Www.facebook.com/lasalletv and www.facebook.com/lasallecollegian [GoFundMe]

UPDATE: Hey, this is a thing that's happening: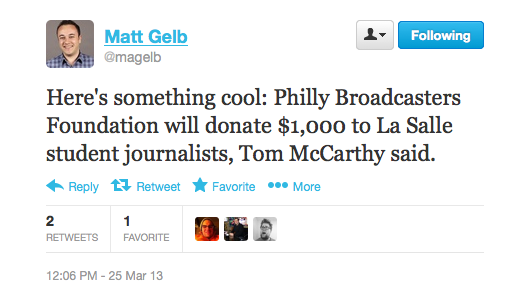 UDATE: IT'S HAPPENING!