Stop what you're doing RIGHT THIS INSTANT and cruise on over to the Grown Ups 2 page at Rotten Tomatoes. You'll be shocked to learn that the movie has garnered exactly zero positive reviews. (UPDATE: Four critics have given Grown Ups 2 positive reviews since this post was published.) The movie's Rotten Tomatoes page is still the funniest thing you'll see today.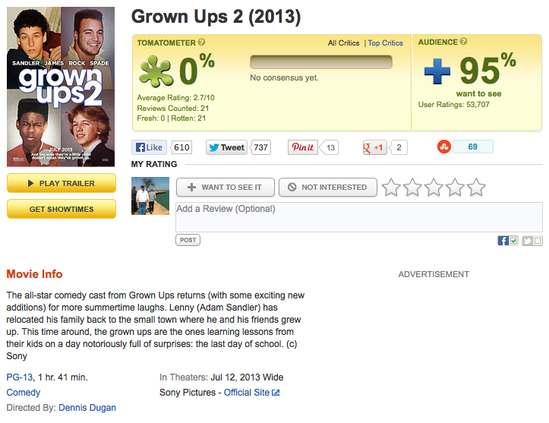 The sequel that no one asked for stars Happy Gilmore, Paul Blart, Joe Dirt, and Pookie from New Jack City because, the 1990s. The four horsemen of the apocalypse reprise their roles as, get this, grown ups, who grew up playing basketball together. This time around, though, the crew is trying to survive the last day of school despite a bevy of surprises (and hilarity, no doubt).
A day before it hits theaters, the movie has gone a dismal 0/24 thus far among the reviews curated by Rotten Tomatoes and its average rating has literally fallen in the 10 minutes since I captured the above screenshot.
The pull quotes include some gems like:
"Like most Adam Sandler movies, it's exactly like most Adam Sandler movies." - New York Daily News
"Yes, it's time for another visit to the Adam Sandler Death-of-Cinema Fun Factory, the big-screen version of a terrible sitcom where laugh tracks are replaced by the co-stars chuckling at their own awful material." - The Wrap
"In the first five minutes, a deer walks into the star's bedroom and urinates on his face. It's all downhill from there." - Time Out New York
If you're wondering why the original from 2010 earned a sequel in spite of its 10-percent approval rating on Rotten Tomatoes, look no further than the bottom line because the budget was approximately $80 million, but it made more than $270 million at the global box office.
This means that if you (yes, YOU) pay to see Grown Ups 2 this weekend, then you're morally responsible for the downfall of American culture and/or the inevitable conclusion to the trilogy when it comes to a theater near you in 2016. Remember, friends don't let friends go to Adam Sandler movies. [Rotten Tomatoes]
UPDATE: Some critics have actually given it positive(?) reviews. As of 8 a.m. on Friday, Grown Ups 2 was sporting an 8-percent approval rating on Rotten Tomatoes.