Google Chrome is The People's Internet browser of choice. Whether you're looking to sling video to your Flat screens or replace all pictures on the web with pictures of The Gos, Google Chrome has you covered. And they're not stopping there.
In wake of The Great VMAs Twerking Disaster of 2013, a new Google Chrome plug-in will block all mentions of Miley Cyrus and twerking.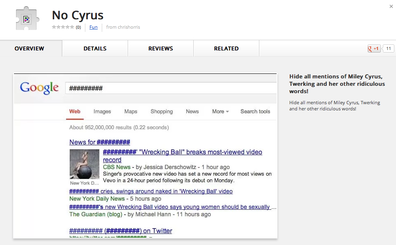 It's similar to the Chris Brownout plug-in that will rid your Internet of mentions of the guy that beat up Rihanna.
Download the "No Miley" Chrome extension here. [h/t Yahoo]