Modern relationships are complicated. That's not to say that romance hasn't always been one of the trickier aspects of the human existence. It's just that people used to interact face-to-face and they used to be single, courting, or married. Now, the typical progression goes: "Talking to" < "Hanging out with" < "Seeing" < "Dating" < "Dating exclusively" < "Facebook official."
And, regardless of whether or not you'll ever get to that last milestone, Facebook is plenty aware that you and "Jenny Party" are getting serious. The Facebook folks posted some words and graphs on Valentine's Day that reveal a little about the user habits of people who are about to be in a relationship.
Typically, when two people enter that modern courtin phase ("Talking to" through "Seeing" or something close to that), there's an uptick in their Facebook interactions. They're at the same events, posting on each other's walls, sharing links, and commenting on the same viral crap. Then, when they begin to date officially, all of that stuff tapers off, ostensibly because the two people in question are spending more time together and/or carrying out their relationship in private (via text message).
Relationships start with a period of courtship: on Facebook, messages are exchanged, profiles are visited, posts are shared on each other's timelines. The following graph shows the average number of timeline posts exchanged between two people who are about to become a couple. We studied the group of people who changed their status from "Single" to "In a relationship" and also stated an anniversary date as the start of their relationship. During the 100 days before the relationship starts, we observe a slow but steady increase in the number of timeline posts shared between the future couple. When the relationship starts ("day 0"), posts begin to decrease. We observe a peak of 1.67 posts per day 12 days before the relationship begins, and a lowest point of 1.53 posts per day 85 days into the relationship. Presumably, couples decide to spend more time together, courtship is off, and online interactions give way to more interactions in the physical world.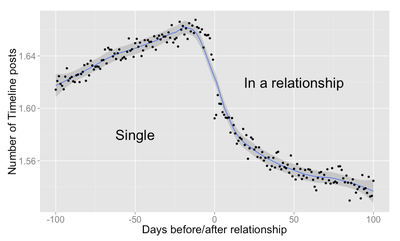 Basically, any two people who share an interaction timeline consistent with the findings of the study are probably in a committed relationship with each other, even if they don't make it "Facebook official." The machines are winning and Her is going to be real life sooner than we think and we haven't even gotten flying cars or hover craft skateboards, yet. Life is bullsh**.