President Obama, Conan O'Brien, A-list celebrities, actors from The West Wing, journalists, politicians, and the rest of Washington's elite got together at the D.C. Hilton on Saturday night to rub elbows and crack some jokes over dinner and drinks. The White House Correspondents' Dinner is an annual examination of the odd relationship between Washington, Hollywood, and the journalists that cover both.
This year, Mr. O'Brien served as host, though President Obama proved pretty effective himself while getting the crowd to laugh and groan. Print media and NBC took the most punches throughout the bout, though Obama's jab at Michele Bachmann might have been the hardest hit of the night. Here's everything you need to know about the 2013 WHCD:
Before the event, President Obama sent out a little message on The Official White House Tumblr.
Kevin Spacey helped out with a House of Cards spoof.
Steven Spielberg helped out as well, when Daniel Day-Lewis took on the role of President Obama.
The New York Times doesn't cover the event.
Gawker posted a list of questions Politico planned to ask all of the celebrities in attendance.
Here's the photoshopped image that was a part of his bit.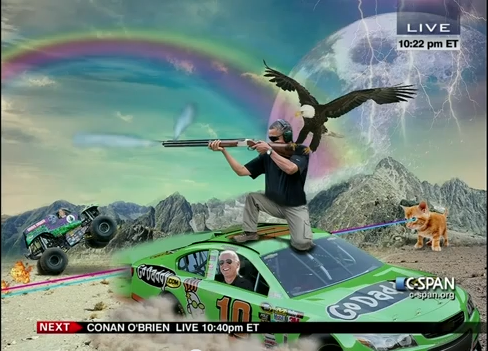 Here's a photoshopped image of President Obama with bangs.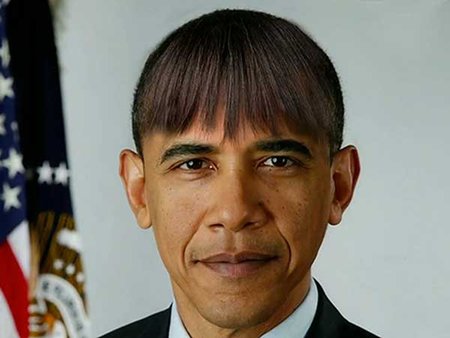 President Obama's five best jokes:
"I get it. These days, I look in the mirror and I have to admit I'm not the strapping, young, Muslim socialist that I used to be."
"I go out on the basketball court. Took 22 shots. Made two of them. That's right: two hits, 20 misses. The executives at NBC asked, 'What's your secret?'"
"But the problem is the media landscape is changing so rapidly. You can't keep up with it. I remember when BuzzFeed was just something I did in college around 2 a.m."
"In fact, I'm taking my charm offensive on the road. A Texas barbecue with Senator Cruz, a Kentucky blue-grass concert with Rand Paul, and a book burning with Michele Bachmann."
"Take the sequester: Republicans fell in love with this thing and now they can't stop talking about how much they hate it. It's like we're trapped in a Taylor Swift album."
Conan O'Brien's five best jokes:
"My past experience at this event has taught me how these things work. If the President laughs, everyone laughs. And if the Fox News table laughs, then a little girl just fell off her bike."
"I see The Huffington Post has a table. Yeah! Which has me wondering, if you're here, who's covering Miley Cyrus' latest nip slip? Who's assembling today's Top 25 Yogurt-Related Tweets? Seven Mistakes You're Making With Bacon. That's a real one and you should be ashamed of yourselves!"
"Matt Drudge couldn't make it. He had a prior commitment to teach a Web design class in 1997."
"Some people say that print media is dying, but I don't believe it. And neither does my blacksmith."
"As I look around the room and see all the media here, I realize this is just one big high school cafeteria. That's all it is. Think about it: Fox is the jocks, MSNBC's the nerds, bloggers are the goths, NPR is the table for kids with peanut allergies, Al Jazeera is the weird foreign exchange student that nobody talks to, and print media, I didn't forget you, you're the poor kid who died sophomore year in a car crash. Cheer up, we dedicate the yearbook to you."
President Obama's appearance in full:
Conan's appearance in full: