Do you have lunch plans today? No? Then you should definitely make your way to New York and hang out in Times Square where Donovan McNabb and Ryan Lochte will play kickball together just before the universe folds in on itself and swallows our entire realm of existence. On Tuesday morning, McNabb sent a tweet urging his followers to join in on the festivities in the Big Apple.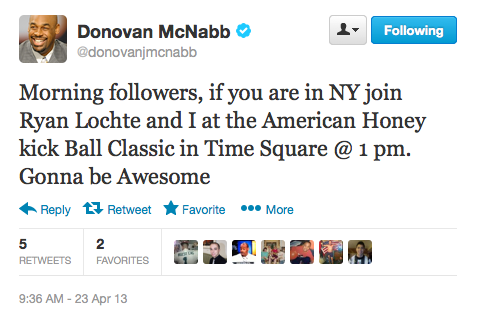 McNabb didn't stop there, though. While it seems pretty clear that men will be welcome at the event, the whole point of a kickball classic is, obviously, to objectify women and help Ryan Lochte get laid (because there isn't already an entire television program devoted to such a cause). So, McNabb clarified that he's looking for New York's attractive female population to come out and demonstrate to the swimmer just how attractive they can be.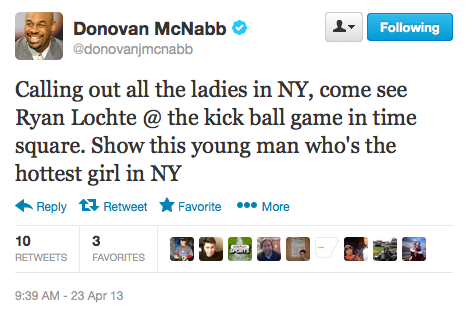 The game is a charitable event sponsored by Wild Turkey American Honey.
Wild Turkey American Honey, the original honey bourbon liqueur, will celebrate the launch of its Bar-sity Athletics social sports initiative by turning Times Square into the ultimate social sports stadium for a charity kickball game not to be missed. McNabb will be paired with participants from NYC-based social sports league Zog Sports and the 2013 American Honeys to compete in an once-in-a-lifetime exhibition game featuring the pomp and circumstance of a major league sporting event. [GO]
So, if you're into retired quarterbacks, Olympic medalists with their own reality shows, playground sports, flavored whiskey, or the objectification of women, then Times Square is the place to be this afternoon. We imagine that it's B.Y.O. tribal armband tattoo, though there will probably be plenty of promotional lanyards to go around.