Back in 1965, David Lynch prowled the streets of Philadelphia, taking in the city's architecture and aura to eventually inspire his surrealist masterpiece, Eraserhead. Lately, though, it appears Lynch has been stalking the aisles of your local sporting goods store to bring us his latest project: women's sportswear.
Teaming up with clothing company Live the Process to bring us the line, Lynch hopes to bring fashionable, sleek sportswear to women everywhere. That, and Transcendental Meditation—an interest the director has maintained for more than 40 years.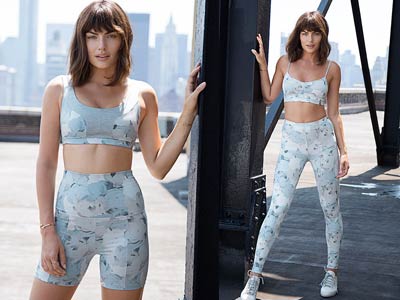 As per Live the Process' site:
David Lynch wants to bring Transcendental Meditation (TM) to anyone interested in practicing.
The award-winning director/writer/producer—best known for films like Blue Velvet and Mulholland Drive and seminal TV series, Twin Peaks—has worked to raise public awareness of TM via his namesake charity, The David Lynch Foundation (established in 2005). Now, DLF, model Alyssa Miller and Live The Process are collaborating towards this shared goal, with a capsule collection, as well as an exclusive t-shirt designed in association with New York artist Jason Woodside communicating "Change Begins Within, Live The Process." The collection will be available at Barneys New York with a portion of the proceeds going towards funding for DLF's mission to make learning TM accessible to everyone globally.
But for all the surrealist imagery Lynch is known for, the designs have ended up being a relatively tame "geometric" pattern. So, in that sense, the most shocking thing about Lynch's latest fashion-forward move is that it's so, well, normal.
The price, though? Not so normal. One pair of leggings runs $185, plus $105 for the corset bra top, with proceeds going to the David Lynch Foundation. And, of course, no menswear is currently available in the six-piece collection.
But fret not, male Lynch-o-philes—the man himself came out with a signature coffee line last year. Or, you know, you could just watch Blue Velvet again.