There's no professional courtesy when it comes to wild killing machines.
Tourists cruising Northern Australia's Adelaide River this week saw a well-known old crocodile named Brutus on the bank with a bullshark in its jaws. But after Brutus, who has only three legs, moved back into the water, perhaps spooked by the boat, the shark revived. The shark might even have gotten back in the water to turn the tables, said Andrew Paice, who shot photos. It's possible Brutus lost his leg in a previous shark attack.
It's not the first such battle. Another case of croc bites shark happened last year, also in Northern Australia.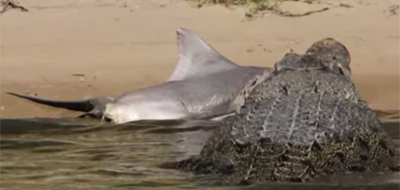 Still, crocs can't claim to be at the top of the wild food chain, since a croc head was found in South Africa apparently bitten off by a shark, and a crocodile was devoured by a snake in Australia.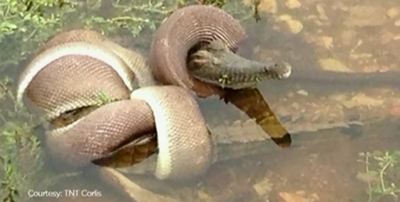 And here's a video of a python slowly engulfing an alligator:
Crazy stuff. No wonder there's a website called AnimalsEatingAnimals.com, which even shows a crocodile eating a giant crab.
Contact staff writer Peter Mucha at 215-854-4342 or pmucha@phillynews.com.