In conjunction with the forthcoming release of the highly-anticipated sequel to Anchorman, Ben & Jerry's has announced its latest, limited edition flavor of ice cream.
The flavor has been dubbed "Scotchy Scotch Scotch" and is made with butterscotch ice cream and butterscotch swirls.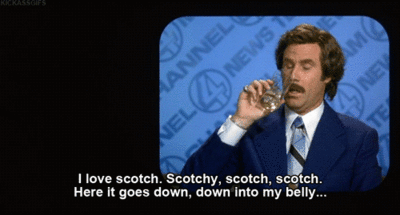 The Scotchy Scotch Scotch ice cream made its debut at New York's Pier 36 with a performance from a waterskiing squirrel. Really.
The flavor was officially unveiled at New York City's Pier 36 with a performance by Nutty The Waterskiing Squirrel, as seen in the first Anchorman film, and immediately followed by the appearance of a Ben & Jerry's scoop-truck-turned-Channel 4 News-truck, which rolled onto the scene transporting a legion of blazer-wearing Ron Burgundy lookalikes that served samples of the flavor to people who couldn't wait for it to go down, down into their bellies.
Lisa Sholk, Ben & Jerry's marketing maven, said, "As a company who believes our fans deserve nothing but the best, we have great respect for Ron Burgundy, who takes the same belief to heart."
Anchorman 2: The Legend Continues is scheduled to hit theaters this December. [E]