Garth is a 44-year-old father with just an 8-percent chance of living another five years. Since 2011, he's been diagnosed with cancer three times (kidney twice, prostate once). His daughter, Emma, has received an inspirational note in her lunch every day going all the way back to second grade. Garth writes the little tidbits of wisdom and encouragement along the top of the napkins he puts in her lunch.
As Garth comes to grips with the fact that he might not have much more time left in this plane of existence, he's preparing to carry on the tradition in the most P.S. I Love You way he knows how.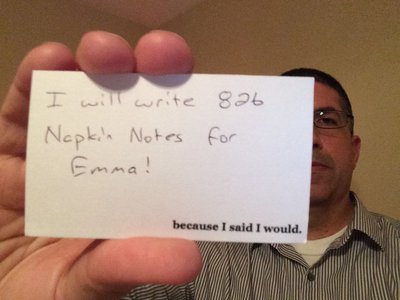 Garth has been stockpiling the notes—826 of them to be exact—so that Emma will be able to read one of his messages every day at lunch until she graduates from high school.
Garth may die, but he will not let Emma eat lunch without that note. This is his promise to write one napkin note for every day of class Emma has until she graduates from high school. To date, he has completed 740 notes. 86 to go. [Because I Said I Would, h/t Uproxx]