Mike Bertha, Philly.com
If you're a Friday Night Lights fan, you should sit down before reading on because clear eyes and a full heart won't help brace you for the news that Tim Riggins will never be in the rumored film that's supposedly, possibly, probably not, but, still, maybe going continue the Dillon Panthers storyline. Actor Taylor Kitsch—mostly known for his role as Riggins and the behemoth atrocity that was John Carter—spoke with Vulture's Kyle Buchanan to discuss a forthcoming Navy SEAL film, Lone Survivor, and his AIDS epidemic film The Normal Heart.
During the interview, Buchanan and Kitsch discuss the effort that goes into changing body types for a role and whether or not his string of character appearances is in any way a response to the box office disappointment that came with last year's John Carter and Battleship. Then, at the end of the interview, Buchanan brings up Friday Night Lights and the potential film when Kitsch cuts him off to make something clear...
People still talk about the idea of a Friday Night Lights movie, and—
I'll just say no. [Slams fist on table.] No, period. I'm not doing it. I'm never gonna be in that movie. There was already a movie! And the show ended f***in' spot-on. We're good.
Mike Bertha, Philly.com
Brian McCarty is a Los Angeles-based photographer who has used toys in his art for nearly two decades. Recently, McCarty has been working on his WAR-TOYS project, which aims to depict a child's perspective of war and turmoil in the Middle East through a series of photos featuring toys.
McCarty worked with children in Jerusalem, the West Bank and Gaza, which produced a variety of drawings. Some children drew the keys their families kept as symbols of the homes they had to flee. A few boys portrayed heroic militants with homemade bombs. Young girls in Gaza City often drew mothers and babies near scenes of carnage.
Mike Bertha, Philly.com
Years ago, the Oklahoma state Legislature authorized the installment of a privately-funded Ten Commandments statue on the steps of the Statehouse. Now, they might have to eat their prayers as a Satanic Temple in New York has suggested that another monument be erected next to the Ten Commandments piece. The Oklahoma chapter of the ACLU has filed a motion calling for the removal of the original monument, but the Satanic Temple plans to submit its design proposal shortly, anyway.
But the New York-based Satanic Temple saw an opportunity. It notified the state's Capitol Preservation Commission that it wants to donate a monument and plans to submit one of several possible designs this month, said Lucien Greaves, a spokesman for the temple.
Mike Bertha, Philly.com
Chances are that this miserable weather on a Monday between Thanksgiving and Christmas has you staring at the clock and counting down the seconds until it's quittin' time this weekend.
Rebecca Black is still a person, apparently, and her latest offering atrocity will certainly make you reconsider your affinity for the weekend.
Black broke the Internet years ago with her viral sensation "Friday." Now, she's bludgeoning that dead horse with a follow-up single called—you guessed it—"Saturday."
Mike Bertha, Philly.com
Comedian Tom Mabe has a friend who's managed to accumulate five DUIs. Purportedly in an effort to scare the guy out of committing a sixth, Mabe enlisted the help of some folks to pull a prank on his buddy. They turned an empty office into a hospital room, complete with the mechanical bed and the flat-screen television. When Mabe's buddy passed out drunk in his truck, they put him in a hospital gown and transported him to made-up room.
When the guy wakes up from his stupor, there's a "nurse" checking on him. She sends in the doctor to inform the man that he's been in a coma for 10 years. A fake news report comes on the TV complete with ridiculous fake information from the future, including Justin Bieber's homosexual relationship and Miley Cyrus' slew of problems.
Eventually, Mabe (literally) slaps the hell out of his friend and lets him in on the joke before yelling at him about his terrible and dangerous drunk driving habit. [h/t Uproxx]
Mike Bertha, Philly.com
You'll probably remember Macaulay Culkin as the kid from Home Alone or as "That Guy Who Dated Mila Kunis for, Like, a Decade." The selfie generation, though, is sure to remember Culkin for his recent work with his pizza-themed Velvet Underground cover band creatively titled, "The Pizza Underground."
Buckle your seat belts and check out their hits like, "Take a Bite of the Wild Slice." Yup, it's a thing that exists, now.
Culkin and fellow bandmates Matt Colbourn, Phoebe Kruetz, Deenah Vollmer, and Austin Kilham reportedly recorded the EP at Culkin's house back in November and the world is surely a better place for it.
Mike Bertha, Philly.com
Earlier this week, Deadspin writer/penis joke extraordinaire Drew Magary authored a post that included an annotated version of his daughter's Christmas list. Much in the way super troll Maddoxx used to mock little kids' drawings, Magary rips his daughter's list apart, providing commentary on the laughable implausibility of most of the items contained therein.
In response to his article, parents began to flood Deadspin's inbox with examples of their own children having lofty Christmas expectations. They want dragons and doorbells for their rooms and $10,000 cash. The ultimate collection of Christmas wish lists is definitely the best way to waste the rest of your afternoon/lifetime. Happy Friday, you guys. [Deadspin]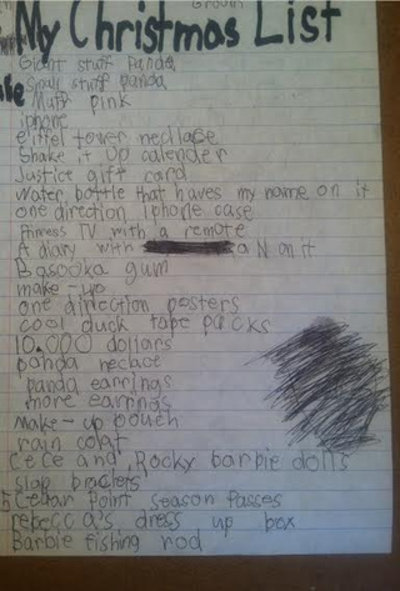 Mike Bertha, Philly.com
Hoo boy, hope you guys are strapped in because this is a thing that happened. The cinematic genius behind The Christmas Candle aka failed Republican presidential candidate and former Pennsylvania Senator Rick Santorum was on The O'Reilly Factor on Thursday night and he said some really dumb stuff.
Mainly, he compared the GOP's struggle against the Affordable Care Act to the struggle endured by Nelson Mandela when he fought against apartheid in South Africa. Yup, really.
O'Reilly starts off by calling Mandela a communist. The host explains that while he and Mandela may have been idealogically different, he was able to have profound respect for Mandela's personal sacrifice and the strength of his character.