Archive: January, 2013
Colin Kerrigan
Local Philly band DRGN King released their full-length debut Paragraph Nights last week via Bar None Records. It has received a ton of hype from the likes of Rolling Stone, Esquire, Vice, among others, and rightfully so. It all started as a collaboration between songwriter Dominic Angelella and producer Ritz Reynolds and has bloomed over the past two years into a fully functioning band. You can listen to the entire record HERE and check out a few songs below.
They'll celebrate their new album this Saturday(02/02) with a record release show at PhilaMOCA with openers Dangerous Ponies, Walking Shapes, Idol Idles and several DJs. There are no advance tickets so just pay at the door. It'll be a great night of Philly music so don't miss out!
Blaire Monroe
Cancel your plans for Friday, February 8 because you're going to want to head over to The Fire to check out one of our favorite Philly based artists, Dewey Decibel.
The award winning graphic designer/illustrator and hip hop artist will be performing live along with The People and Hennessey Bonfire. If you haven't checked out this triple-threat, you ought to because this guy has got some serious talent. Just check out his latest single "Love" from his most recent album Son of a Beach – it's a great jam with some equally quality visuals.
The show starts at 8 pm. You can purchase tickets here.
Blaire Monroe
If you've got a thirst for great imperial stouts, and any sort of white attire hanging in your closet, you're going to want to stop by Varga Bar on Thursday, January 31st.
As January winds down, Varga Bar is inviting everyone to attend their White Party, which they're also calling their Craft Stout Invitational. Drafts include:
Goose Island Bourbon County
Troegs Scratch #83
Great Lakes Blackout Stout
Oskar Blues Ten FIDY
Left Hand Wake Up Dead NITRO
Port Santa's Little Helper
Ballast Point Victory at Sea
Allagash Bourbon Black
Dogfish Head Bitches Brew
Sierra Nevada Narwhal
Harpoon Leviathan Czerborg
Blaire Monroe
Building on Michelle Obama's national call to action to help improve the physical and emotional health of children, Tariq "Black Thought" Trotter will be hosting Let's Move It Philly! On February 16th.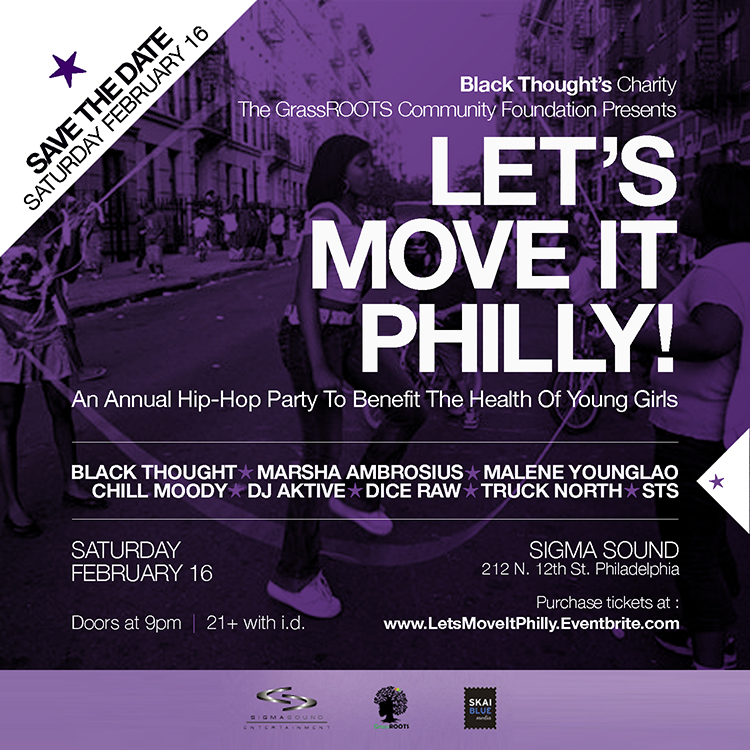 Let's Move It Philly! is the first step in the Grassroots Community Foundation's 10 city initiative to address childhood obesity and health inequality for African Americans and those living in low-income communities.
Kate Bracaglia, Philly.com Music Blogger
With a new month comes some great, new shows.

Friday, February 1: Buke and Gase at Johnny Brenda's
Blaire Monroe
The Philadelphia Fashion Incubator is a non-profit organization that helps skilled and deserving designers launch their businesses. Starting on February 7th and running through the 14th, Knit Wit will be hosting a pop-up shop in support of this brilliant organization.
Doors are open Monday through Saturday from 11 am – 6 pm, and on Sunday from 12 pm – 5 pm.
It's the perfect opportunity to makes sure your wardrobe is fresh for spring.
Colin Kerrigan
RAC, aka Remix Artist Collective, was started back in 2007 by one guy, Andre Anjos. He started producing remixes while he was in college and eventually went on to recruit a few others via the Intenet to create the collective. Fast forward to present day and Anjos has taken his college dorm room hobby to a full blown career. He has even taken his remixes and turned it into a live show with fellow RAC member, Karl Kling.
The RAC DJ duo will make a stop this Friday(02/01) at The Blockley in University City with opening acts Stock Footage and Disco Sucks. Tickets for the show are still available and can be found HERE.
If you're feeling lucky, we have a pair of tickets to giveaway. All you need to do to enter is let us know your favorite RAC remix in the comments below. We'll pick the winner on Thursday. Good luck!
Colin Kerrigan
Philly's own Bleeding Rainbow, who were at one time Reading Rainbow, have a new record coming out next Tueday(01/29). It's called Yeah Right and will be the band's first album on Kanine Records. If you head over to Pitchfork, you can listen to the entire thing right now via Pitchfork Advance and you can also listen/watch the video for "Drift Away" below.
The band also announced a few dates in support of their new release. One of which being here in Philadelphia at Johnny Brenda's on Thursday, February 14(aka Valentine's Day). So why not take your date there? Tickets for the show can be found HERE.