Archive: June, 2012
Blaire Monroe
If you need another reason to instagram your food, we've got a good one.Starting on July 1st and continuing through the entire month of July, Shank's Original at Pier 40 is hosting a "foodographer" contest. The rules are simple and the prizes are sick.

Here's the deal: Order at Shank's, take a photo of your food, post it on their Facebook page and get as many "likes" as possible. The winner is chosen by either having the most "likes" or having the most enticing photo.

Here's what you get: a catered event for ten people, lunch at Shank's for up to four people, a free sandwhich each month for a year and more. Winners will be announced on Friday, August 10th.

Shanks Columbus Boulevard & Christian Street
via Phoodie

Jericho Sav
You've seen our list of 4th of July events coming up this weekend, but here's a look at what else is going on!

Thursday, June 28th


Kaskade w/ Alvin Risk & Fareoh
Festival Pier
Spring Garden St & N Columbus Blvd
Doors @ 6:30PM
$40


Norah Jones
The Mann Center
5201 Parkside Ave
7:30PM
$45-$77

Designer Drugs
The Barbary
951 Frankford Ave
10PM-2AM
$10


Fourth Thursdays: Modern Kicks w/ DJ Student Driver
Johnny Brenda's
1201 N. Frankford Ave
10PM-2AM
No Cover
Thursday, June 28th

The Thirteen, cLone Justice, and Toy Cannons
Kung Fu Necktie
1248 N Front St
8PM
$8

Snacks.
Voyeur
1221 St. James St.
10 PM
Cover varies

Mo Money Mo Problems
Silk City
435 Spring Garden St
10 PM
Guys $5 after 11PM
Friday, June 29th

Umphree's McGee w/ G. Love
Electric Factory
421 N 7th St
8PM
$30

Iron Maiden w/ Alice Cooper
Susquehanna Bank Center
1 Harbour Blvd
7:30PM
$40-$105

Friday Happy Hour w/ Dylan Houser
Johnny Brenda's
1201 N. Frankford Ave
6PM-10PM
No Cover

PA Burlesque Festival Presents The Burlesque Gala
The TLA
334 South St
7PM
$45-$240
Friday, June 29th

DJSC w/ John D & Paul T
Fluid Nightclub
613 S 4th St
10PM
$5

Deathwaltz Disco (Umphrey's McGee After-Party)
Silk City
435 Spring Garden St
10PM
$7

Illvibe Collective & GL Productions Presents: BODYROCK
Kung Fu Necktie
1250 N. Front St
9PM
Saturday, June 30th

Tenacious D
Festival Pier
Spring Garden St & N. Columbus Blvd
8PM
$45

The Early November "In Currents" Record Release Party
The Trocadero
1003 Arch St
Doors @ 7, Show @ 7:30
$20

Juan Maclean DJ Set
Morgan's Pier
221 N. Columbus Blvd
10 PM
No Cover
Saturday, June 30th

Anything U Can Shake YRHIPS2
Silk City
435 Spring Garden St
10 PM
$3 girls, $7 guys

Golden Era Hip Hop Classics
Fluid Nightclub
613 S 4th St
10PM
$5
Sunday, July 1st

First Sunday: Hot Jazz Brunch w/ DJ Corey Duncan
Johnny Brenda's
1201 N. Frankford Ave
11AM-3PM
No Cover

Jason Anderson w/ Little Light and Romance is Born
Kung Fu Necktie
1250 N. Front St
8PM
$5
The Soulution w/ Kosherican
Kung Fu Necktie
1250 N. Front St
11PM
No Cover

Sundae PM
Silk City
435 Spring Garden St
11PM
$5
Kate Bracaglia, Philly.com Music Blogger
DIIV—formerly known as DIVE—has finally arrived. Now it's time to dive right in.
Oshin—the debut record from Brooklyn band DIIV—seems like it's been forever in the making. Really, it's been less than a year: from the release of first single "Sometime" in October 2011 to Oshin's release this week. Of course, between then and now, it feels like DIIV has dominated the blogosphere—releasing no less than 6 singles (each one picked up by P'fork) and showingly changing their name from DIVE to DIIV—thus ensuring the greater music world's investment months before Oshin's release. "I always intended for DIIV to grow up in the public eye," explains band leader Zachary Cole Smith to Pitchfork. We say: mission accomplished.
Of course building up hype beforehand can be tricky, should a band fail to live up to expectations—and luckily for all, DIIV more than deliver. Oshin is a thick, dreamy record of blissed-out soundscapes, that conjures feelings of summertime and relaxation, perfect for lazy summer mornings or languid walks around the city.
Blaire Monroe
You're going to want to rock this.
This past Tuesday, AnmlHse released their dope new Guilty Pleasure snapbacks. As of right now they are limited to 36 pieces and are currently available on their online shop, at Extra Butter NY, and tomorrow they will be available at the new Corsa shop on South Street. Best part? It's only 36 bones, nice.
Blaire Monroe
Today, our favorite ice cream dealer Little Baby's Ice Cream is teaming up with Urban Outfitters Ardmore to give out free ice cream from 4 – 8 pm. As a part of their latest attempts to get their fabulous iced treats into grocery stores, they will be accepting donations raised through their Kickstarter website that will go towards reusable containers for the ice cream, in addition to labels and stickers.

Check out their rad Kickstarter video below.

Urban Outfitters Suburban Square 117 Coulter Avenue, Ardmore 4 – 8 pm Free icecream!

Caroline Russock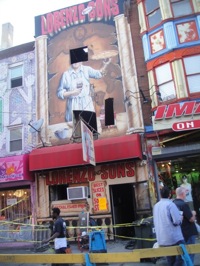 After Wednesday morning's fire at South Street sliceria, Lorenzo and Son's, the scene is looking pretty grim. The good news is that injuries were kept to a minimum, one firefighter with an injured knee was rushed to Hahnemann. Owner Guiseppe Pulizzi managed to make it out of the building the safe and sound, along with all of his crew and his dog. The bad news is that the damage is extensive, extending to all three floors of the building.
The air surrounding Lorenzo's was quite smoky, even hours after the blaze was extinguished. A clean up crew was on duty clearing out debris and boarding up the building yesterday evening. It's pretty clear that late night slice action is going to have to happen somewhere else, at least for the time being.
Francisca Magis
Designer collectives, also known as co-ops, are a fabulous way for talent to break into the market. Basically, designers rent a rack in a store for a designated period of time while all decisions about their line still remain in their control. They are really great opportunities for designers to have a retail location without the time and financial commitment. Compendium, a boutique and designers' collective that specializes in independent and emerging designers, is about to help designers score this awesome opportunity.
Let's get to the point. Compendium is a progressive boutique that will be opening up later this summer. For their grand opening, they have decided to host a contest to discover some new talent to carry in the store. If you submit some of your designs to their design contest they will host your line for a month, free of charge. Furthermore, designers will dictate the price range of the clothing carried at Compendium and receive 90% of the sale. How about that!
Ten winners will be chosen, get more details and send your submissions here.
Blaire Monroe
Having just earned her master's degree during her AmeriCorps year of service at KIPP DuBois Collegiate Academy, our most recent Phreq of the Week is now on a very important mission. After learning about the cancellations of many art programs in the Philadelphia school districts, she is trying to create a movement to save art education in Philadelphia, starting with one single classroom.

From giving up her B.A. in Film to go back to school for teaching, to working 80 hours a week to be able to afford art supplies for her students, calling her a hometown hero might be an understatement. Meet Deva Watson.



Phrequency: First off, you're a young professional. How do you apply your personal style in a classroom setting?
Deva : This is really funny. I feel like I read all of these fashion blogs that ask their featured person this question and someone is finally asking me which makes me feel awesome! Yes! I read Natalie Off Duty and Eat, Sleep, Wear where you see all of these people who are so put together and I'm just like, "how do you do this?"
I guess my personal style is very much grounded in Northern Liberty hipster culture. I'm very okay with saying that I'm a hipster, I'm fine with it. Yes I did have a fedora last year, yes, I listen to punk music like Minor Threat. I go to Forever 21 because that's the most affordable right now! I like to wear stuff that's comfortable but then at the same time showing my style to my students and not wearing a pant suit outfit, which I see other teachers wear. I think the really cool part about being an art teacher is that you get to be a little funky and people don't mind. I couldn't pull off my look in a math room.
I follow trends but I make them appropriate for my teaching. I can't wear a romper or show my tattoos very much, but I think I'm that hipster that is trying to be in an acceptable system of teaching.


P: You used to work in film but went back to school for teaching, what made you decide to do that? D: I was working in really bad reality television, and when you edit a lot of Snooki and Jersey Shore you want to kill yourself. I read that a lot of schools were closing and I wanted to come back to Philly and make a difference in some very small but punk rock way, like "yes, we're going to fight the system and yes, everyone is going to learn".
However I realized that it's very different. You have to go through very bureaucratic systems. Working and teaching is like being in high school all over again and you kind of have to be able to go through the same channels of "playing the game" which I have learned the hard way. I dress differently, I think differently, I want kids to think differently, but you have to make it like it's your school's idea.

photo by Deva Watson
P: Can you tell us about your most recent project?
D: Yes! I contacted Greensaw to see if they would be interested in doing pro bono work by creating an art classroom for my students (current art room shown above). They got back to me, and Dave, who is brilliant, came to the school, saw the kids, met me and we just had a really long conversation about how we want this to work. If we didn't have the same general feeling about everything, it probably wouldn't have happened. We decided that something needs to change and if it doesn't we are not helping kids at all. After he met with the kids he decided, "Ok, we need to make a functional art room that is going to be sustainable and will at the same time promote companies that are willing to help us." For instance, if a company donated a lot of wood, we will put their name on the wall in addition to doing everything we can to let people know about their presence.
Helping out right now are Kirsti, Dave, and Jeb-who is an architect that just wants to help out. We've all had art teachers that we loved and we want to do this out of respect for where we are now because of them.