Archive: May, 2012
Francisca Magis
Whether you need to revive from day one of the Roots Picnic or you just want to continue the party before day two begins, don't miss out on Revive: the official Roots Picnic pre-party brought to you by Vitamin Water, Cool Records, American Dreaming, and us! Join us at the Dreaming Building on Sunday, June 3rd at 12 pm to get the party started right before day two of the festival. You can expect music from some of Philly's finest- Grande Marshall, DJ swizzymack, and DJ Dirty South Joe. Did we mention it's free? Yup. We'll see you there.
Sunday, June 3rd
The Dreaming Building
618 N. Front St
No cover, 12pm - 4pm
Francisca Magis
Grab your bathing suit, because North Shore Beach Club, formerly known as Arrow Swim Club, is hosting a pool party every Monday this Summer, Locals Only. Get ready to escape the city heat and kick it poolside from noon to 7 pm during Philly's FIRST weekly pool party. You can expect Jayo & different guest DJs to be spinning summertime jams each week, $4 Stoli honey and lemonade teas, and $2 pbr pounders all day. And get this, even though North Shore is technically a members only establishment, everyone is invited to Locals Only. Basically, it's the pool party we've has been waiting for. Don't miss out on the first one- it's this Monday, June 4th.
Monday, June 4th
North Shore Beach Club
1031 Germantown Ave
No cover, 21+
12pm - 7pm
Francisca Magis
Congratulations to our 10 lucky winners. You guys have each scored a pair of tickets to one day of this weekend's Roots Picnic and a ride on the Vitamin Water XXXpress bus. Enjoy!


If you already have tickets get the deets on the XXXpress bus and RSVP for your ride.

Day 1:


Jackie Gallagher, @JGalls

The Roots picnic means a lot to me. It's the first major/coolest annual music festival that has been brought to Philly, my native city. I like that it combines many genres of music, which generally reflects my taste. I haven't been able to make it to the festival since 2009, which was on my 21st birthday. I'm a huge music fan, and I really want to see Tune-Yards, Star Slinger, De La Soul, Danny Brown, and of course, our hometown heroes. The Roots. It would be a great 24th birthday present. ;)


Michael Howard, @HomeCovers

The Roots Picnic is the way i know summer has officially started. I can be on the pier with almost no clothes on and be surrounded by great friends, beer, and beautiful music. There is no better way to express the beginning of a beautiful summer than a festival like the Roots Picnic. And on a more personal level, it brings back young memories of me as a child, having the idea that once summer comes around, no one needs to care or worry too hard about anything. I think the Roots Picnic has succeeded in giving me that feeling every year and i would be honored to win this and much grateful, Phrequency!!



Julian Hampton, @SEEmourTHAKID

The roots picnic is a culmination of musical genius and expression meeting in one place to celebrate creativity and happiness. All the artists on the bill strayed away from the main stream ideals of specific genres to create music that cannot be defined or categorized. I just want to be surrounded by that for a day.
Blaire Monroe
Take a free ride on the Vitaminwater® XXXpress bus to The Roots Picnic and save the cab fare for the "I was there" t-shirt. What better way to ride to the festival then a cruise through Center City on a double decker bus with the top down and equipped with all the Vitaminwater® you can shake a drum stick at (or a booty if you are in that kind of mood.)

Picnic route:
30th Street Station: 30th & Arch street (north terminal exit)
Rittenhouse: Pine & 17th streets
Mid-town : Pine & 10th streets
Head House Square: Pine & 3rd streets
Independence Hall: Market & 5th streets
Northern Liberties: 1031 Germantown ( North Shore Beach club )
Festival pier: Spring garden & Delaware

Return route:
Festival pier > Independence hall > Love Park > 30th Street Station
June 2nd, 2012- (12pm - 12pm) *last return trip 11:30pm
June 3rd, 2012- (4pm - 12pm) *last return trip 11:30pm

RSVP to for the ride http://on.fb.me/KvjgvE

The legal stuff:
You must be a valid ticket holder to take the fantastic voyage. You must be 18 or older to ride unless accompanied by a parent or legal guardian. All riders must sign waivers and releases. Vitaminwater® reserves the right to refuse admission at its sole discretion.
Kate Bracaglia, Philly.com Music Blogger
Summer music = awesome music. Here are 10 (yes, 10!) records we're excited about this summer.
Hot Chip, In Our Heads. The fifth record from the dorkiest cool guys alive, In Our Heads offers more dance-floor bangers and indulgent experimentations, from epic first single "Flutes" to hypnotic b-side "Night and Day." Described by founding member Joe Goddard as a record inspired by the "epic" maxi-12"'s from the '80s, expect extended jams and positive vibes, prefect for summer raging.
Hillary Petrozziello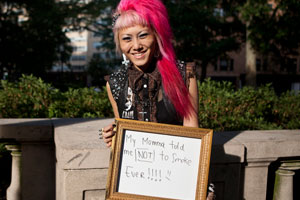 Tell It Like It Is is a new weekly photo feature from Hillary Petrozziello that challenges the limiting, one-dimensional aesthetic of portraiture by engaging the viewer with visual linguistics. Each week we will talk to strangers throughout the pretty city and photograph their dry-erase responses to a new prompt. These phrases will range in subject matter from silly to serious, but all will attempt to tickle the brains of the meandering youth for your viewing pleasure. Are you inquisitive? Feel free to get involved with the project by commenting suggestions for next week's prompt. Go 'head, tell it like it is.
This week we asked our subjects to finish this prompt: "My mama told me_____________."

Shehara Snow, 28, Cashier and Math Tutor

Sophi Reaptress, 27, Designer

Tank, 1, Professional Snuggler

Stephen Guckin, 24, Writer and Crepe Maker

Ava Diane Carter, 54, Public Health Employee and Leslie Nevon Holden, 25, Actress

Deborah Artaza, 25, Designer

Michelle Kleinman, 28, Real Estate Agent (bra)

Jamica Hadiya, 28, Pastry Chef

Madeline Schaefer, 24, Poet

DåQuan Sargeant, 17, Dancer

Joe Aujello, 22, Pot Seller
About the photographer: Hillary Petrozziello was raised in Ono, Pennsylvania as the last of five children. Growing up in a town of 120 people instilled in her a curiosity for compact urban life, culture and oddity in Philadelphia. She is a storyteller of sorts -- immersed in a world of geometrics and emotions, a history keeper, securing time in terabytes in hopes of in turn defining her own story through visual chromaticism. She is fascinated with bridging the dichotomy between the intangible mind-heart and its outward expression, focused on the weirdness and transitory moments to communicate deeper themes that go unspoken. Her style is influenced by the mundane intrigues of beauty, light, and energy in the everyday. Her goal is to harness visual intuition in order to foster a greater level of awareness and social tolerance in an increasingly interconnected world. "With my lens I make amends."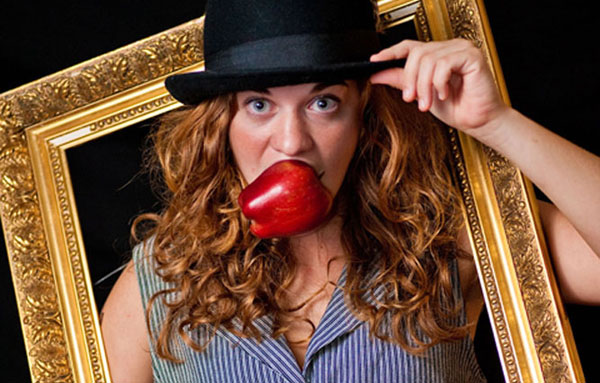 Blaire Monroe
Thursday, May 31st


Mo Money No Problems Silk City 435 Spring Garden St. 10 pm $5 guys after 11 pm



Porcelain Raft Kung Fu Necktie 1250 N Front St. 8 pm $10 adv, $12 dos
Moxley The Trocadero 1003 Arch St. 8 pm $8

Thursday, May 31st


Dead Kenny G's North Star Bar 2639 Poplar St. 8 pm $10
Giri Giri Group Sounds The Trestle Inn 11th and Callowhill 10 pm No Cover

Friday, June 1st


Auctioneer Johnny Brenda's 1201 Frankford Ave 9:15 pm $10



Philly Beer Week: The Hammer of Glory visits Johnny Brenda's Johnny Brenda's 1201 Frankford Ave 10:30 pm No Cover
Beautiful Swimmers DJ Night Morgan's Pier 221 N Columbus BLVD 9 pm No Cover
Hot Mess Silk City 435 Spring Garden St. 10 pm Free before 11 pm, $5 after

Francisca Magis
Today, Gotye announced his North American tour dates. Is he stopping in Philly, you ask? Yup, the pop sensation will be making a stop at our very own Susquehanna Bank Center on Saturday, September 29th. This is Gotye's biggest North American tour to date, so grab your tickets on Friday, June 8th via Live Nation before they sell out! If you like Gotye on Facebook or sign up for his mailing list before June 4th, you can even get advance access to the tickets. Check out a preview of what's in store below.