Archive: October, 2012
Swabreen Bakr
This past Wednesday evening, Chef Jose Garces and his wife Dr. Beatriz Garces hosted a fundraiser for their nonprofit organization, The Garces Family Foundation. The event also honored Dr. Steven Larson of Puentes de Salud. The foundation will build a community center in Philadelphia, which will help the growing immigrant community gain access to health care and education related services.
Chef Garces assembled a super star team of some of Philly's best and most renowned chefs to prepare a five course meal for high rolling donors. We got to take a look behind the scenes and see these talented chefs collaborating.
Lucy Briggs
This Sunday, October 14th, make your way down to Bartram's Garden, the oldest surviving botanic garden in North America, in West Philly to connect with nature in an awe-inducing and interactive way. Hosting the event is Data Garden, an online magazine and record label that encourages the discovery of electronic music through the windows of history, science and community. Data Garden also explores the synthesis of biological and digital technologies as a channel of human expression. Participants will have the opportunity to wander throughout Bartram's Garden and connect with their natural environment through live music, performance and sculpture that blurs the distinction between biological and digital worlds.
Musicial performances for the evening include:
Lucy Briggs
With all of the fun outdoorsy activities you've been partaking in during the first half of fall, these new pieces are super functional and will keep you chic at the same time. Totally possible!
Portable Pocket Belt

Are you excellent at losing things? Keep your hands free but valuables in sight with this micro pocket belt that is just big enough for your phone, credit cards, and hair ties. Available at Modcloth.
Ozone Socks Gun Holster Sock

For the gunslinging cowboy in every young man, these socks will make your dreams come alive. Chaps not included. Available at Urban Outfitters.
Green and Gold Beaded Necklace

We already love it in yellow, so why not try it on in a green that constrasts more beautifully with the gold chain than we can handle? Available at Piper Boutique.
Deter Shapes Crew Sweatshirt

Cozy up in this printed sweatshirt for those days when a hoodie just isn't going to cut it. Available at Urban Outfitters.
TM1985 Waxed Canvas & Leather iPad Case

Protect what's most important to you with this durable, minimalistic canvas iPad case. It will only get better with time! Available at Kembrel.
Sixty Seven Arvelone Asymmetric Boot

This soft leather boot with distressed patina will only get better with time. Available at Arcadia Boutique.
Shark Tooth Dress in Midnight

This lovely dip dyed cotton shirtdress with a printed triangle design would look amazing paired with the distressed boots from Arcadia. So cozy! Available at Couture Vulture.
Comtois Woodland Satchel

Not just for schoolbooks, this satchel would look equally perfect on your back, packed with a picnic lunch, for riding a vintage tandem bicycle to the park. Available at Anthropologie.
Kissing Foxes Belt

This season's most desirable color, burgundy, is making appearances all over the city. For just a splash of glitz, these smooching sweeties will take your outfit to super cute. Available at Anthropologie.
WeWOOD Date Bicolor in Beige Army

Natural materials never looked as good as they do on this cozy rustic watch. Available at Kembrel.
Infinity Party Scarf in Charcoal

Everyone needs a good circle scarf. In charcoal, this scarf will be the perfect partner to your outfits as it can transform from a scarf, to a hood, to cropped cape. Clutch! Available at Modcloth.
Lucy Briggs
Tortoise & Blonde is a stylish and affordable eyewear brand out of New York that offers a variety of men's and women's prescription glasses and sunglasses. With so many frames and sunglasses retailers online, it can be impossible to pick just one pair, let alone anticipate what they will look like on your face! Tortoise & Blonde's collaboration with Urban Outfitters is a sigh of relief for glasses-wearers in need of a new look who prefer a more hands-on approach. Check out and try on Tortoise & Blonde's frames at their pop-up shop and, better yet, T&B can read the RX out of your current lenses and fill new frames on site! If you can't make it out to Center City on Sunday, they'll be in the area all weekend and are always available online. Cheers to a new you!

Remember to be friends on Facebook and Twitter!

Sunday, October 14th
Urban Outfitters Walnut
1627 Walnut StreetPhiladelphia, PA

Swabreen Bakr
Are you ready to shake up your midweek and embark on an unusual voyage? Then join folks from Hendricks Gin at the Trust for a mysterious event as they welcome Hendricks Gin back to Philadelphia where it was developed by Steven Grasse. You know might know Mr. Grasse's other liquors - Root, Snap, Rhuby Tea and SAGE - well, if you're a fan of the Art in the Age First Friday events like I am.
Lucy Briggs
Follow the trail of Go Go girls and zombies through Eraserhood to the Trestle Inn for Voodoo Boogaloo, a ghoulish Halloween Dance Party! Swing to Oz spinning tru soul, early funk, and rock-a-go-go in your best costume ever while sipping on spooky cocktail specials and plentiful pumpkin beers. The night's offerings include Doc's Pumpkin Cider $6, Southern Tier Pumking $5, Wild Bill's Pumpkin Ale $4 and more! Or make it a "Rootback" and throw in a shot with any pumpkin beer for only $3. Plus, the top costume winners will receive a bottle of Timmerman's Pumpkin Lambic along with Trestle Inn gift certificates. Make this Halloween night one to remember!

Don't forget to RSVP to the event and like the Trestle Inn on Facebook!

The Trestle Inn 339 N. 11th Street (11th & Callowhill) Philadelphia, PA 19107 267-239-0290
Lucy Briggs
Flosstradamus performs with DJ Sliink (Brick Bandits), DJ Swizzymack (Mad Decent, Brick Bandits), and KNC (Krueger & Copout) at The Barbary on October 4th, 2012.
Ian Krantz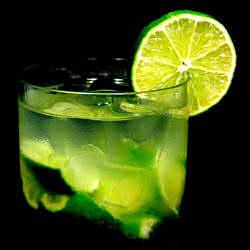 A second test post of using blogsubmit to post to Phrequency blogs, This time changing the registration domain on my user record to www.phrequency.com. let's see if it comes up on the proper blog sections now. Again, the attached image is a caipirinha. It's early in the day, but i could use one now!
I think i figured out the missing ingredient. The post won't appear on a section front unless the Featured Post category value is set on the post.
Let's see if that works!