Archive: January, 2013
Jim Teti
What's more addictive than a Rubik's cube, more fun than Skip it!, and more fascinating than a Slinky!?
If you guessed Lite Brite, then you are wrong (although it is amazing). The true answer is the I Love the 80's (and 90's) party at Sister's Nightclub! Like totally!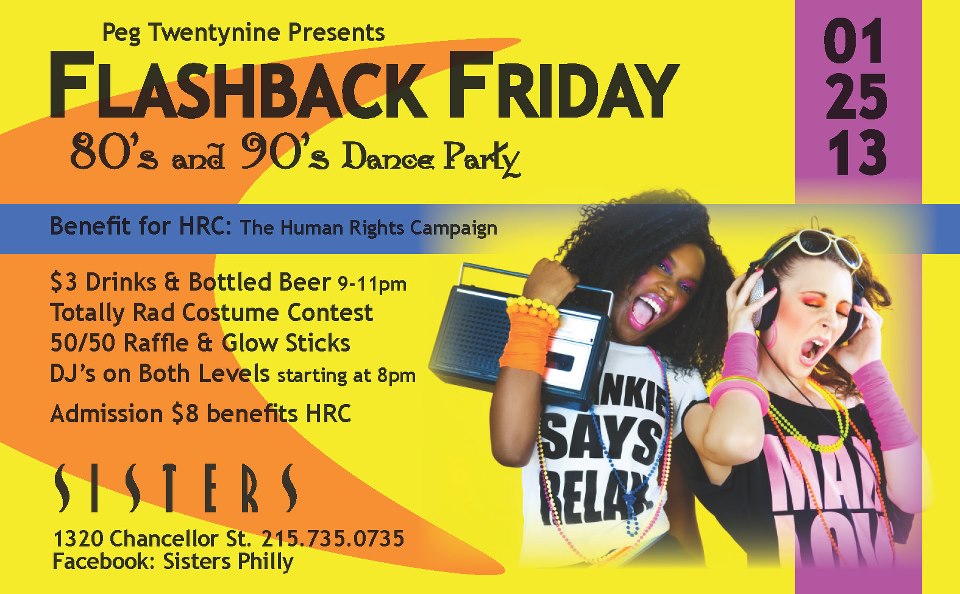 Colin Kerrigan
Since the last time the Canadian electro-pop duo Purity Ring played here, they toured the world, collaborated with rapper Danny Brown, and did a bunch of other cool stuff in between. That last show was a sold out one in the basement of the First Unitarian Church.
This time around the band will play a more proper venue with a show at Union Transfer next Wednesday, January 29th with Young Magic. Tickets for the show are still on sale and can be found HERE. They probably won't last too much longer.
Jim Teti
Aiden James, the openly gay Philadelphia native who is currently soaring to worldwide appear, will bring his singing and songwriting talents to the Tin Angel this Saturday, January 25th.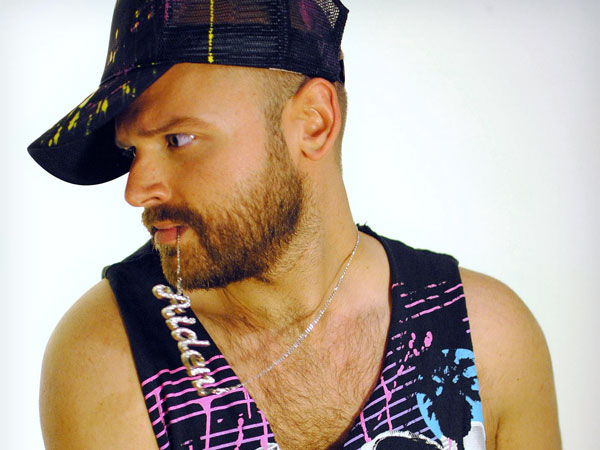 James, who has recently released his album "The Trouble With This", has garnered major popularity on both the iTunes Hot 100 and album charts. The album debuted in the top 30 after release.
Jim Teti
For those who get a pang of nostalgia every time they recall memories of Club Shampoo on a Friday night long ago, prepare to get excited.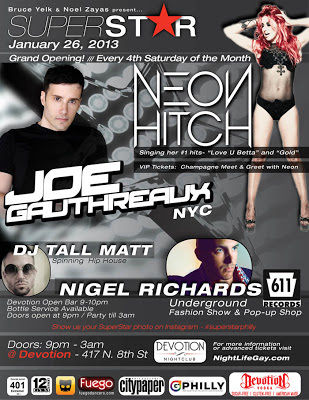 This Saturday January 22nd, the newly re-launched Devotion nightclub will host Superstar, a high charged glamour party with enough pulsing heat and glitter for even the rowdiest party boys.
Blaire Monroe
On January 26th, join Philadelphia's own Mic Stewart and Max Swan for their live set in Manayunk. The pair will be joined by DJ QBall with a few other special guests.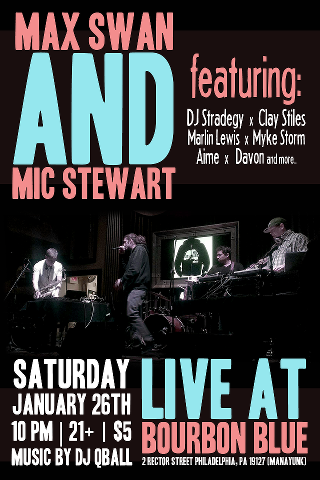 If you haven't heard yet, both Mic Stewart and Max Swan are rocking with some pretty smooth sounds. Stewart, a national freestyle champion, and Swan, an award-winning saxophonist and well-versed producer, make for the perfect performing duo.
Colin Kerrigan
Sky Ferraira, a model-turned-singer, and How To Dress Well, an electronic R&B artist, announced today that they will go on a co-headlining tour together this spring. The announcement comes on the heels of a big 2012 for How To Dress Well where he released a very well received sophomore album, Total Loss, abd where Ms. Ferraira burst on to the scene with an EP, Ghost, which included "Lost In My Bedroom" and "Everything Is Embarrassing". Check out videos from both artists below.
Their tour will make a stop in Philadelphia on Saturday, March 23 at Johnny Brenda's. Tickets are bound to go rather quickly so get them sooner rather than later. They go on sale this Friday(01/25) and will be found HERE.
Colin Kerrigan
Before Radiohead's producer Nigel Godirch gets into full out Atoms For Peace mode with Thom Yorke and company for their record Amok, he'll head out on tour with his side-project band, Ultraista. The project features Godrich with singer Laura Bettinson and Beck drummer Joey Waronker. On first listen, their tunes are very remniscent of Yorke's solo album, The Eraser, which isn't a big surprise since Godrich had a hand in that record as well. Don't worry, it's not a bad thing at all.
In anticipation of their mini tour, the trio released a new video for "Wash It Over" off their debut self-titled record which was released last fall. You can watch that and listen to "Gold Dayzz" below.
The tour kicks off here in Philadelphia this Wednesday(01/23) at Underground Arts with Prefuse 73. Tickets for the show are still on sale and can be found HERE.
Colin Kerrigan
The three piece English experimental folk band Daughter, who revolve around the angelic voice of front woman Elena Tonra, recently announced that they will release their debut record, If You Leave, on April 30th via Glassnote Records. It's been a long time coming for a band who created a lot of buzz in 2012. They only have a few recordings floating around the internet. Two of them, "Landfill" and "The Woods" are embedded below for your listening pleasure.
The tro also announced that they will hit the road in support of their new record which will see them make a stop in Philadelphia at the First Unitarian Church on Wednesday, May 1st. Tickets for the show go on sale tomorrow(01/18) at noon and can be found HERE.