art
Lucy Briggs
You've seen him in the crosswalk, on the sides of buildings, and as a sticker. Stikman has been a friendly face in Philadelphia, surprising us by being in plain sight but in unexpected ways, for the past 20 years. Stikman says, "It was the spring of 1992 that I stuck a little man made of sticks to a wall of a derelict building on 3rd Street in Old City." Since then, the cityscape has changed and time has weathered his creations, though this is all part of his plan. Explaining the impulse behind this plan, he says, "I share this transient form of art to connect with a viewer whom I will never meet, in hopes that the joy of finding the unexpected has altered their consciousness."
Now, his mediums have expanded to include the stikman affixed and painted on numerous LP record covers, prints, book pages, cut paper paste-ups, hollow core doors and a variety of metal, wood, cloth and plastic objects. Some of his favorite pieces include stenciling images on ping pong balls, bricks, tiny slide viewers, and playing cards. However, the little stikman made of sticks never disappeared.
Ian Krantz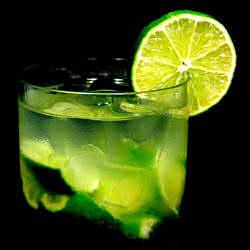 A second test post of using blogsubmit to post to Phrequency blogs, This time changing the registration domain on my user record to www.phrequency.com. let's see if it comes up on the proper blog sections now. Again, the attached image is a caipirinha. It's early in the day, but i could use one now!
I think i figured out the missing ingredient. The post won't appear on a section front unless the Featured Post category value is set on the post.
Let's see if that works!
Lucy Briggs
This Wednesday, the 8th annual DesignPhiladelphia Festival is set to begin with a fun-filled eveing featuring design exhibitions, a fashion showcase, and two parties. First, help support DesignPhiladelphia's year-round programming at their cocktail party + benefit from 5:30 - 7:30 pm at Provenance Architecturals, a 10,000 square-foot salvage warehouse. A meet and greet with the 2012 Design Champion Award winner, fabulous fare from 12th Street Catering, and signature cocktails by Art in the Age of Mechanical Reproduction are included with each ticket.
The festivities will continue from 7:30 - 10:00pm with the free and open to the public PopUp Place Street Party. In addition to delicious food and beer from vendors Pitruco Pizza, Little Baby's Ice Cream, and Yards Brewery, you can also build an interactive architectural structure with Public Workshop, hangout in the pallet lounge by Bonzai Homes, catch the So Re Fa fashion show produced by Arcadia Boutique, experience /adaptations/- an exhibition on sustainable design, view outdoor projections by Matt Suib and Nadia Hironaka, and enjoy live music by Dani Mari and Reverend TJ McGlinchey. SoReFa is a socially responsible fashion showcase which is set to feature favorite local and sustainable designers, hair and makeup by Moko, and Philadelphia Magazine editors Emily Goulet and Carrie Denny as the show's MCs. Check out their blog for more information. There will also be free giveaways from Vitamin Water. This event is seriously loaded with a ton of activities so make sure to stop by and show some love!
Lucy Briggs
With over 100 films from 35 countries to screen during this 11-day event, which runs from Thursday, October 18 to Sunday, October 28, you should start making that popcorn stockpile today. The Festival will open with David O. Russell's Silver Linings Playbook, which recently won the coveted Audience Award following its premiere at last month's Toronto International Film Festival, and is already garnering award buzz. The Festival will close with Flight, Robert Zemeckis' long-awaited return to live-action filmmaking. The Festival will truly be remarkable from start to finish.
Tickets will go on-sale for Philadelphia Film Society members on Friday, September 28, and to the general public beginning Monday, October 2nd. Tickets may be purchased through the Festival website, over the phone by calling 267-908-4733, or in-person at the Prince Music Theater Box Office (1412 Chestnut Street, Philadelphia, PA 19103).
Lucy Briggs
Warm Hues Hexagon Cookie Gift Box


These hexagonal vanilla shortbread cookies are inspired by crocheted afghans and look just as vibrant as maple leaves. Brighten up your cookie jar with these lovelies stacked inside. Available at Whipped Bakeshop.
Whirled Leaves Wreath

This wreath is subtly elegant and is the perfect all year round. But, it can totally be duplicated in a DIY project using brown paper bags or dried leaves. Plus, you can use it for a number of holidays just by wrapping coordinated silk garland or pushing sprigs of glitter in the middle. Available at Terrain.
Skeleton Scarf in Lavender

This piece by Thomas Paul is a fashionable cotton voile scarf that can also be used as a shawl or pareo. Available at roots inc.
Owl Umbrella Stand

What a hoot! This little guy would look so friendly in an entrance hallway and is probably the closest to a real butler that you can get. Available at Hello World.
Stewart and Brown Big Tee Dress in Cantaloupe
This simple oversized t-shirt dress is just breezy enough for running around but the medium length sleeves and rich rusty color are perfect for fall. Plus, the tie at the waist can be adjusted for a looser fit or cinched-in effect. Available at Arcadia Boutique.
Julie Moon Ceramic Skulls

Honestly, these ceramic skulls would look great as bookends all year round. Try them as the centerpiece for the dining room table with dried flowers. Available at Art Star.
Cheese Accompaniment Set

Whether you prefer red wine or craft beer, this set is the perfect compliment to your holiday cheese arrangement. Available at Di Bruno Bros.
Greensgrow Farms

Custom made window boxes, assorted pumpkins, squash, and sunflowers are just a few of the autumn-themed goodies you can find at their farm market. Available at Greensgrow Farms.
ReAnimator Coffee

This small, locally owned and operated micro roaster based in Fishtown is perfect for all of you coffee enthusiasts. How cute is the packaging? Available at a number of grocers and cafes across the city. Look here for a complete list.
Blaire Monroe
All summer long excitement was in the air as people waited anxiously for the arrival of the highly anticipated Made in America Festival that Jay-z announced in May. This past weekend, the festival finally arrived, and it was just as magical as we'd all hoped it would be, if not more.
With acts like Run DMC, Pearl Jam, Drake, The Hives, Calvin Harris, Santigold, a surprise performance from Kanye West and of course, Jay-z himself, this is an event that Philadelphia will never forget. Photos by Marie Alyse Rodriguez.
Lucy Briggs
Make It, Break It, Rebuild It is a two-week art happening where over 30 participating artists examine the purpose of re-purpose through object-based media, structured and improvisatory performance, and audience-interactive installations. The exhibition will be open to the public on September 7, 8, 13, 14, and 15 from 6:00 - 10:00pm each night. Dance Amidst Art, part of the Philly Fringe Festival, will be collaborating with the artists both on stage and within the art installations.
Make It, Break It, Rebuild It will feature artwork and installations by:
Lucy Briggs
The WHYY Connections Festival offers 4 days of free family fun, concerts, film screenings, visual art presentations, and more. Yo La Tengo, Frank Turner, Maps & Atlases, Fabian Akilles, and The Lawsuits are set to perform on Saturday, September 8th from 4-10pm at the Great Plaza at Penn's Landing. Also at the Great Plaza, The Philadelphia Doo-Wop Festival featuring Fred Parris & The Five Satins, Charlie Gracie, The Del-Satins, and more will be on Sunday, September 9th from 12-6pm. Screenings of WHYY's Friday Arts and The Barnes Collection plus lots of kid-friendly events as part of the Y Kids Club Presents: Sid the Science Kid at Coast Day will also be taking place. For more information about the festival and a schedule of events, look here. Don't forget to like them on Facebook!
The Great Plaza at Penn's Landing
Columbus Blvd. b/w Market and Walnut St.
Philadelphia, PA 19106