Style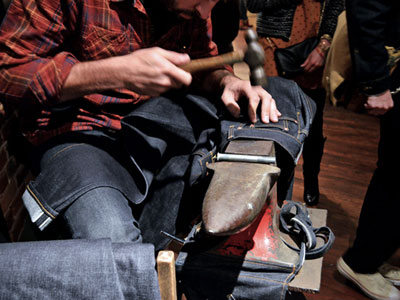 Philadelphia has a history of being a clothing manufacturing hub, creating everything from textiles to military uniforms, and more.
Now a young company based in Fishtown is tapping into that American-made heritage with their bespoke selvage denim jeans for men. "I think there's a movement right now with people getting back into their own history and are proud to be American again, and are really interested in American made which is great," says co-founder Michael Stampler.
Lucy Briggs
Feel like your closet needs some style inspiration from the (un)dead? Take it to the graveyard with these hallowed wares for guys and gals.
Bone Hands Bracelet

Delicate and deathly, this gold-tone chain bracelet will liven up even the most unadorned LBD in your closet. Available at Your Eyes Lie.
Life in Death Jersey Scarf

Subliminal messages at their finest. The victorian-era lovers kiss, but their future is horribly morose. Available at Etsy.
Altru Skeleton Hands Muscle Tee

This skeleton is obviously into the "grab-'n-go". Available at Urban Outfitters.
Silk Skeleton Necktie

Offered in three color variations, these 100% silk ties feature a hand drawn skeleton illustration that has been lovingly screen printed onto each one. Plus, each tie comes ready for gifting complete with a greetings tag. Available at Etsy.
Good Wood Day of the Dead Necklace in Natural

We're getting some seriously good vibes from this carved wooden pendant necklace. Could those roses be any prettier? Available at Ubiq.
Skulls to Pay the Bills Bank

This ominous change bank from Kikkerland will ward off bad roommates from stealing your quarters for the parking meter. Available at Modcloth.
Mono B Skull & Flower Blouse

Assymetrically cut and super girly, this blouse also gives off the perfect amount of badass. Available at Aoki Boutique.
Generation X-Ray Socks

No boring tights for you! Stay warm and chic this Halloween with these bare-bones knee highs. Available at Modcloth.
Calavera Bracelet in Pink

Whether you pair it alone or with an armful of other charms, this bracelet will keep the friendly spirits on your side. Available at Free People.
Deter Rib Cage Tank Top

Get your skeleton costume off to a quick start with this tanktop that is equally bold as a year-round statement. Available at Urban Outfitters.
TOMS Enderby Skull Print Slip-On

Support children in need with these patterned TOMS that are subtle enough not to steal the spotlight from the rest of your handsome outfit. Available at Neiman Marcus.
Day of the Dead Corkscrew

This little dude will be the best kitchen friend ever until death do you part. Available at Urban Outfitters.
Scott Schuman and his very talented photographer girlfriend and source of inspiration, Garance Dore visited Philadelphia to promote his new book, The Sartorialist Closer. There was Q&A session with some members of the media as well as a public book signing at The Barnes Foundation. Ouigi Theodore of The Brooklyn Circus moderated the Q&A and got some great tidbits from Schuman regarding his approach to photography.
Why street fashion verses indoor studio shots?
"I'd rather go out and find the image and then capture what I'm seeing as opposed to creating it myself. I like to react to what I see more than try and create something.
Lucy Briggs
In celebration of October being Breast Cancer Awareness month, Aoki Boutique will be hosting a charity event on Friday, October 19th from 6:00 - 9:00pm. Ilsa Loves Rick designer Gaby Russomagno will debut a new jewelry line, ILR for the Cure, created in honor of Breast Cancer Awareness. 20% of all ILR for the Cure sales will benefit the Susan G. Komen Foundation and Aoki Boutique will also donate 20% of all sales to Living Beyond Breast Cancer.
Living Beyond Breast Cancer partnered with Wines by Design to create Celebrate, a mini line featuring a 2009 California Red and 2010 Chardonnay, which was created to raise money and awareness about the disease. Celebrate Wines is actively committed to fighting breast cancer and donates 20% of proceeds to support LBBC programs and services. There will be a tasting for the Celebrate wine at the event for guests 21 and over.
Lucy Briggs
With all of the fun outdoorsy activities you've been partaking in during the first half of fall, these new pieces are super functional and will keep you chic at the same time. Totally possible!
Portable Pocket Belt

Are you excellent at losing things? Keep your hands free but valuables in sight with this micro pocket belt that is just big enough for your phone, credit cards, and hair ties. Available at Modcloth.
Ozone Socks Gun Holster Sock

For the gunslinging cowboy in every young man, these socks will make your dreams come alive. Chaps not included. Available at Urban Outfitters.
Green and Gold Beaded Necklace

We already love it in yellow, so why not try it on in a green that constrasts more beautifully with the gold chain than we can handle? Available at Piper Boutique.
Deter Shapes Crew Sweatshirt

Cozy up in this printed sweatshirt for those days when a hoodie just isn't going to cut it. Available at Urban Outfitters.
TM1985 Waxed Canvas & Leather iPad Case

Protect what's most important to you with this durable, minimalistic canvas iPad case. It will only get better with time! Available at Kembrel.
Sixty Seven Arvelone Asymmetric Boot

This soft leather boot with distressed patina will only get better with time. Available at Arcadia Boutique.
Shark Tooth Dress in Midnight

This lovely dip dyed cotton shirtdress with a printed triangle design would look amazing paired with the distressed boots from Arcadia. So cozy! Available at Couture Vulture.
Comtois Woodland Satchel

Not just for schoolbooks, this satchel would look equally perfect on your back, packed with a picnic lunch, for riding a vintage tandem bicycle to the park. Available at Anthropologie.
Kissing Foxes Belt

This season's most desirable color, burgundy, is making appearances all over the city. For just a splash of glitz, these smooching sweeties will take your outfit to super cute. Available at Anthropologie.
WeWOOD Date Bicolor in Beige Army

Natural materials never looked as good as they do on this cozy rustic watch. Available at Kembrel.
Infinity Party Scarf in Charcoal

Everyone needs a good circle scarf. In charcoal, this scarf will be the perfect partner to your outfits as it can transform from a scarf, to a hood, to cropped cape. Clutch! Available at Modcloth.
Lucy Briggs
Tortoise & Blonde is a stylish and affordable eyewear brand out of New York that offers a variety of men's and women's prescription glasses and sunglasses. With so many frames and sunglasses retailers online, it can be impossible to pick just one pair, let alone anticipate what they will look like on your face! Tortoise & Blonde's collaboration with Urban Outfitters is a sigh of relief for glasses-wearers in need of a new look who prefer a more hands-on approach. Check out and try on Tortoise & Blonde's frames at their pop-up shop and, better yet, T&B can read the RX out of your current lenses and fill new frames on site! If you can't make it out to Center City on Sunday, they'll be in the area all weekend and are always available online. Cheers to a new you!

Remember to be friends on Facebook and Twitter!

Sunday, October 14th
Urban Outfitters Walnut
1627 Walnut StreetPhiladelphia, PA

Lucy Briggs
This Wednesday, the 8th annual DesignPhiladelphia Festival is set to begin with a fun-filled eveing featuring design exhibitions, a fashion showcase, and two parties. First, help support DesignPhiladelphia's year-round programming at their cocktail party + benefit from 5:30 - 7:30 pm at Provenance Architecturals, a 10,000 square-foot salvage warehouse. A meet and greet with the 2012 Design Champion Award winner, fabulous fare from 12th Street Catering, and signature cocktails by Art in the Age of Mechanical Reproduction are included with each ticket.
The festivities will continue from 7:30 - 10:00pm with the free and open to the public PopUp Place Street Party. In addition to delicious food and beer from vendors Pitruco Pizza, Little Baby's Ice Cream, and Yards Brewery, you can also build an interactive architectural structure with Public Workshop, hangout in the pallet lounge by Bonzai Homes, catch the So Re Fa fashion show produced by Arcadia Boutique, experience /adaptations/- an exhibition on sustainable design, view outdoor projections by Matt Suib and Nadia Hironaka, and enjoy live music by Dani Mari and Reverend TJ McGlinchey. SoReFa is a socially responsible fashion showcase which is set to feature favorite local and sustainable designers, hair and makeup by Moko, and Philadelphia Magazine editors Emily Goulet and Carrie Denny as the show's MCs. Check out their blog for more information. There will also be free giveaways from Vitamin Water. This event is seriously loaded with a ton of activities so make sure to stop by and show some love!
Swabreen Bakr
When it comes to shopping, women in Philly have a lot of options. Yet, there are very few shops made just for the boys, so it's a good thing that Kembrel opened a dedicated menswear shop on 1219 Locust Street this past Friday. The Kembrel Men's Shop is small boutique with a wonderfully curated selection of clothes for the guy who has a casual interest fashion, to the guy who reads GQ religiously and is up to date on all the latest trends.