Electro
Francisca Magis
Occasionally, when I start to really consider the city we live in and its music scene, I start to feel really lucky for all the live music we have the opportunity to experience with ease. This summer has done nothing but assure that feeling. Between Union Transfer, The Electric Factory, First Unitarian Church, and Morgan's Pier (I'll stop now because the list could go on) we have a pretty awesome set of venues that help to build up our music scene. Not to mention the festivals that have hit (or are about to hit) Philly this summer such as The Made In America festival, Identity festival, The Philadelphia Folk Festival, and Mad Decent Block Party. Although we're sad to see the summer go, it's clear that the we'll continue to be going to some awesome shows as we bring in the Fall season. Here are 9 concerts that you don't want to miss:
Purity Ring 9/20


Purity Ring will be performing with Evian Christ and Headaches at the First Unitarian Church on Tuesday, September 20, courtesy of R5 Productions. Get tickets here.


Grimes 9/27

On Thursday, September 27, WXPN presents Grimes with Elite Gymnastics and Myths at Union Transfer. You can get tickets here (before it sells out again!).


Minus The Bear 9/28

If this doesn't remind you of highschool, well… I don't know what else will. Check out Minus the Bear along with Cursive and Caspian at The Electric Factory on Friday, September 28. Tickets are available here.

Francisca Magis
After Claire Boucher (Grimes) released the one-minute trailer for her forthcoming 'Gensis' video this week, the internet was buzzing in anticipation (something that only happens when your at the peak of your internet hype phase). The cryptic clip didn't reveal much other than Grimes dancing eerily through the desert in platform creepers. Yesterday, though, the full video hit the web featuring Grimes and her crew marauding through the desert and Beverly Hills (maybe?) in rave outfits playing with swords, a medieval morning star, and a python. It doesn't really make much sense, but when you're as popular as Grimes is, does it really have to? No. Somehow the parade of club kid–esque socialites (including L.A. rapper Brooke Candy) just works. We'll let you see for yourself. Regardless, we're still down for her show at Union Transfer next month.
Francisca Magis
Get ready for sounds of house, techno and deep groove as the storm that is Tornado Wallace hits Morgan's Pier on Saturday, August 25. Gracing us all the way from Melbourne, Australia, Tornado Wallace is a DJ and producer responsible for two amazing releases in 2010. First was the Tornado Never Dies EP on Sleazy Beats, followed by the Paddlin' EP on Jimpster's Delusions of Grandeur which happened to top Juno's charts for a number of weeks and was listed in their top 50 tracks for 2010. Wallace has been collecting records all throughout his teen years, which led him to be catapulted into the DJing world at the young age of 18. His career has been booming ever since, making this show quite the opportunity. You can check out his sounds here. (and don't miss the opening sets by Magic Message DJs Jeffrey Bouchard and Shearn!)
Saturday, August 25th
Morgan's Pier
221 N. Colombus Blvd
9 pm-2 am
$5 cover after 10 pm
Kate Bracaglia, Philly.com Music Blogger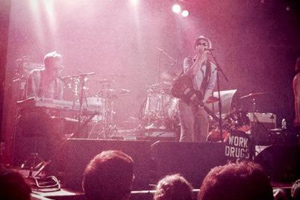 Everything you've heard about Work Drugs is true. For example, Philly's premier boating and yachting band does, in fact, occasionally write songs while on boats; their smooth, seductive grooves have also been known to incite public sex-ing (or so we've heard...the photos in question never actually surfaced.) It's all in a day's work for these DIY mavens, who since forming in late 2010 have released 4 records, and amassed over 40,000 listeners on Last.fm—and have no plans of slowing down soon.
"We don't have a label, or booking agent, or manager trying to keep us from releasing music... which is liberating in a way," says 1/2 founding duo, Thomas Crystal (note: super chill name) via e-mail. "As soon as we finish a new song that we feel is up to our own quality standards, we usually release it as a single. I think some people in the 'business' are afraid of our approach, but we aren't worried about that. It's a playlist nation. ... Frankly, there is never a good or bad time to put out your music. If you feel good about it and you feel that it's quality, put it out."
The band's ability to churn out sweet jamz quickly is clearly one ingredient to their success; the other, then, is their ability to capture a lifestyle: that thrives under twinkling disco lights and is not afraid to indulge materialism.
Kate Bracaglia, Philly.com Music Blogger
Believe the hype. This record rules.
In the past 18 months since the release of the very first Purity Ring song, "Ungirthed," the Canadian duo has proven two things: first, that they've truly created a unique and recognizable sound (breathy, ghostly, and slightly ominous)—and second, that they're complete masters of the media, releasing tunes slowly one by one as they prepped their debut record—and ensuring each was granted a headline in the press. "When you are releasing a constant stream of music, it can cheapen the work—we want each song to linger with people," describes 1/2 the duo, Corin Roddick, to Pitchfork.
Of course, the problem with releasing tunes so slowly is that eventually, the public might become bored—and luckily for Purity Ring, debut record Shrines (out this week on 4AD) dazzles even the blasé with its splendor.
Francisca Magis
You heard it right. M.I.A. will be releasing a group of "Bad Girls" remixes on a USB key necklace, featuring a gold-colored snake chain. The key, engraved with M.I.A.'s repuposed BMW logo will include remixes from Danja, Switch and Leo Justi. Also, verses recorded by Azealia Banks, Missy Elliot and Rye Rye will appear on the new versions.
According to her merch site, "Special bonus features include an exclusive GIF, and never before seen behind the scenes photos from the "Bad Girls" video shoot." The 2GB, gold-plated necklace is available on July 6 and will cost you 50 bucks. You can pre-order it here. What do you guys think, totally rad or not worth it? Via Pitchfork.
ALSO, you can listen to Switch's remix featuring Missy Elliot and Rye Rye here, Via SPIN. Watch the official "Bad Girls" video below.
Francisca Magis
Next Thursday marks the first of Sex Cult records new monthly party at The Barbary, SEX CULT. What's it all about? Well, Sex Cult has teamed up with Designer Drugs to bring you the best names in Grindhouse, Electro, Dubstep and Hardhouse every fourth Thursday of the month. Next Thursday you can expect to see Designer Drugs themselves, PLS DNT STP, Skitysnygg and an opening set by Aaron Ruxbin (with more DJs TBA). Under 21? No worries. Downstairs will 18 to enter, 21 to drink. We're expecting this to be pretty crowded, so get your advance tickets here and get ready to dance. Did we mention there's an open bar 10-11pm?
Thursday, June 28
The Barbary
951 Frankford Ave.
18+ to party, 21+ to drink
$10 - 18+
$5 - 21+ before 12
$8 - 21+ after 12
Francisca Magis
We've loved UK "dark pop" babe Charli XCX since she released her first EP, "You're the One." Then, we were lucky enough to witness her first performance in America at Making Time with Bear in Heaven and Niki and the Dove. This week, though, Charli gives us a reason to love her a little bit more- she just dropped her new mixtape, Heartbreaks and Earthquakes. Considering the 19 year old has only released four tracks, we would venture to say this is a great way to entertain us until she releases her debut full length album sometime later this year. The mixtape is up for free download on her Soundcloud and is actually the third one she has ever released. The tape features tracks by Drake, Blood Orange, Jai Paul, Odd Future, Blood Diamonds and soundbites from 90's teen movies such as Cruel Intentions, American Beauty, and The Craft. Give it a listen, it will be 21 minutes well spent.
Related Stories: Photos: Making Time with Charli XCX, Making Time presents: Charli XCX, Bear in Heaven and Niki and the Dove