Alternative
Leah Kauffman
Scissor Candy hosted Mods vs. Rockers Sunday at the corner of Front and Palmer. Participants showed off their pompadours, pointy shoes, and bikes. Marie Rodriguez stopped by to snap some photos of the craze that took over Liverpool in the 1960's.
Leah Kauffman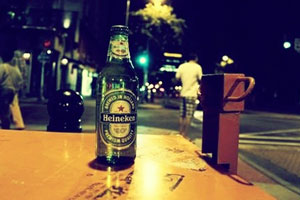 If you read Phrequency regularly, it's obvious that we believe Philadelphia is one of the most vibrant, fun, and exciting cities in the world.
This is why iconic beer brand Heineken has tasked us with showing the rest of the world how incredible Philadelphia is. Over the next week, we'll be taking to Instagram to prove that Philadelphia is THE most iconic, legendary, worldly and original city in the US.
There will be bloggers from nine other cities participating in this contest, so when you see our Heineken Instagram shots go up, please like and share them! The more likes or comments we receive, the better our chances of winning a Heineken "Open Your World" gallery event in Philadelphia, featuring our lovely Instagram shots.
Francisca Magis
Occasionally, when I start to really consider the city we live in and its music scene, I start to feel really lucky for all the live music we have the opportunity to experience with ease. This summer has done nothing but assure that feeling. Between Union Transfer, The Electric Factory, First Unitarian Church, and Morgan's Pier (I'll stop now because the list could go on) we have a pretty awesome set of venues that help to build up our music scene. Not to mention the festivals that have hit (or are about to hit) Philly this summer such as The Made In America festival, Identity festival, The Philadelphia Folk Festival, and Mad Decent Block Party. Although we're sad to see the summer go, it's clear that the we'll continue to be going to some awesome shows as we bring in the Fall season. Here are 9 concerts that you don't want to miss:
Purity Ring 9/20


Purity Ring will be performing with Evian Christ and Headaches at the First Unitarian Church on Tuesday, September 20, courtesy of R5 Productions. Get tickets here.


Grimes 9/27

On Thursday, September 27, WXPN presents Grimes with Elite Gymnastics and Myths at Union Transfer. You can get tickets here (before it sells out again!).


Minus The Bear 9/28

If this doesn't remind you of highschool, well… I don't know what else will. Check out Minus the Bear along with Cursive and Caspian at The Electric Factory on Friday, September 28. Tickets are available here.

Colin Kerrigan

Name: Clay Conley
Age: 26
Experience: First time
Why: "I just moved to Philly and I want to meet some friends."

Name: Tom and Pat Bayalis
Age: 52 and 56
Experience: Fourth year
Why: "To bring awareness to bike safety"

Name: Bill Tourtual
Age: 44
Experience: First time
Why: "It's a fantasy. You get to ride your bike through your hometown... naked."
Lucy Briggs
We asked our readers to create a caption for the image on the cover of Valtari for a chance to win a signed copy of the LP. Congratulations to Englishpie!
Ship flies over an ocean? Instagram it.
Jericho Sav
The XPoNential Music Festival offers a refreshing and very original lineup to alternative music lovers when takes over the Camden Waterfront from July 20th-22nd, and now they've added to this already impressive array of artists. Joining Ozamtli, Dr. Dog, The Avett Brothers, Wilco, The Counting Crows, and many others will be Dawes, Rhett Miller & The Serial Lady Killers, Delta Spirit, Kaki King, Field Report, Kasey Anderson, We Are Augustines, Lower Dens and The Fleeting Ends, all of whom represent unique and compelling sounds and styles.
WXPN has been running this festival for eight years now at Wiggins Park, which was chosen for its spectacular waterfront views, natural amphitheatre for great sound, easy access to public transportation, and the overall aesthetically pleasing nature of the location itself.
The three days of this festival provide music lovers with different styles and genres throughout each day and stage, ranging from up and comers to some of the biggest names in the alternative music scene. From the River Stage to the Susquehanna Bank Center and numerous other stages, you will be sure to find a group or artist that strikes your fancy.
Francisca Magis
Morgan's Pier has already become quite the Philly favorite since it opened last month. And now, with R5 hosting free outdoor summer shows there each Saturday afternoon/evening, it's about to really become the place to be. No RSVP, no list, no tickets- it's really as easy as F-R-E-E. Just show up whenever you want and check out some cool bands along the waterfront. Pretty sweet, right?

Well today, R5 released their most comprehensive calender of the shows yet, with mystery guests for August 11 and 25 that will be announced soon. Check out what they have planned below (and don't forget there will be $2 PBRs available all day/night, great food, and a DJ set after each performance).
Saturday 6/23: Free Energy, Grandchildren
Saturday 6/30: Algernon Cadwallader, En Garde
Saturday 7/07: Hoots & Hellmouth
Saturday 7/14: The Pains Of Being Pure At Heart
Saturday 7/21: Fang Island
Saturday 7/28: Pissed Jeans, A Place To Bury Strangers, Gang
Saturday 8/04: Jukebox The Ghost
Saturday 8/11: Special Guest TBA
Saturday 8/18: Mischief Brew
Saturday 8/25:Special Guest TBA
Leah Kauffman
The 5th annual Roots Picnic spanned two talent-packed days at Festival Pier last weekend. Phrequency photographer Yusuf Muhammad was there to capture all of the action.
Day One: 1. Tayyib Ali (left) backstage, 2. Danny Brown, 3. Black Thought (right), 4. It's a family affair 5. Festival goers enjoying the sun at Festival Pier

6. Tune Yards backstage, 7. OCD performs, 8. Tune Yards performs, 9. St. Vincent takes the stage, 10. Wale excites the crowd before De La Soul's set, 11. Mos Def made a suprise appearance during De La Soul's set, 12. De La Soul takes the stage.
Day Two: 13. Jesse Teich, 14. Gianni Lee spins, 15. Major Lazer, 16. Diplo's solo set, 17. ?uestlove and Diplo, 18. Artist Suzi Analog (center), 19. The Mad Decent crew backstage.
Day Two: 20. Khari Mateen and DJ Phish backstage, 21. Live Nation senior talent booker Stacie George, 22. Diplo (left), 23. and 24. Rakim, 25. Black Thought and Rakim, 26. Rakim