Natalie Hope McDonald
Channel your girl power, see how bad boys really dance, indulge in the classical, catch a matinee and rap it all up at Union Transfer starting today through Sunday.
Gabrielle Bonghi, Philly.com
Toast to the latest and greatest addition to Art in the Age (116 N. 3rd St.). The storefront has long carried the trendy frames of Warby Parker, but their inventory has just gotten even bigger!
On Thursday, Feb. 20, from 7-9 p.m., swing by the Old City boutique to marvel at the gorgeous new wall display featuring over 100 different frames from shades to specs. While you're there, sip on a delicious AITA cocktail and check out the remains of the recent First Friday show, Hand Work, featuring the work of Carrie Strine, Jessa Blades, and River City Leather.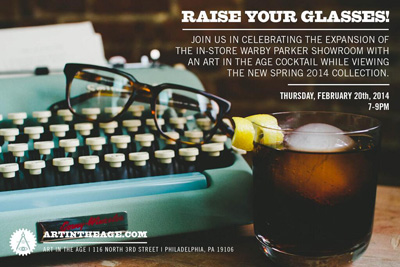 Kate Bracaglia, Philly.com Music Blogger
What we're catching live this week
Wednesday, February 19: Lil Dicky
In some ways, it's a story you've heard a million times before: middle class kid from the suburbs downloads Garage Band and writes some tunes; he posts them online and the Internet is obsessed. But Dave Burd is no Chaz Bundick or Trevor Powers, writing intimate grooves for a P'fork audience. No, Burd is writing raps, inspired by his life: about being White, living with roommates, and being intimidated by his girlfriend's ex. "I tend to rap about normal guy things," he tells Maxim. "I think a lot of rap is just escalated to a place that many people can't relate to." A native of Cheltenham, who studied business at the University of Richmond, Burd adopted the moniker "Lil Dicky" and starting posting videos online about 9 months ago, winning fans with his relatability and sense of humor. The videos took off, and before he realized it he had quit his job to pursue music full-time, earning more than $100K through Kickstarter to fund his debut record and tour. We <3 Burd because he's not afraid to be himself (even if "himself" is strange and occasionally naked)—and because his take on hip-hop is both honest and hilarious. He stops by the TLA this Wednesday for his first-ever live performance—get in on the ground floor now, and claim bragging rights later.
Danya Henninger, Philly.com
Like pork? Spend a day snack-hopping around Fairmount. Margarita fan? Celebrate in NoLibs with a special anniversary deal. From an intimate sushi class with 26 people to a blowout beer fest celebrating German beer, there's a wide range of food fun to be had this week.
Gabrielle Bonghi, Philly.com
After the Valentine holiday has settled down, it's time to put our attention on other more important things like… Philly's annual Dre Day celebration!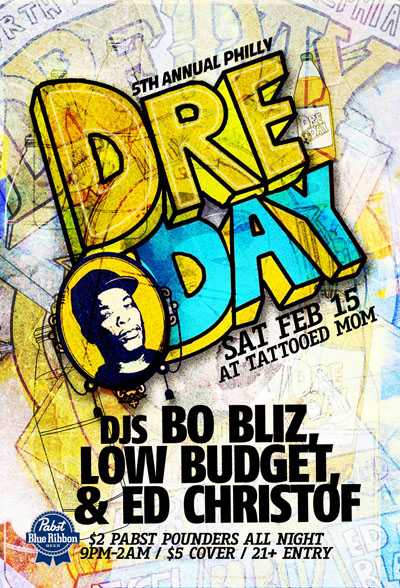 Come together for the 5th anniversary of this local bash that's been paying proper homage to the gangsta hip-hop legend, Dr. Dre. It's all setting off at Tattooed Mom (530 South St.) on Saturday, Feb. 15 from 9 p.m. - 2 a.m. with inspired sets by Bo Bliz, Lowbeezy, and Ed Christof. Enjoy $2 PBR pounders all night long.
Gabrielle Bonghi, Philly.com
We're a city that's blessed with many great art museums and the Institute of Contemporary Art in University City is one of the most unique artistic venues around.
This year, the ICA (118 S. 36th St.) is celebrating its 50th birthday with a six-month-long exhibition, ICA@50: Pleasing Artists And Publics Since 1963, that will serve as a chronological retrospective of more than 50 contemporary artists associated with Philadelphia's art community, including Zoe Strauss, Beverly Semmes, and Isaac Tin Wei Lin.
Every two weeks, a new 'micro-exhibition' will debut along with a running calendar of public programs, performances, and other "moveable plinths and vitrines" that will "further animate the shifting space." The 50 new presentations will cover all sorts of mediums like sculpture, film, painting, video and much more. And for those of us who really love the ICA, when you visit ICA@50 five times, you'll receive a free membership.
Kate Bracaglia, Philly.com Music Blogger
In honor of Valentine's Day, here are four five local bands we <3.
Thursday, February 13: Johnny Showcase & The Mystic Ticket
Philly "absurdist soul" group Johnny Showcase host "Night of the Electric Love Phoenix," an event whose name alone should give you a pretty good idea of what they're about. The creative brainchild of David Sweeny, a sunglasses-at-night and bling-wearing Philadelphian with a penchant for Prince, the band first made a splash in 2009 when their Fringe Arts show Purr Pull Reign (get it?) was a fest highlight; since then they've continued refining their act, composing their own trove of sexy-smooth singles, imbued with a keen sense of humor (song titles include "Rubber Glove" and "Cocaine Sandwich.") Live, the 8-piece dons their very best American Hustle apparel and slinks and croons their way through funk and soul numbers—proving that not only is R&B not dead, it's sultrier than ever. Bring your boyfriend (or your crush), because things will get steamy!
Gabrielle Bonghi, Philly.com
As a student at the University of the Arts in the graphic design department, I fondly remember Joel Katz's students expressing the absolute joy of working with such a talented instructor. The Yale graduation conducts an information design course at UArts, but that only just skims the surface of his talents. He is more than a designer and a teacher, he's also an incredible author and photographer.
The Galleries at Moore (1916 Race St.) have just announced an exciting new exhibition by Katz of his black-and-white photography work that chronicles the 'Mississippi Summer' of 1964, a heightened time for the civil rights movement.
In the summer of 1964, a thin, bespectacled Yale University student named Joel Katz plunged himself, with notebook and camera in hand, into the violence and pathos of the civil rights movement in Mississippi. It was "Freedom Summer," a raw and uncertain time when three young civil rights workers were murdered in Philadelphia, Mississippi; when the young preacher Martin Luther King Jr. and Ralph David Abernathy stumped through Jackson, the state capital, risking their lives with every speech; and when the nation drew its collective breath as armies of college students and civil rights workers – Katz included – descended into the Jim Crow South.