Allie Volpe, philly.com
With an impressive 110-plus events at this year's Philly Tech Week, making its 2014 debut on Friday, April 4, even the most tech-minded folk can feel a little beleaguered by all the seemingly endless options of panels, gatherings and expos. If this happens to be you, do not fret because we've compiled a list of all the places you'll want to be.
Students with an interest in robotics are invited to attend the Philly Robotics Expo at the Singh Nanotechnology Center at the University of Pennsylvania on day one of PTW, Friday, April 4. The day, starting at 8:30 a.m., features tours of UPenn robotics labs, seminars teaching students about robotic engineering and lots and lots of robots, naturally.
Animate, a month-long exhibit, running Wednesdays-Saturdays at AIGA Philadelphia, will open Friday, April 4. Stop by between 6 p.m. and 9 p.m. for the First Friday opening gallery and witness the web-based display of animated GIFs, old-school Flash animations and interactive artwork.
Tim Reardon, philly.com
The infamous Atlantic City Beer and Music Festival returns to the AC Convention Center this weekend full of events and amazing beers to sample. As the anticipation builds, we picked our favorite events happening all weekend long inside the "Celebration of the Suds".
Tasting over 100 beers from breweries around the world can take all day. As you're indulging, tons of entertainment is happening in the convention center. Take a break from the booze and check out these events.
Entertain your ears on Friday April 4 from 7 p.m. to 11 p.m. with Saves The Day, followed by The Dirty Heads on Saturday April 5 at 12 p.m. to 4 p.m. and Less Than Jake from 6 p.m. to 10 p.m.
Kate Bracaglia, Philly.com Music Blogger
We've already shared our excitement for Human BBQ, Penn punk rock frat Pilam's annual celebration of live music and food, which takes over the Spruce Street house this Saturday. This year's line-up includes 18 bands from Philly and beyond—plus burgers, veggie burgers, and general party vibes.
But because navigating 18 bands can be tricky, we present a giant run-down of our fave acts on the roster—plus the complete schedule of bands, pizza breaks, and tips for BBQ first-timers.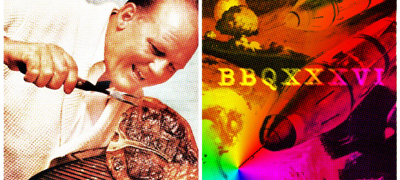 The Bands
Kate Bracaglia, Philly.com Music Blogger
Warm weather = more reasons to go see shows.
Thursday, April 3: Pattern Is Movement
It's been 6 years in the making—but it's definitely been worth the wait. We're talking, of course, about Pattern Is Movement, the brand new, self-titled record from Philly art-rock duo Pattern Is Movement, which finally dropped this Tuesday on Hometapes, and which the band will celebrate with an epic release show this Thursday. The ongoing project of drummer Chris Ward (Strands of Oaks, Johnny Brenda's) and vocalist/multi-instrumentalist Andrew Thiboldeaux, Pattern Is Movement have evolved over the years, from a capricious, math-rock outfit to the soulful brothers behind tunes like "Suckling" and "Untitled (How Does It Feel)," and the unexpected heart of the Philly scene. We <3 these guys for their whimsical, insular melodies; their ability to fuse disparate influences into something greater than the sum of its parts (PIM was inspired by everyone from Drake to Beyonce); and their total willingness to try something new—whether it's synching song clips with scenes from Oscar-nommed flicks, or covering J Dilla for art fans at the Barnes Museum. Before you go: stream Pattern Is Movement in its entirety via AV Club—then get ready to embrace the weirdness.
Gabrielle Bonghi, Philly.com
This morning R5 Productions announced the return of their annual spring season Punk Rock Flea Market! This humongous event gathers over 500 vendors under one roof selling unique and original items like vinyl records, handmade cosmetics, artwork, vintage house wares, food, furniture, collectible odds & ends, clothes and the list goes on.
On June 7 and 8, from 10 a.m. – 5 p.m., pay just $3 (which is good for both days) to get into the "Punk Rock Flea Market Dome" located on 9th and Spring Garden Streets.
For those interested in vending, table reservations open today (Wednesday) at noon and cost anywhere from $25-80.
Layla A. Jones
Bold expressionism is the theme of the Moore College of Art & Design Spring Fashion Show this year.
Students in the fashion department have been charged with incorporating dark lines, bright colors and lively patterns influenced by the likes of Vincent Van Gogh and Paul Klee into their designs.
Beginning with ethnically inspired swimwear, the show will include children's wear, menswear and, for the finale, evening wear by the senior class. Philly's favorite fashion girl, season 12 Project Runway winner Dom Streater, will be the evening wear critic for the night.
Kate Bracaglia, Philly.com Music Blogger
It's been an endlessly long, bone-chillingly cold winter for Philly this year, but spring has finally arrived, and with it comes a whole slew of reasons to get outta the house and do something.
Our top picks for things to do? Catching a spring residency with one of our fave Philly bands, many of whom will celebrate the warmer weather with ongoing gigs at local spots. Here are 5 local music residencies to check out this April and May in Philadelphia—because your fave TV shows are on re-runs anyway, and because sometimes, seeing a band once is just not enough.