Archive: March, 2013
Gabrielle Bonghi, Philly.com
A major happy birthday is in order for one of our favorite Philly DJ dudes, Sammy Slice! Sammy has been rocking parties all over the city for years thanks to his amazing taste for every genre of music and impeccable DJ skills.
If you've been to Mo Money No Problems at Silk City, BNNA CLPS, Making Time hyper-ragers at Voyeur and most recently MagicMagic at The Barbary–then you know he is not one to disappoint.
Do you dig Sammy as much as we do? Then get all up in it tonight for a very special Birthday edition of MagicMagic at The Barbary. Sammy and pal DJ Sylo (StuntLoco) play everything from hip-hop anthems, indie belters, dancehall and everything in-between. Mystical visuals provided by the geniuses at Klip Collective and your favorite party girl Shadowscene will be snapping the pics.
Gabrielle Bonghi, Philly.com
You guys… it's happening.
That lovable, slimy South Philly institution, The Dolphin Tavern–known best as a seedy dive with a local vibe and dancing naked ladies–is reopening its doors thanks our wonderful friends Dave P (Making Time), Psydde Delicious (Delicious Boutique), Sean Agnew (R5 Productions), Avram Hornik and Mark Fichera (Four Corners Management). You may recognize a few of these names for opening such epic venues as Morgan's Pier and Union Transfer. Judging by the outstanding job they've done with those, we have high expectations for their latest project.
We're unsure of what to expect, but they assure that "Some things have changed but most are just how you left them." You will just have to see it for yourself when it officially opens on Wednesday, March 20th at 5:30 PM.
Jim Teti
St. Patrick's Day falls on a Sunday this year, which means drinking starts on Friday and that means ambulances will be pretty much parked on every corner of the city throughout the weekend. Everyone will be breaking out the green shirts, pants, socks, and hair color in an effort to celebrate the Irish inside of all of us. This is that wonderful time of year to indulge in delicious Irish Potatoes (you'll be sick after three), order multiple Shamrock Shakes (yes!), and have a legitimate excuse to pass out drunk in an alley circa 3:00 pm on a Sunday. St. Patrick's Day has always been a day of drinking, and the gayborhood is getting into the action too. Check out these lucky charms if you're looking to spend that pot o' gold in the right place.
Kiss Me I'm Irish and Gay @ Ubar
One of the biggest gay events of the weekend is definitely the Kiss me I'm Irish party at Ubar. Put on your favorite green underwear and don't be late for the soiree, which runs from 2:00-5:00pm. There will be tons of cool stuff, such as drink specials, beer discounts, free food, and raffle prizes. Tickets are $15 online and $20 at the door, and they include one free drink as well!
Blaire Monroe
St. Patrick's Day is a time for celebrating, partying and donning all green everything. Philly is known to get pretty wild during the big day, and we have definitely seen some unforgettable attire over the years. Here is a look at some of the craziest outfits from past St. Paddy's Day events:
1. The decked out couple from Erin Express 2012 (Photo by Teresa McCullough)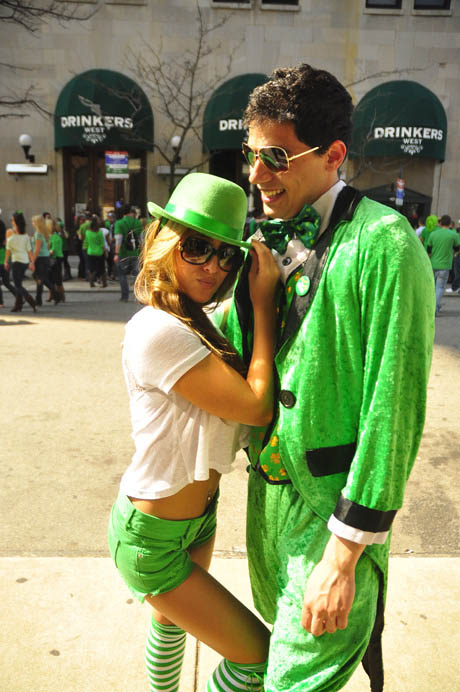 Kate Bracaglia, Philly.com Music Blogger
Who needs SXSW when there's so much happening right here in Philly?
Thursday, March 14: Future + Chill Moody at Harrison Auditorium
Rapper Future burst into public consciousness less than two years back with fly "ringtone pop" mix tape Streetz Calling, followed by excellent debut, Pluto—which positioned the Atlanta native as one of the most creative and distinct voices in modern hip-hop (for proof, check out killer first single "Tony Montana.") Since then, the autotune aficionado has continued to wow, dropping epic new jam "Fo Real" (featuring Drake) —and starting work on his highly-anticipated follow-up, which he promises will be a genre-bending mix of beats and rhymes. Arrive early for opener Chill Moody, local rapper extraordinaire and longtime proponent of "nice things."Wanna go for free? Enter the show's "Look-Alike" Facebook photo contest for a chance to win VIP seating and a meet-and-greet with the artists.
Gabrielle Bonghi, Philly.com
If this dreary weather has got you bummed out big time, we've got just the thing to cure your gray day.
If bands like Brand New, Taking Back Sunday, Thursday and New Found Glory get you feeling all warm, fuzzy and nostalgic; we recommend you make your way over to The Barbary tonight for Through Being Cool!
John Dispirito (MakeUpClub) and special guest Shane Henderson of Valencia are gearing up to deliver you a dance party worthy of only the best emo, post-hardcore and pop punk jams that will make you move about the floor in pure joy. Come armed with your best crew of friends and have an unusually awesome Tuesday night!

Toast the first day of spring with Crabbie's Original Alcoholic Ginger Beer, the United Kingdom's number one selling bottled beer, at Growlers (736 S. 8th St.) on Wednesday, March 20.

Growlers will feature Crabbie's, as it's meant to be served, chilled over ice with a slice of lemon or lime, for $3 and in a variety of cocktails for $5 beginning at 5 p.m.
Chef Donohue will also be serving up ginger-inspired dishes for those looking for a bite with their Crabbie such as Crabbie's Jerk Chicken, Pulled Pork Sliders with Crabbie's ginger BBQ sauce and Tropical Ginger Rolls with a Crabbie's cherry reduction sauce.
Colin Kerrigan
The folks over at R5 Productions just announced that they will bring Flying Lotus to Union Transfer in April for a special late night gig. The producer/DJ/musical wizard is known for creating albums that are more focused on the complete piece of art instead of an one off "club banger" like so many other electronic artists out there today. His latest record, Until The Quiet Comes, is a prime example of just that.
Not to mention he has a long list of collaborations with the likes of Thom Yorke of Radiohead, Erykah Badu and Burial just to name a few. Also just to throw in a random fact, his uncle would have been John Coltrane who died long before he was born.
The show will happen on Friday, April 26th and started a little later than normal shows at 11pm. Thundercat will open the show.Tickets for the show go on sale this Friday(03/15) at noon and will be found HERE.