Archive: December, 2012
Lucy Briggs
On Thursday, December 20th, help Arcadia Boutique celebrate the holiday season at their Northern Liberties location with a party and trunk show from 5 - 9pm! Featuring "The thin line between art and fashion" with Macy's fashion incubator designer Melissa D'Agostino, local artists Concrete Polish, Rabid Fox Jewelry, and Screwed Forever will also be showing off their designs. Remember to bring journals, gently used jewelry, make-up, and other personal care items to be donated to One Simple Wish, and receive 20% off your Arcadia purchase in return. Give a little, get a lot!

All month, enjoy weekly discounts on holiday gifts from Arcadia. This week, take 15% off all clothes and shoes! Use code HOLIDAY15 to save on coats, scarves, and mittens!

Arcadia Boutique (Northern Liberties)
819 N. 2nd StreetPhiladelphia, PA 19123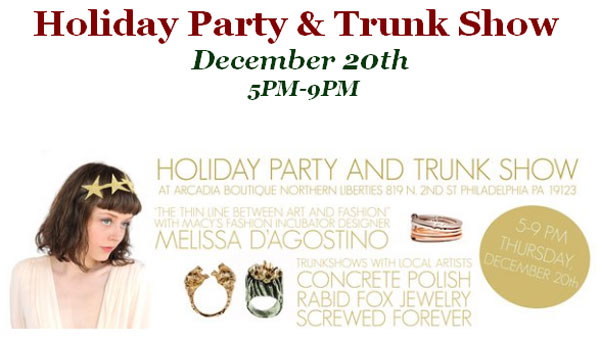 Lucy Briggs
Returning to Philadelphia on December 24, the 26th Annual MatzoBall is the nation's first and largest Jewish-singles event and has been dubbed "The Nation's No. 1 Holiday Party" by USA Today.
Upholding its tradition, the acclaimed MatzoBall is back with its unrivaled in-person networking and matchmaking affairs. The Society of Young Jewish Professionals and JDate are set to host the 26th Annual MatzoBall on Monday, December 24, 2012 starting at 9 p.m. at Philadelphia's G-Lounge. Tickets are available for advanced purchase online at www.matzoball.org or at the door – cash only for $30.
A holiday in its own right, the 26th Annual MatzoBall promises to deliver a night of high-energy, networking and matchmaking for singles ages 21-49 in New York City, Boston, Washington D.C., Delray Beach, Miami, Ft. Lauderdale and Philadelphia. Philadelphia's G-Lounge invites revelers to join thousands to mix and mingle in true holiday spirit. The DJ will spin a mix of the best '80s and '90s with today's hits.
Jim Teti
Before Santa takes all of his trusted reindeer around the globe Christmas Eve, join the pack Thursday, December 20th as they throw down big time at the annual Fairmount Reindeer Romp. The party is now celebrating its 15th glorious year.
For $10 and a small toy, you will get a sexy pair of antlers (sexier to others after several drinks), that alert participating bars that you are part of the romp. There are over ten participating Art Museum venues, including Green Room, Urban Saloon, and the wonderful Bishop's Collar.
So take hold of that holiday spirit and gallop to the most festive bar crawl that ever was. There will be drink specials all night ($3 Sam Adams), so after a few stops, you'll be glowing just as bright as Rudolph's nose.
Kate Bracaglia, Philly.com Music Blogger
Thursday, December 20: A Very BITBY Christmas at Ortlieb's Lounge
Philly-based video collective Bands in the Backyard, http://bitby.tv/ or BITBY, has impressed us all year long with their collection of live vids of local and touring bands, and this Thursday, they'll celebrate with a festivity-filled holiday party at Ortlieb's. Philly funny lady Juliet Hope Wayne hosts this magical evening, which also feature holiday videos, the premiere of BITBY's December episode (featuring folk artist Heyward Howkins), AND performances from BITBY faves Shorty Boy Boy, St. James & the Apostles, Thee Idea Men, and Blayer PointDujour. Did we mention admission is free before 10 p.m.? Talk about a great way to get in the holiday spirit!
8:30 at Ortlieb's Lounge, 847 N. 3rd St., free before 10 p.m., $5 after. Tickets available at the door.
Jim Teti
Talk about dance overload. Rita Ora is bringing teen pop glitz and glamour over to the Trocadero Theatre Wednesday night, December 19th. Ora, responsible for the irritatingly infectious "How We Do", will croon out that among other favorites such as new single "R.I.P".
Ora is joined by Havana Brown, who teamed up with Pitbull for the red hot summer single " We Run the Night", which probably made everyone's running playlist at least once during the 2012 heat wave.
MTV is sponsoring the Rita Ora tour and tickets are cheap. Strike now while the "up and coming" iron is hot and watch her throw Ke$ha and Rob Kardashian some pop star shade! For more information, look here.
Lucy Briggs
The truth: Making Time has redefined the way Philadelphia celebrates New Year's Eve until the end of time. This year, the Making Time NYE HYPER-RAGER is back to bring down Union Transfer again with Dave P & Sammy Slice, Dave Pak & Mike Z (SORTED), the Rock Tits gang featuring Joel Flood, Russ Alexander, Steve Vena & Holly Sue Allen, and the Broadzilla DJs with Tony Modica. Plus, the venue will be decked out with continuous flow confetti cannons, a massive midnight balloon drop, and the always rad video light experience by Ricardo from Klip Collective. If all that is not enough to get you interested, come for the open bar with free domestic beer and well drinks all night long!
What: Making Time NYE HYPER-RAGER 2K13
Why: Rad tunes and open bar all night long!
Blaire Monroe
The uber famous Moo Shu Jew Show is returning for a fifth year at Ocean Harbor Restaurant in Chinatown.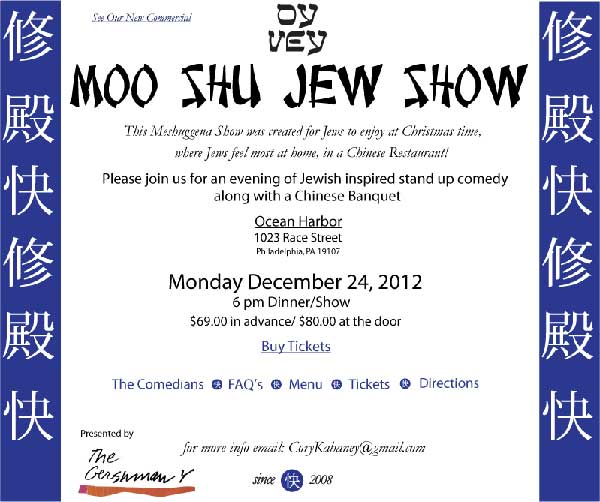 Philly's favorite Jewish Christmas Eve tradition is back in town. On Christmas Eve, spend the night with some of America's funniest comedians while enjoying a multi-course Chinese feast. The food is not kosher, but vegetarian options are available. This year's show features Ross Bennet, Lenny Marcus, and Joel Chasnoff. Get to know them here.
Blaire Monroe
Whether you believe in the end of the world or not, December 21st is coming. If you're looking for a place to spend the Mayan Apocalypse, we've got you covered:
1. Johnny Utah and McFadden's
Say goodbye to the world with Johnny Utah and McFaddens's at their zombie apocalypse party on Thursday, December 20th. There will be two bars for only a $15 cover, with $3 Bud Light drafts, drink specials until midnight and $1,000 in prizes to win. Ladies, dress up in your sexiest zombie costume and enter the Sexiest Female Zombie Contest for a $150 cash prize.