Archive: November, 2012
Jim Teti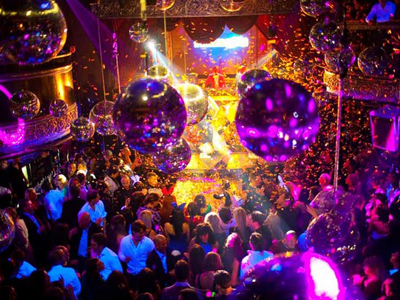 Everyone knows that the night before Thanksgiving is one of the biggest party evenings of the year, and no one throws down like the gay community when it comes to parties. Check out some of the hot places to be come Thanksgiving eve.
1. Pink Pub Crawl
Lucy Briggs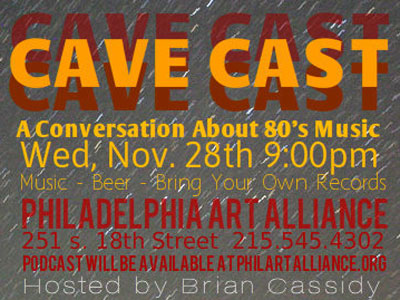 On Wednesday, November 28th, bring your own records to the Philadelphia Art Alliance for Cave Cast: A Conversation About 80's Music. Local DJ Brian Cassidy, of Universal Cave is host to the monthly, hour long program. Cave Cast is a series of live musical conversations between local professional DJ's and musicians about the craft of curating music. A podcast of each event will be available on the PAA website, here. He and a guest explore such topics as the 1980s, Fleetwood Mac, Chicago House, Outlaw Country, History of Philly Dance Music, and Psychedelic Christian Rock. The conversation is punctuated by listening to pertinent illustrative records throughout the hour, educating in an entertaining way the craft of finding the thread that creates a coherent music set. Audience participation is very much encouraged!
Brian, drawing from his experience as a radio producer for his Blues program, Burnt Dog Blues Lounge on KCPR San Luis Obispo, records and edits each program.
Admission is a suggested donation of $5. Beer will be available thanks to sponsor Narragansett Brewing Company, or you can BYOB.
Lucy Briggs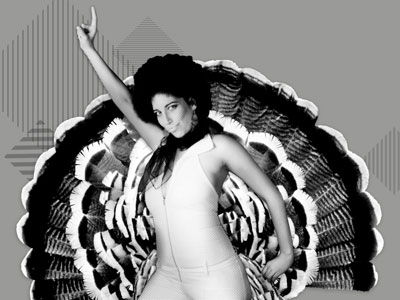 This Thanksgiving Eve, spend the biggest drinking night of the year with The Trestle Special Go Go Dancers as DJ Case Bloom of Tucker & Bloom and Little Big Things spins deep funk tunes. Before a full day of family, get funky and dance the night away with Wild Turkey drink specials all night! More information is available here and don't forget to RSVP!
The Trestle Inn Presents: Jive Turkey
Wednesday, November 21st
Lucy Briggs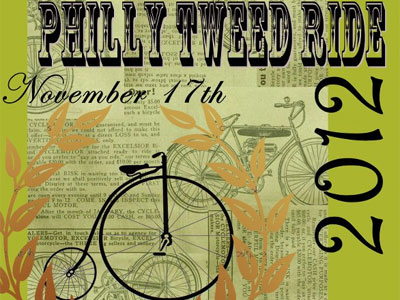 This Saturday, November 17th, make your way on down to the Water Works at noon for a stylish, leisurely ride through the union's most historical city! Filled with camaraderie, this ride is one of the most fun the city has to offer. For how relaxed the ride is, the competition between riders to win prizes provided by some generous local independent companies can really heat up. Riders are judged by tally against each other in the following categories: Most Magnificent Millinery, Most Marvelous Moustache, Most Stylish Steed, Most Snappy Lass, and Most Dapper Chap. Since you are already 16 days into No Shave November, don't be stingy on the moustache wax! There's also a new prize for the most Picturesque Picnic, so come prepared with a lavish spread, a fun game, or other fine trappings! Additional prizes will be given out in a raffle.

This year the ride's organizers ask that all riders make a voluntary donation of only $1 to Philabundance in advance of the Thanksgiving and Holiday seasons. A single donation alone is able to provide 2 meals.The list of fabulous sponsors includes: Art in the Age of Mechanical Reproduction, Art Star, Briar Vintage, Community Bikes, Duke & Winston, Fabric Horse, Fairmount Bicycles, Maggie French Ethical Tweed Accessories, Philadelphia Salvage, R.E.Load Bags, RevivalSmith Vintage Goods, Rothera Cycling, Spodee, Trophy Bikes, Velo Orange, Volta Organics, and Zsa's Gourmet Ice Cream.

Philadelphia Tweed RideWater Works640 Water Works Drive
Registration begins at 11:00 am
Kate Bracaglia, Philly.com Music Blogger
Wednesday, November 14: Macklemore + Ryan Lewis at the TLA
Seattle rapper Ben Haggerty (aka: Macklemore) has been quietly making a stir on the West Coast for half a decade now, but burst into the greater public conscientiousness just recently, when his sophomore record The Heist (with producer Ryan Lewis) debuted at #1 on iTunes, despite a lack of mainstream or label support. The record followed a string of successful YouTube hits, including the gay-friendly "Same Love" (featuring fellow Seattleite Mary Lambert) and the hilarious, fashion forward (?) "Thrift Store" (featuring Wanz.) Macklemore's last Philly appearance was at Kung Fu Necktie last year, so this will be a big step up for him. Let's hope he wears his fur coat.
8.00 at the TLA, 334 South St., $16. Tickets available here.
Lucy Briggs
Making Time is bringing it back with alumni Light Asylum and a special live performance from Matthew Dear. Also known as Audion, False, and Jabberjaw, Matthew Dear's electropop is the perfect complement to Making Time's resident DJs. Dave P and Sammy Slice will spin together alongside Dave Pak and Mike Z on the main floor while a special Rock Tits event featuring Joel Flood, Russ Alexander, Steve Vena, and Holly Sue Allen takes place in the basement. Plus, the Broadzilla DJs and Tony Modica are turning on the hypercage, so it's time to get wild with Klip Collective's insane visual displays.

If that's not enough to get you out, free PBR and Sailor Jerry rum drinks will be avaiable from 9 - 11pm with free hot dogs all night long. Even better, the first 100 people to show the Making Time app on their iPhone will receive a free drink ticket! Download the free Making Time iPhone app here and reserve your advance tickets here.

Tickets with no service charge at now available at the Last Drop Coffeehouse (1300 Pine Street)!


Making Time with Matthew Dear and Light Asylum
Friday, November 16th, 2012 9:00pm - 3:30am ----------- Voyeur 1221 St. James Street Philadelphia, PA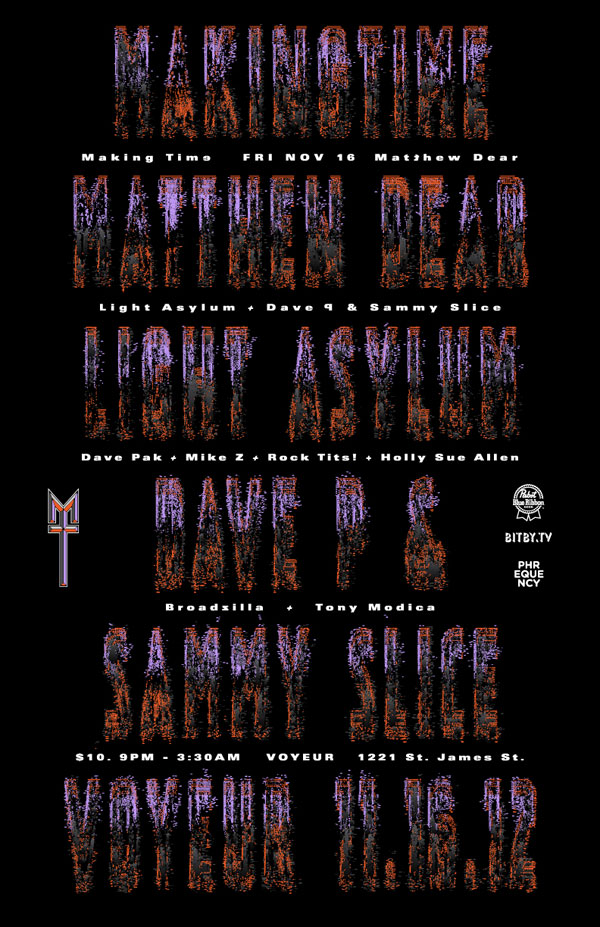 Lucy Briggs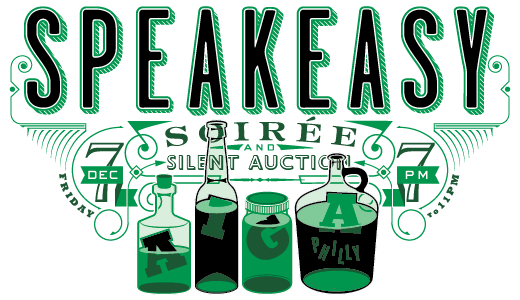 On Friday, December 7th, join AIGA Philly for an evening of live music, prizes, edibles, and libations in the spirit of the "Roaring 20's." Food and drink will be provied for free all night with admission with Art in the Age, Spodee, and Naragansette on hand for tending the bar!

All proceeds support the AIGA Philadelphia SPACE and their continued programming, which includes lectures, exhibits, and workshops that enrich the community and their membership of over 600 local design professionals, educators, and students. Don't forget to come in your 20's best and reserve your ticket here.

Speakeasy Soirée and Silent Auction
Friday, December 7th7:00 - 11:00 pm---------
Christ Church Neighborhood House20 N. American StreetPhiladelphia, PA 19106
Lucy Briggs
On November 17th, dance your way over to The Barbary for SORTED: Hurricane Sandy Relief Benefit - Neighborhood #3 (Power Out). DJs Mike Z and Dave Pak have teamed up to raise support for the American Red Cross' relief efforts by featuring Arcade Fire's most danceable jams. Get it? We do! All Arcade Fire music will be played from 11pm - 12am with the most danceable Arcade Fire jams sprinkled into the mix throughout the rest of the night. Tickets are only $5 and all profits will be donated to the American Red Cross for Hurricane Sandy Relief. More information is available here.

The Barbary 951 Frankford Ave. Philadelphia, PA