Gabrielle Bonghi, Philly.com
Hey ladies – it's time for you and your pelvis to spend some quality time together.
Gather your best gal pals for "Sex, Chocolate and Your Pelvic Floor" – a fun, educational night out which gives female attendees (sorry fellas, no boys allowed) the opportunity to learn how pelvic exercise and wellness leads to better sleep, better bladder control and, of course, better sex.
This Thursday, Mar. 6, Join renowned sexperts, Dr. Kristene Whitmore, Dr. Cynthia Hall, and Dr. Susan Kellogg-Spadt at Stratus Lounge (433 Chestnut St.) for bottomless champagne and decadent chocolate sweets while you learn tips and tools to achieve the ultimate pelvic health.
Natalie Hope McDonald
Up the ante for a local AIDS charity, rethink the way you enjoy your favorite Broadway shows, DIY at PhilaMOCA, kick off Philly's Flamenco Festival and escape into the tumultuous world of Henrik Ibsen during some of the best (most off-the-beaten-path events) today through Sunday.

Gabrielle Bonghi, Philly.com
Just because New Year's is over, it doesn't mean that the Mummers are done partying (they never truly stop). With Mardi Gras coming up on Tuesday, the Piazza is throwing a Philly-flavored celebration that has a taste of both holidays: Mummers Mardi Gras.
On Saturday, Mar. 1, 3 – 9 p.m., the Mummers are taking over the NoLibs entertainment square with performances by Fancy Brigades and string bands as well as live DJs, circus-like performances, and much more. There will be plenty of options to keep you well fed and full of drink – Sweetbox Cupcakes, Mac Mart Truck, and Street Food Philly are delivering the goods in addition to selections of beer, wine and cocktails available at the Piazza's many fine restaurants.
Tickets start at $15 for general admission and are $75 for VIP, which gets you a spot in the heated tent, access to an open bar, perfect seats for viewing the stage performances and photo ops with the Mummers. Funds raised will go towards supporting participating Mummers crews.
Gabrielle Bonghi, Philly.com
This month marks the 50th anniversary of The Beatles' historic appearance on The Ed Sullivan Show, an event that shaped music well into the future. From that point on, America, and arguably the universe, was obsessed with the upbeat British rockers.
Beginning Thursday, Feb. 27 Penn Libraries is celebrating this music milestone with a special Beatles exhibit that goes outside the realm of the band's recorded music and explores the catalog of printed material from the personal collection of David McKnight, director of the Rare Book and Manuscript Library: books, magazines, autographs, puzzles and other memorabilia collected since 1964.
In addition to the collection of visual and textual items, a symposium on the Beatles will be held from Feb. 28 – Mar. 1 that will include special events by authors, professors, and music industry experts who are well versed on the topic. Here is a preview of guests:
Kate Bracaglia, Philly.com Music Blogger
What we're catching live this week
Thursday, February 27: Creepoid
Philly's moodiest band returns with a new record, whose chilling tunes will make you feel like a head-banger lost in the fog. Philly goth-punk band Creepoid first caught my eye in 2011 with debut record Horse Heaven, which drew me in with haunting rockers reminiscent of Lou Reed (singing into a fog machine) or Nirvana (high on painkillers). Now, 3 years later, they're back with Creepoid, an even spacier outfit that teems with viscous guitar lines, languid melodies, and a sense of unease in the empty spaces. Formed in 2009 by Pat Troxell, a Philly-by-way-of-Austin-by-way-of-Philly transplant with a love of punk and a strong DIY ethic, his wife Anna, and guitarists Sean Miller and Pete Urban—Creepoid grew from a casual recording project to a band to watch, whose dark aesthetic and killer live chops have earned them opening gigs for nearly every cool punk band playing Philly these past 4 years (giant list here). They'll celebrate Creepoid's release this Thursday with an epic release party at JB's; stream the record in advance via Spin, then get to ready to revel in the muck.
Gabrielle Bonghi, Philly.com
This year marks the 185th annual Philadelphia Flower Show – a local floral showcase that combines the beauty of horticulture with the inventiveness of art and design. Here is everything you need to know about what to see, do, and try.
Special Events (tickets required):
Black Tie Preview Party (Feb. 28, 7 p.m.) – be the first to gaze at the Philadelphia Flower Show display with this exclusive preview party. Dress to impress and enjoy delicious food and cocktails. There is also a cocktail party and after party at The Barnes Foundation that coincides with the preview.
LGBT Party (Mar. 2 4-6 p.m.) – friends of the LGBT community are invited to this Oscars-themed party. Enjoy cocktails, hors d'oeuvres, and you may cross paths with some celebrities. Don't forget to get your photo taken on the red carpet.
Gabrielle Bonghi, Philly.com
While the brightest stars of Hollywood's movie scene walk down the red carpet on Sunday, you could be sitting pretty at one of Philadelphia's premiere Oscar parties.
This Sunday, Mar. 2 starting at 6 p.m., you can enjoy all of the glamour of the 86th annual Academy Awards from inside The Ritz-Carlton's 10 Arts Lounge (10 S. Broad St.), a stunning and sophisticated venue within one of the city's most historic buildings.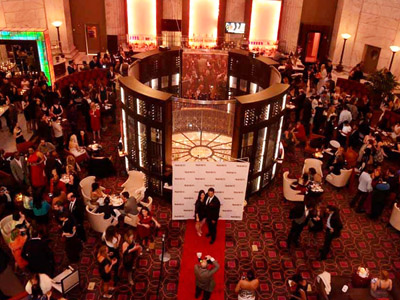 Danya Henninger, Philly.com
One sure-fire way to tell winter is coming to a close: the start of Mardi Gras celebrations. Fat Tuesday itself isn't until next week, but you can start the party this weekend on South Street or in Fishtown. Balance the rollicking fun with one or two very special dinners from very special chefs, or make plans for a beer-filled off-season trip down the shore.