June is coming to an end, and we all know what that means — Fourth of July is right around the corner.
While some spend Independence Day roasting hot dogs and others opt for roasting themselves in the sun until they become a human hot dog, most of us have one plan for our evening.
And, most likely, this involves watching the fireworks.
Since no Fourth of July is complete without a little red, white, and blue in the sky, here's a comprehensive list of the firework displays nearest to you and the basic info you should know to watch them.
>> READ MORE: Philly is celebrating the Fourth of July all week. Welcome to the party
>> READ MORE: Where to find free food in Philly for July Fourth
PENNSYLVANIA
June 29
Lancaster: Celebrate Lancaster, a daylong event consisting of more than 20 food vendors, live music, and two pub areas, will conclude with fireworks at 10 p.m. that can be watched from all around downtown Lancaster, with a prime viewing spot at 100 N. Queen St. The vendors will be stationed along North Queen and in Lancaster Square.
Philadelphia: XFINITY Fireworks at Citizens Bank Park, after the Phillies play the Washington Nationals.
June 30
Lancaster: The 44th Anniversary Day Weekend festival sponsored by Providence Autos will host a Grand Demolition Derby, Kids Power Wheels Derby, and 3-D Fireworks Display from 7 to 10 p.m. at Buck Motorsports Park (900 Lancaster Pike, Quarryville). Event admission is $14 for adults, $6 for children 5-12, and free for children under 5.
Philadelphia: XFINITY Fireworks – and the final show of the season — at Citizens Bank Park, after the Phillies play the Nationals, again.
Philadelphia: A free fireworks display and concert by "Pershing's Own," the U.S. Army Band, can be watched from Penn's Landing on the Delaware River waterfront at 9:30.
July 1
Lancaster: A free concert by the U.S. Army Band, free vendors, and a free firework display can be enjoyed at Long's Park (Long's Park Amphitheater, 1441 Harrisburg Pike @ U.S. Route 30, Lancaster) with festivities starting at 7:30 p.m.
Langhorne: Sesame Place (100 Sesame Road Langhorne) will host a fireworks show after a 9:25 p.m. performance by crowd favorite characters Elmo, Abby Cadabby, Cookie Monster, and Count von Count. Guests must purchase a ticket to the park to view the display.
July 3
Upper Darby: Gates open at Upper Darby Memorial High School (601 N. Lansdowne Ave.) at 7 p.m., with the party band Chico's Vibe playing at 7:30 p.m. The Upper Darby Shooting Stars dance troupe foreshadows fireworks at 9 p.m., while the display begins at 9:20 p.m. Admission is $4, children under 5 are free. Rain date is Friday, July 6.
July 4
Clifton Heights: Fireworks can be watched from Clifton Heights' athletic field, at 217 N. Springfield Rd., at 9:30 p.m. The fireworks will follow a parade, flea market, and vendor event starting in the morning.
Downingtown: Annual Good Neighbor Day, a full day of games, contests, and, of course, fireworks, will take place in Kerr Park on Park Lane, Downingtown. Festivities will kick off with the Run for Life 5K, 10K, and 15K and the 5K Freedom Walk, with fireworks at dusk.
Hershey: Hershey Park will host its annual fireworks display at 10:15 p.m. You can watch the show from inside the park or at various neighboring locations.
Lancaster: Lititz Springs Park (24 N. Broad St., Lititz) will host its 20th annual Fourth of July celebration starting at noon with entertainment, food, and children's games, and ending with a fireworks display around 10 p.m. Guests over age 10 must pay an admission fee.
Langhorne: Sesame Place (100 Sesame Road, Langhorne) will host a fireworks show for the second night after a 9:25 p.m. performance by crowd favorite characters Elmo, Abby Cadabby, Cookie Monster, and Count von Count. Guests must purchase a ticket to the park to view the display.
Lansdowne: When the sun goes down on July 4, the 2018 Lansdowne Fireworks Display will go up. Guests can watch the show at Wood High School, at 100 Green Ave., Lansdowne, with a ticket — tickets are $7 for adults and $4 for children — purchased at the event or online.
Lawncrest: The 102nd Lawncrest fourth of July celebration will take place at Lawncrest Rec Center (6000 Rising Sun Ave.) this July 4. Festivities will begin with a parade, leaving from Martin's Mill Road and Rising Sun Avenue at 9 a.m. The day will feature community-friendly attractions such as carnival rides, bingo, live music, a food court, and a car show. Fireworks will be launched at dusk.
Limerick: Waltz Golf Farm, at 303 W. Ridge Pike, Limerick, is hosting a free fireworks show starting around 9:30 p.m. Before that, guests can purchase food from vendors and play a round of mini golf.
Lower Providence Township: An Independence Day concert by the Jumpstreet Band will start at 6:30 p.m. at Eagleville Park (100 Parklane Dr., Norristown) followed by fireworks at dusk.
Narberth: Narberth's 76th annual Fourth of July celebration will start at 10 a.m. at Narberth Park (100 Conway Ave.). Highlights of the day include the baby parade, dunking booth, and pie-eating concert. Fireworks will be set off at dark and can be watched from various spots throughout the park as well – just no closer than 300 feet of the launch site.
Norristown: The Norristown Fourth of July celebration kicks off with a parade at 9:30 a.m., followed by a block party on Main Street at 1 p.m., and a concert and fireworks in Elmwood Park (1325 Harding Blvd., Norristown) from 2:30 p.m. until dark. The parade will begin at St. Francis of Assisi Church at Hamilton and Marshall Streets.
Philadelphia: The free, annual, Wawa Welcome America concert — which includes a performance by Pitbull — is topped off with a fireworks display on the Benjamin Franklin Parkway. The concert is from 7 to 10 p.m. with fireworks likely starting on the later side.
Quakertown: Quakertown Community Day, hosted in Memorial Park (Mill Street), starts at 8 a.m. with a pancake breakfast and other events leading up to a big firework display at 9:30 p.m. The rain date is Saturday, July 7.
Radnor: Radnor High School (130 King of Prussia Rd.) will open its gates at 6:30 p.m. for its annual fireworks display in support of the Radnor High School Scholarship Fund. Fireworks will begin at dusk. Donations ($10 for adults and $5 for kids with a $20 group rate) to the scholarship are requested upon entry to the grounds.
Skippack: Clowns, vendors, and live music from the Vincent James Band will kick off Skippack Township's July 4th celebration in Palmer Park (between Heckler and Creamery Roads) at 6 p.m., followed by fireworks at dusk.
Southampton: Southampton Days will start at 6 p.m. every night from Monday, July 2, to Saturday, July 7. Guests may purchase daily ride passes or a "Megaband" for $45 for all-ride access all week long. July 4 festivities kick off with a parade up Second Street Pike to the fairgrounds (1255 Second St. Pike, Southampton) and festivities will resume again at 6 p.m. July 4. Admission is $3 and includes access to the fair, fireworks, and two concerts. Children under 3 are free.
Tredyffrin Township: The Chester County Concert Band will perform at 7:15 at Wilson Farm Park (500 Lee Rd., Chesterbrook) followed by a fireworks display around 9:15 p.m.
Upper Merion Township: Upper Merion Township's 43rd Annual Fourth of July celebration will take place at Heuser Park (694 W. Beidler Rd., King of Prussia), starting at 3 p.m. The celebration will include a carnival, beer garden, live music by the Mango Men, and fireworks at dusk.
Friday, July 6
Ambler: Kiwanis Fireworks Spectacular, hosted by Kiwanis Club of Ambler and Ambler Savings Bank, takes place at Wissahickon High School (521 Houston Rd.). The fireworks will ignite at dusk, after a carnival. The carnival will run from July 3 to 7. Purchase a ticket or wristbands for rides; admission is free. Rain date is July 7.
North Coventry Township: The 52nd Norco Fire Company Fair will run from Monday, July 2, to Saturday, July 7, at the Fire Company Fair Grounds (Route 724, east of the Coventry Mall) featuring over 20 rides, games, and food. Guests can purchase "all you can ride" passes for $20 on the Fourth and $17 on all other days. Fireworks will be at 10:30 p.m. on Friday, July 6.
Sunday, July 8
Perkasie: Pennridge Community Day will be at Lenape Park (Route 152, Perkasie) with fireworks starting at 9:15 p.m. The rain date is July 15.
Saturday, July 21
West Whiteland Township: Exton Park Community Day will be a few weeks after the Fourth this year. Activities will start at 4 p.m. on July 21 at Exton Park (123 Church Lane, Exton) and will feature a concert with the band Jellyroll at 6:30 followed by fireworks. Additional attractions include a rock wall, petting zoo, and Health & Wellness Fair.
NEW JERSEY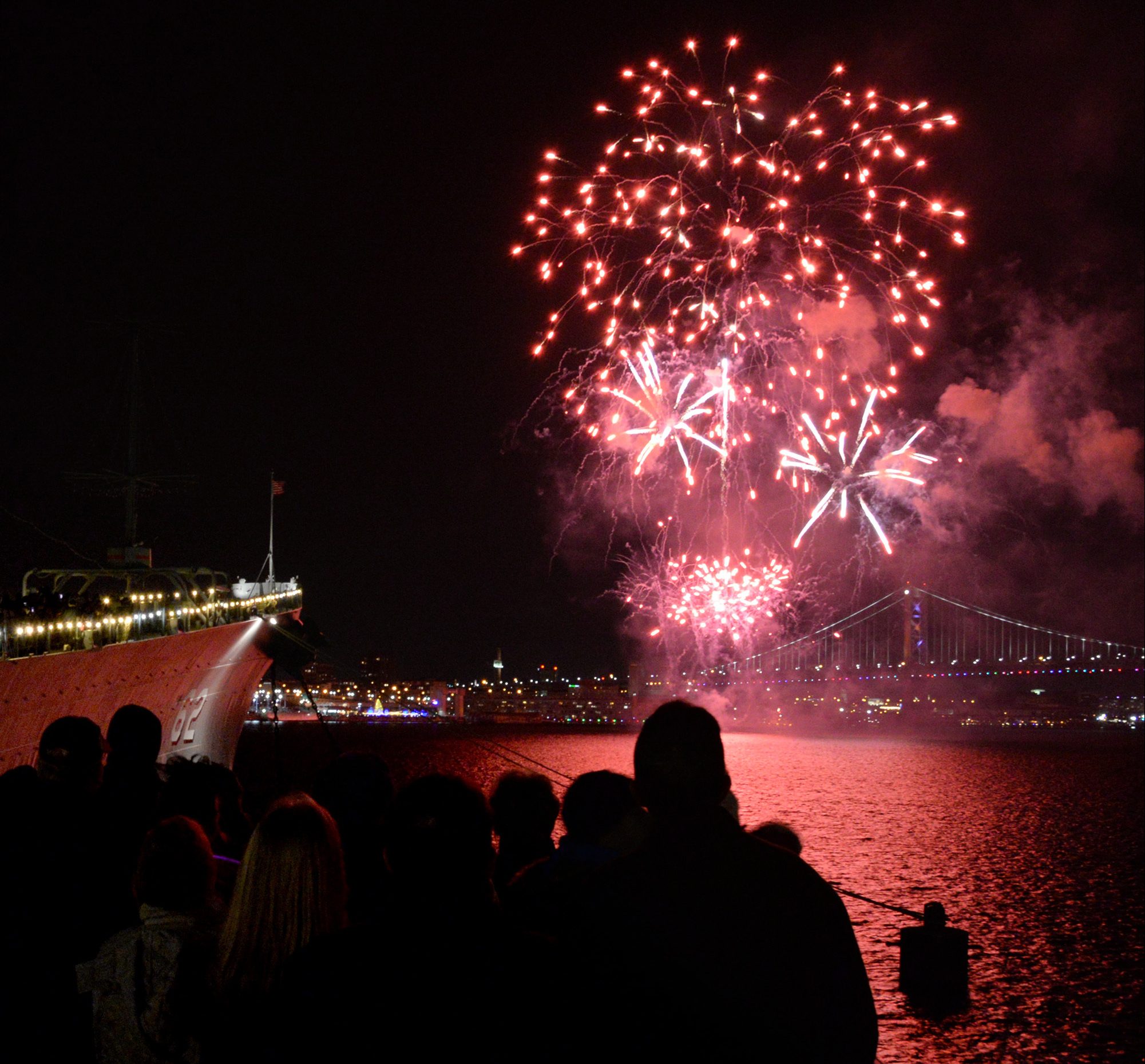 July 3
Cape May: Lower Township residents and guests, including North Cape May and Villas, can view fireworks the day before Cape May City's celebration, between 5 and 10 p.m. on the beach. Additional attractions include vendors and carnival rides.
Fourth of July
Atlantic City: Atlantic City will have two fireworks shows this year. The first will start at 9:20 p.m. at the Borgata, the second at 10 p.m. at the Tropicana. The shows can be viewed from the Marina District and Boardwalk in Atlantic City.
Camden: The Waterfront Freedom Festival, which starts at 5 p.m. at the Wiggins Park Waterfront in Camden, located at Riverside Drive & Dr. Martin Luther King Boulevard, will have a firework display at 9:30 p.m.
Cape May: Cape May City celebrates with a July 4th Picnic and Fireworks, from 3 to 9:30 p.m. Fireworks are launched a quarter-mile offshore from Congress Hall and can be viewed from the beach, promenade, or any beach-facing property on the avenue.
Collingswood: Collingswood takes its Fourth of July celebration to the next level with a free concert by the band To the Max at Collingswood High School Stadium (424 Collings Ave.). Fireworks will start at approximately 9:15 p.m. Stadium seating will not be available on the Fourth, so viewers are advised to bring a blanket.
Evesham Township: Independence Day celebrations kick off at 8:30 a.m. with a 5K and a Fourth of July parade at 11:30 a.m. Fireworks start at Cherokee High School (120 Tomlinson Mill Rd., Marlton) at 9:30 p.m. Viewers can come earlier to enjoy food and drink from local vendors.
Margate City: Margate City fireworks will launch from Huntington Avenue beach from approximately 9 to 10 p.m.
Monroe Township: Fireworks can be watched at Williamstown High School (700 N. Tuckahoe Rd., Williamstown) at dusk. Rain date is July 5.
Ocean City: Ocean City's annual firework display will start at 9:15 p.m., when fireworks are launched from a barge off the Ocean City Music Pier. There will be multiple beach and boardwalk viewing sites, with prime areas between Fifth and 14th Streets. Earlier in the day there will be a bike parade at 10 a.m., kite-flying competition at 6 p.m., and hula-hoop contest at 8:30 p.m., among other activities.
Sea Isle City: Sea Isle City will host several free Independence Day events, including Junior Olympics competitions at 9 a.m. at Dealy Field (59th-63rd St. & Central Ave.) a concert by the Patriotic Brass Ensemble from 7:30 to 9 p.m. at Excursion Park (JFK Blvd. & Pleasure Ave., Sea Isle City) and fireworks at 50th Street Beach at 9 p.m.
Upper Township: Amanda's Field (10 Sunset Dr., Petersburg) will open at 4 p.m. for Fourth of July attractions including food vendors, pony rides, face painting, a petting zoo, honoring veterans, and a fireworks display.
Washington Township: The second annual Fourth of July parade in Washington Township will begin in the parking lot of Washington Township High School (519 Hurffville-Cross Keys Rd, Sewell) at 6:30 p.m. The parade will be followed by a fireworks show at the high school at 9 p.m. The rain date (fireworks only) is July 5.
Wildwood: Wildwood Fourth of July Fireworks Spectacular can be watched from Pine Street Beach, Wildwood Boardwalk at 10 p.m. Additional festivities take place throughout the day of the Fourth, including a "pooch parade" at 9 a.m., (at Bill Henfey Park, Eighth and Atlantic Avenues in North Wildwood).
DELAWARE
Fourth of July
Dover: Dover Fourth of July will celebrate Independence Day in the First State with scavenger hunts through the First Heritage State Park, walking tours, food and craft vendors, and more. A firework display, paired with music, will go off at dusk.
Lewes: Go Fourth! Lewes will host its second fireworks display this year, which can be watched from anywhere on Lewes beach or beach-front houses. If you are worried about missing the view, check out the drone view provided by Go Fourth! — if the drone can see you, you should be able to see the fireworks. Lewes Ferry Terminal Green will provide a community viewing space for the display, which will start at 9 p.m., along with face painting, music, and free parking.
Newark: Newark Fourth of July Fireworks and Liberty Day will be from 6 to 10:30 p.m. at the University of Delaware athletic complex (631 South College Ave.) with fireworks at dusk.
Rehoboth Beach: Fireworks will be visible up and down Rehoboth Beach and boardwalk at approximately 9:15 p.m.