We've already shared our excitement for Human BBQ, Penn punk rock frat Pilam's annual celebration of live music and food, which takes over the Spruce Street house this Saturday. This year's line-up includes 18 bands from Philly and beyond—plus burgers, veggie burgers, and general party vibes.
But because navigating 18 bands can be tricky, we present a giant run-down of our fave acts on the roster—plus the complete schedule of bands, pizza breaks, and tips for BBQ first-timers.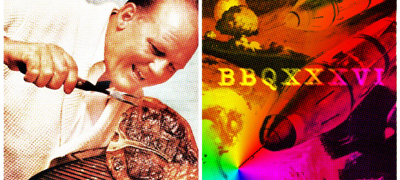 The Bands
Total Slacker (playing upstairs, 11 PM)
I joked before that Total Slacker sound "exactly how you'd expect a band called Total Slack to sound" and really, it's true. The Brooklyn-based band played BBQ XXXV last year, and incited some major head-nodding with their lackadaisical, shoegaze-tinged rockers. This year, they're BBQ headliners, and honestly one of the best choices to close out an evening of epic raging.
Slingshot Dakota (playing upstairs, 10:10 PM)
Bethlehem, PA indie rock duo Slingshot Dakota are frequently likened to The Mates of State, a comparison that I think sells them short (because The Mates of State are kinda annoying, amirite?). Carly Comando and Tom Patterson craft playful punk-tinged pop nuggest, that juxtapose Commando's airy vocals with videogame keys and spastic drums.
Secret Plot to Destroy the Entire Universe (playing downstairs, 9:30 PM)
Philly punks Secret Plot to Destroy the Entire Universe boast a very '90s, emo-y name (think: Further Seems Forever, …And You Will Know Us by the Trail of Dead) and the aggressive, hard-hitting anthems to back it up. This is the kind of music that sounds best when pumped out organically from a dingy basement venue, making it the perfect choice for the evening's last downstairs set.
Cold Fronts (playing upstairs, 9 PM)
We've already shared our love for Philly party rockers Cold Fronts, whose radio-friendly rockers + big label support (they recently signed to Sire Records) means they're on the brink of a major breakthrough. See 'em now in a DIY spot while you can, and brag later.
SANDY Alex G (playing downstairs, 8:30 PM)
SANDY Alex G make delightfully warm and fuzzy lo-fi jangle-pop, that GBV fans like myself go nuts over. Not surprisingly, they're quickly becoming a band to watch on the local scene.
Told Slant (playing upstairs, 8 PM)
NYC bedroom pop mavens who craft super intimate folk-pop charmers.
Mumblr (playing downstairs, 7:30 PM)
Philly fuzz-punkers with a penchant for true-to-life lyrics. Plus check out the sweet photo essay of their time at SXSW, as compiled by The Key.
Laser Background (playing upstairs, 7 PM)
The ongoing psych-pop project of Philly music/booking wizard Andy Molholt, which comes to life with wiggly synths and Yellow Submarine vibes.
Scooter Jinx (playing downstairs, 4:30 pm)
Pilam residents Jay Jadick and Dylan Hansen-Fliedner created and produced this bad-ass video for "Repeat Through," the opening track on new record Brotherwoods, from Boston resident Charley Ruddell.
Surviving your first time at Pilam:
Pilam boasts two performances spots: the large stage, upstairs (surrounded by couches and fratty composites of past Pilam bros) and the smaller basement venue, a Pee Wee Herman-esque room that fits maybe 50 people. The schedule alternates between both stages, allowing a constant stream of tunes.
The schedule includes a dinner break between 5 and 6 PM—if you've missed out on BBQ (searing all day long on the front porch), this is your time to snag it. I'm also a huge fan of Allegro's Pizza down the street, which has a great BBQ pizza and deliciously sweet crust. If you're looking for cigarettes (or fried mozzarella triangles), there's also a Wawa on 38th Street.
Public bathrooms in Pilam are in the basement and are probably not the cleanest. You've been warned.
Full Schedule:
1 PM: Heat Thunder (upstairs)
1:30 PM: Teenage Bigfoot (downstairs)
2 PM: The Interest Group (upstairs)
2:30 PM: Memorial Gore (downstairs)
3 PM: No Stranger (upstairs)
3:30 PM: Is and of The (downstairs)
4 PM: David Phosphor Walrus (upstairs)
4:30 PM: ScooterJinx (downstairs)
5-6 PM: **DINNER BREAK**
6 PM: Cat Jack (upstairs)
6:30 PM: Roof Doctor (downstairs)
7 PM: Laser Background (upstairs)
7:30 PM: Mumblr (downstairs)
8 PM: Told Slant (upstairs)
8:30 PM: SANDY Alex G (downstairs)
9 PM: Cold Fronts (upstairs)
9:30 PM: Secret Plot to Destroy The Entire Universe (downstairs)
10:10 PM: Slingshot Dakota (upstairs)
11 PM: Total Slacker (upstairs)